Herman Cain is Speaking at Donald Trump's Georgia Rally —But It's Not an Endorsement
The onetime presidential candidate, who endorsed "the people" in the last election, has said he'd like to see any number of candidates win the nomination.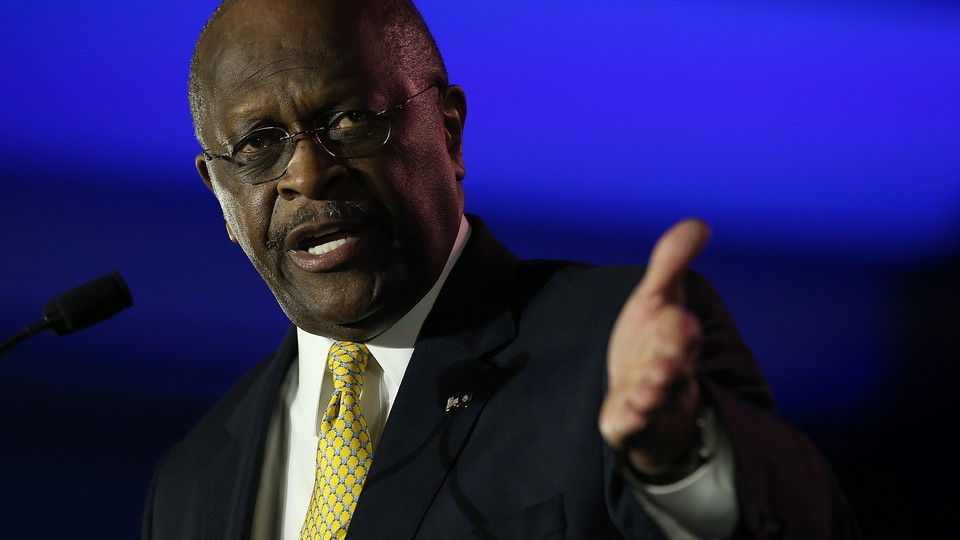 Herman Cain, former CEO of Godfather's Pizza and (briefly) a candidate for president in the 2012 election, will speak at fellow businessman Donald Trump's rallies in Georgia this weekend.
But Cain is holding off on an endorsement. It's much too early to hitch his cart to one horse, he told National Journal. (After dropping out of the last presidential race, Cain endorsed "the people.")
"Here's my approach: Too many things can happen in a presidential campaign that have nothing to do with who's the most qualified candidate," Cain said. "But I've selected my six that I feel would do an admirable job if they make it through the gauntlet."
Those six are Trump, former Hewlett-Packard CEO Carly Fior­ina, re­tired neurosur­geon Ben Car­son, former Arkan­sas Gov. Mike Hucka­bee, and Sens. Ted Cruz and Marco Ru­bio. If those candidates come to Georgia, he'll "probably" appear with them as well. Rubio is the only candidate to appear in Georgia since Cain announced his "Pick Six" of preferred candidates, according to National Journal's Travel Tracker.
"You never know which 'takedown sound-bite'—and that's a terminology that I created, so you make sure you put that in quotes—'takedown sound-bite,' you never know which one is going to cause the media frenzy," Cain said. "You never know which one is going to cause the public to just have enough doubts to stop supporting the campaign."
Cain is no stranger to the power of the press in determining presidential candidates' fates. He dropped his challenge to President Obama in 2011 after the "continued distractions" of headlines about sexual misconduct.
(Cain still bears a bit of a grudge for that. He opened his conversation with National Journal by asking, "What kind of damage are you trying to do today?")
Cain said he had spoken to Trump before he launched his presidential bid this year, and that Trump's campaign asked him to speak at the rally in Norcross, Georgia, at noon Saturday.
Trump recently told an Iowa crowd that he was a different candidate than Cain—here to stay, as opposed to a flavor of the month.
"You know they used to say, well, Michele Bachmann, nice woman, Herman Cain, good guy, but they were there (at the top) for a week," Trump said in Iowa. "We've been there now for three months, more than three months. So it's good."