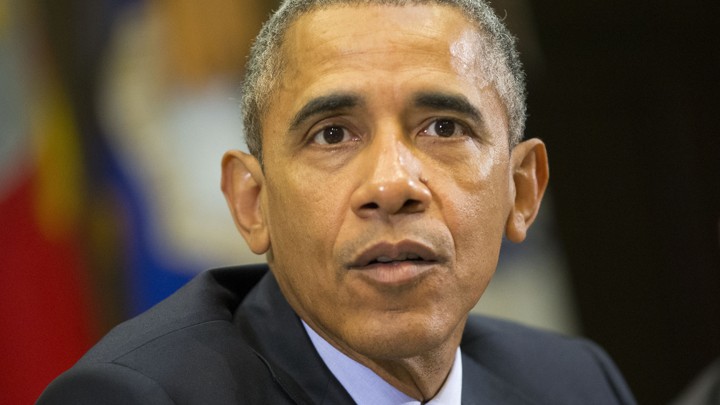 President Obama identified a foe he believes the whole country can unify against: the scourge of opioid abuse.  
"This crisis is taking lives, it's destroying families, it's shattering communities all across the country," Obama said at a forum Wednesday in Charleston, West Virginia. "That's the thing about substance abuse: It doesn't discriminate."
The Obama administration released details Wednesday morning about new initiatives to combat prescription drug and heroin abuse, two public-health crises that often go hand-in-hand in their destruction. President Obama formally rolled out the policy programs during an afternoon visit to West Virginia, which according to Centers for Disease Control and Prevention data has the highest rate of deaths from drug overdose in the country. This year has been particularly dire in the state: 2015 is on track to set a record for drug overdoses in the state's history.
On a national scale, about 2 million people abused prescription drugs nationwide in 2013, and 44 die every day from abuse, according to the CDC. When it comes to heroin, the rate of overdose deaths "nearly quadrupled," according to the CDC, from 2002 to 2013. The two problems are related—4 out of 5 heroin abusers abused prescription drugs first.
Obama called prescription drugs a "gateway to heroin" during his opening remarks, noting that the substances are in the same class, known as opioids.
One policy program announced by the administration Wednesday is aimed at prescription-drug prescribers, who according to White House Office of National Drug Control Policy Director Michael Botticelli receive "little to no training" on the safe prescribing of pain medications.
The initiative would require federal agencies to mandate training for health care workers, including contractors, who prescribe "controlled substances as part of their Federal responsibilities and duties," according to a White House memo. The schooling would center on how to prescribe pain medicines, the "principles" of pain management, how to identify drug abuse, and how to get rid of medications.
The other initiative is focused on access to treatment, and directs health care agencies and others to identify "barriers" to medication-assisted treatment for opioid abuse, including that of prescription drugs and heroin. Medication-assisted treatment, known as MAT, uses medications such as methadone along with behavioral therapy or counseling to treat addiction.
A report in The New York Times Wednesday notes that the policies may only have small effects, as the federal government is not involved in the day-to-day regulations of medical practices; the states are.
Obama noted in his remarks commitments from medical groups such as the American Medical Association and American Dental Association to cooperate with his administration; they're on the "front lines for prescribing this stuff," and should have a sense of responsibility in combating the epidemics. He also highlighted the need to expand first-responder access to naloxone—a drug that can reverse the effects of opioid overdose—as well as the necessity of certifying more physicians to provide MAT.
Panel member Brent Webster, the Charleston police chief, addressed the use of naloxone among his officers, noting that each has been trained to administer the drug nasally. He echoed comments that the president made in his opening remarks: Taxpayer dollars should be spent treating people, not locking up nonviolent drug offenders.
Though police should and will continue to go after "violent" drug dealers and those on the "supply side" of the issue, "we cannot arrest our way out of this mess." Stakeholders need to address the demand side, Webster said.
"We basically have a community of zombies walking around, and they need treatment very badly," he said.
Budgets need to reflect an emphasis on treatment, Obama said, noting that investments should be made in local treatment centers. He also addressed provisions in the Affordable Care Act that mandate that private insurers provide coverage for substance-abuse programs.
"The notion that we would not have our insurance policies cover this—they're gonna cover a broken leg, but not cover a situation where your child might die? That doesn't make any sense," Obama said.
Much of Wednesday's discussion focused on the vulnerability of children, and Obama made an it-takes-a-village approach to the conversation, noting that drug-abuse treatment is the rare issue that has bipartisan support.
"I think the first thing to do ... is to understand that this is an American problem that cuts across groups and political affiliations," he said. "Once we understand that, then we're in a position to deal with it together as opposed to turning it into another political football."
In a moment he identified as potentially controversial—"I'm in my last term, I only got a year left"—Obama called out income and race as contributing factors, saying that poor communities are decidedly more vulnerable than others.
"Those kids who don't always look like us and don't live in the same neighborhoods as us, they're just as precious," the president said. But their parents "are much less-equipped" to deal with their potential drug issues as more privileged parents are.
This story has been updated with details from Wednesday afternoon's forum in Charleston, West Virginia
We want to hear what you think about this article. Submit a letter to the editor or write to letters@theatlantic.com.
Nora Kelly
is a senior associate editor at
The Atlantic
.