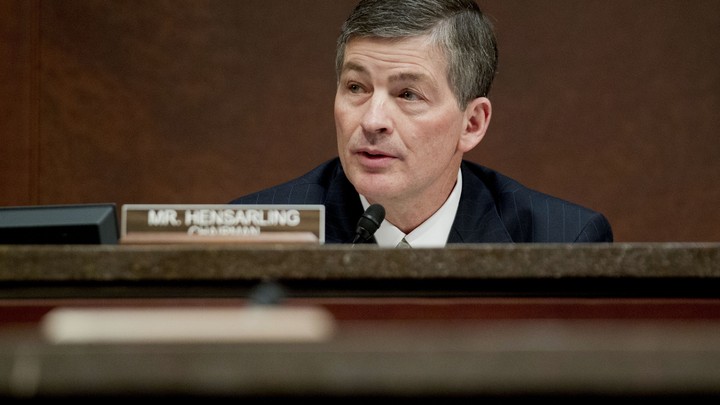 House Financial Services Committee Chairman Jeb Hensarling lashed out Wednesday at members trying to undermine him, telling them at a closed-door meeting that joining with Democrats to bring Export-Import Bank legislation to the floor is violating the will of the GOP Conference.
Hensarling has so far declined to comment publicly since a few members of his committee have begun moving a discharge petition, which if successful would take the issue out of his hands and move it straight to the House floor. But he has said in the past that he believes the bank should be disbanded and that he does not have the votes in his committee to reauthorize it.
The issue was heatedly discussed at an hourlong meeting of House Republicans in the Capitol Wednesday morning, and Hensarling said the tactic was going against the will of the conference. But members moving the petition, who are likely to begin gathering signatures this week, shot back at Hensarling that he is denying the will of the conference by refusing to act.
"I respect him, I respect his position, but there's some very serious disagreement here," Rep. Adam Kinzinger said after the meeting. "This is an opportunity for the will of the House to be worked. We've been begging for months just to let the House vote on this. It hasn't happened. This is regular order. A lot of people talk about regular order, this is it."
Kinzinger said he and his colleagues are "in a good position" to get 218 signatures on the petition, which would then allow them to move it to the floor for a vote. But it is clear even some members who support reauthorizing the bank may not be comfortable going over the head of a sitting chairman and several of their chamber's party leaders.
"It's just against my nature to do that, but I understand people that are," said Rep. Tom Cole, an Ex-Im supporter. "I don't feel like they've been given a fair opportunity, and frankly I agree with that."
Speaker John Boehner, although he has supported reauthorizing the Ex-Im Bank, has so far stayed out of the fray. Asked about the discharge petition after the meeting, he told reporters only that the committee should act on legislation.
"I believe the best way to deal with this issue is through regular order in the Financial Services Committee," Boehner said. "There is still time for the committee to act."
Other leaders, including Majority Leader Kevin McCarthy and Majority Whip Steve Scalise, have publicly said they think the bank should not be reauthorized.
For their part, House Democrats say they'll back the discharge petition if the GOP can demonstrate it has the 30 votes needed to combine for a majority. "I expect a large number of Republicans and I expect almost every Democrat, if we can discharge it, we want to support that effort," House Minority Whip Steny Hoyer said Tuesday.
While only a small number of Republicans would need to buck Hensarling to get the bank to the floor, Hoyer and other Democrats have long maintained Ex-Im has strong support within the GOP caucus—perhaps even a majority. The only thing holding it up, they say, is leadership's unwillingness to work around the chairman.
We want to hear what you think about this article. Submit a letter to the editor or write to letters@theatlantic.com.
Daniel Newhauser is a staff correspondent for National Journal, where he primarily covers the House of Representatives. He was formerly a House leadership reporter for Roll Call, where he started as an intern in 2010 and quickly earned a slot as a beat reporter.
A native of San Antonio, Texas, Newhauser traveled further West to study journalism at Arizona State University's Walter Cronkite School of Journalism and Mass Communication and write for newspapers including the East Valley Tribune and the Green Valley News & Sun.
Alex Brown
is a Congressional correspondent at
National Journal.