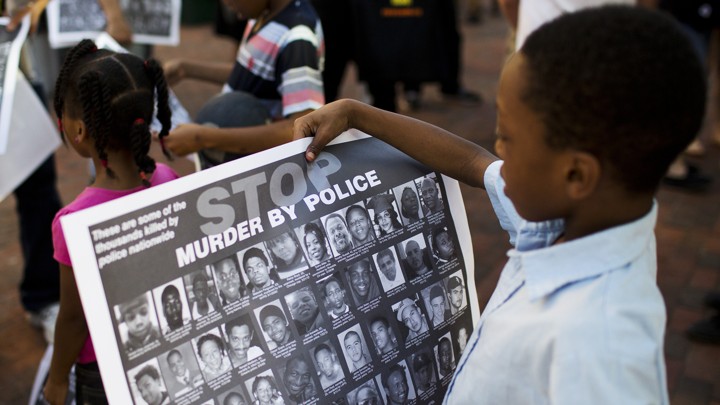 Recently, I had just dropped off my son at daycare and returned home when I spotted a group of cops milling around the parking lot. By the look of things, they were a mixture of local and federal law enforcement officers. Despite being new to my ethnically diverse, working-class Northern Virginia neighborhood, I knew this was not at all usual.
This was a planned, organized operation. These officers were clearly looking for someone. From my workstation-cum-couch, I watched as they canvassed the area, trekking between the townhomes, peering into people's cars and scribbling down license-plate numbers.
I was curious but minded my business. Not my monkey, not my show.
Then I watched one of the officers walk over to my car. He pressed his hand against a window and shone his flashlight inside. Without really thinking, I jumped up, flung open my door and asked, "Can I help you?" I like it being pointed out that he and the others, I'm almost positive, saw me walk into my house. It better explains my reaction. (I was and am obviously not the person they were looking for.)
Despite my boldness, a hundred questions ricocheted inside my head, starting with "How smart is this?" Here I was, a single, unarmed, black woman questioning an armed white male cop, just like Sandra Bland, who was arrested during a traffic stop in June, taken to jail, and later found hanged in custody.
And it's not like I had anything to hide. In my car were some old CDs, about a buck-75 in change and a baby seat. Still, I felt violated. Despite my swirling feelings, I took a deep breath and what began as a tense conversation diffused quickly. The officer said they were looking for the driver of a Toyota Camry. I pointed out that my Toyota Camry was sitting in front of my house. He apologized, clicked off his flashlight, and walked off.
After I recounted the experience on Facebook, some of my black friends criticized what they called my rash response.
As a single mom, I needed to not put myself in harm's way, they said; my son needed me. The funny thing is that my father—a career military officer who witnessed his share of police run-ins—had always encouraged my brothers and me to be smart but never to cower in the face of authority. But I got their point: We are living, and have always lived, in precarious times.
As a mother of a little boy, watching the scrolling parade of black bodies and the mounting evidence that black lives don't matter is both disturbing and distressing.
It means that while I must consider how vulnerable my 2-year-old may be growing up in America (remember, Tamir Rice was only 12 when he was shot down for toting a toy gun), I must also weigh my own risk. It means I don't have the luxury of being in the wrong place at the wrong time or even simply being misunderstood: I must live my life as if I am always a potential suspect, stereotyped and endangered because of my color.  
At times, that fear has me wanting to pack up and leave this country, some days for survival and others out of anger and protest.
Sadly, over the past two years, my girlfriends and I, other mothers of young black boys and girls, have had plenty of opportunities to gather on Facebook and in real life to discuss our fears while trying to devise strategies to keep our kids safe, should they ever unjustifiably be confronted by police. We discuss what just about all scared black parents tell their sons: No hoodies, no sagging pants, don't argue with the cops, no loud music, and make sure your hands are visible at all times.
However, since Sandra Bland, we've also gathered to discuss what we'd do if we were the ones profiled—if we were the ones who couldn't talk our way out of a dangerous traffic stop, or out of being actively disrespected, hurt, or otherwise mistreated by the police. We agree: The goal is to make it home to our kids. But it may mean sucking up our pride and, in the process, being stripped of another piece of our humanity. But at least we will be alive.
Tomika Anderson is a multimedia journalist, editor, and producer who has created cross-platform content for FOX, CNN, MTV, BET, Fuse, and others.
This story is part of our Next America: Workforce project, which is supported by a grant from the Annie E. Casey Foundation.
We want to hear what you think about this article. Submit a letter to the editor or write to letters@theatlantic.com.