Grayson Seeks Ethics Probe Over Kevin McCarthy's Benghazi Gaffe
The complaint alleges the Benghazi panel is using taxpayer money for political attacks. But the Office of Congressional Ethics would need bipartisan agreement before launching a real investigation.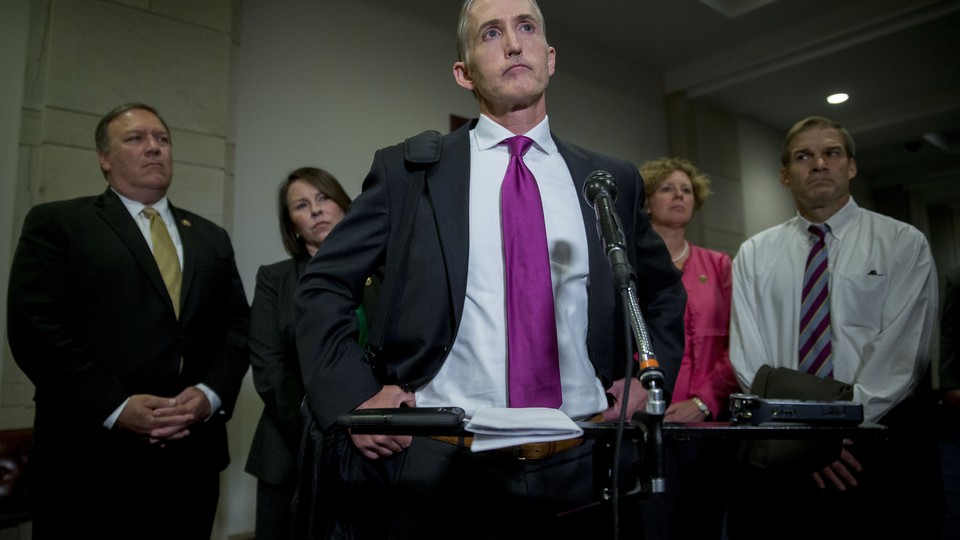 An outspoken House Democrat has opened a new front in the battle over House Majority Leader Kevin McCarthy's controversial comments on the House Select Committee on Benghazi.
Rep. Alan Grayson filed a three-page complaint with the House's independent investigative arm, alleging McCarthy and the panel's chairman, Rep. Trey Gowdy, are using the taxpayer-funded committee to damage Democratic front-runner Hillary Clinton's campaign.
But that doesn't mean the Office of Congressional Ethics will launch an investigation.
Grayson's filing is the latest Democratic attack against McCarthy's comments on Fox News last week, when McCarthy—who is running for House speaker—credited the panel with hurting Clinton's poll numbers.
"Every­body thought Hil­lary Clin­ton was un­beat­able, right? But we put to­geth­er a Benghazi Spe­cial Com­mit­tee. A se­lect com­mit­tee. What are her num­bers today?" McCarthy told Fox News host Sean Hannity a week ago.
"The Benghazi Committee has been a political dog-and-pony show for its entire 17-month history," Grayson, a Florida Democrat, said in a press release. "It has been clear even to casual observers that the purpose of the committee was never to investigate the tragic death of four Americans in a terrorist attack; it was to attack Hillary Clinton."
The complaint alleges that McCarthy and Gowdy "violated federal law and House rules by using official funds appropriated to the Select Committee on Benghazi to pay political or campaign-related expenses."
OCE takes a look at all complaints it receives, analyzing whether they meet the entity's jurisdictional requirements. But it's the OCE board that decides to launch an investigation. A vote of two board members (one appointed by the House speaker, another by the minority leader) is needed to authorize a preliminary review. A "yes" vote generally means that publicly available information provides a reasonable basis to believe a violation may have occurred.
A spokesman for McCarthy, asked about the complaint, replied, "Rep. McCarthy has made it clear that the Select Committee on Benghazi is not political and only focused on getting to the truth."
OCE and the House Ethics Committee declined to comment for this story. Gowdy's press aides also did not respond to an inquiry about the complaint Wednesday morning.
One ethics expert was skeptical that the complaint could lead to substantive change.
"While the Benghazi Committee has political overtones, it is hard to imagine Ethics would go down the road of trying to parse what committee activity is improper because it is too political," Ken­neth Gross, an eth­ics at­tor­ney who leads Skad­den's Polit­ic­al Law prac­tice. "If such a determination were made, it might free up a lot of committee hearing space."
Republicans have been in damage-control mode over McCarthy's comment, which undercut Republicans' longstanding insistence the panel's motivations are not political.
McCarthy has repeatedly sought to walk back his remarks, and other Republicans, including outgoing Speaker John Boehner, have reiterated that the panel is not a political weapon against Clinton.
Gowdy has spoken in very personal terms about his reaction to McCarthy's statement, telling The Washington Post in an interview published Tuesday: "Yes, he's apologized as many times as a human can apologize. It doesn't change it. It doesn't fix it."
On MSNBC's Morning Joe Wednesday, Gowdy said that McCarthy "screwed up" and his comments were inconsistent with the substance of the probe of the 2012 attacks in Libya that killed four Americans, including Ambassador Christopher Stevens.
"Kevin is not on the Benghazi Committee. Kevin, I am sure, does not know that we have interviewed 41 witnesses that none of the previous committees have interviewed, including seven eyewitnesses," Gowdy said.
The ethics complaint arrives amid a far broader Democratic effort to capitalize on the gaffe.
Top Capitol Hill Democrats have called for the Benghazi panel to be disbanded. Clinton, who will appear before the committee on October 22, this week said on NBC that McCarthy's comment reveals the panel as a "political, partisan committee for the sole purpose of going after me." Her campaign launched a national TV ad Tuesday highlighting his statement.
An aide to Nancy Pelosi, the top House Democrat, did not respond Wednesday morning to an inquiry about the complaint. But Pelosi herself suggested last week alleged that Republicans may have run afoul of rules that bar using public dollars for political purposes.
"I do believe that this could be an ethical issue in the House for whomever established this committee or the Republicans in this term. So the question is: Is this an ethics violation of the rules of the House?" she said, October 1.
Democrats' emboldened campaign against the Benghazi panel even made a brief appearance on the House floor Wednesday, when Democrats tried to bring up a resolution to disband the committee.
The resolution calls the investigation a misuse of public taxpayer dollars for campaign purposes in violation of federal law and House rules. But the resolution was not made in order, and Republicans defeated a Democratic motion to appeal that ruling in 240-183 vote cast entirely along party lines.
This article has been updated.