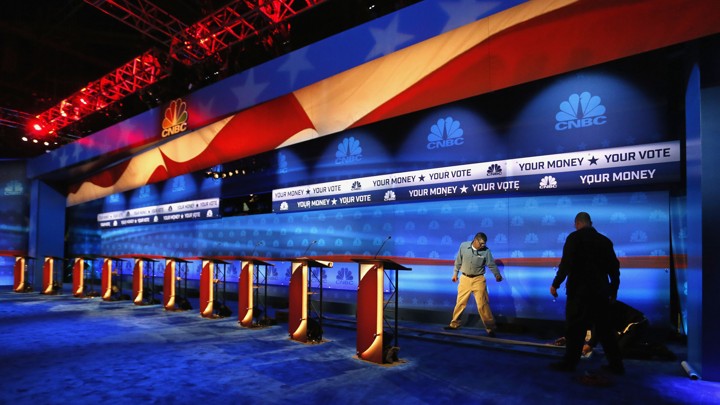 The clan of 10 takes the stage again tonight for the third GOP debate, this time in Colorado.
Republican presidential hopefuls will square off in what is expected to be, at the very least, an entertaining debate if it shakes out like the others. CNBC is hosting the debate and perhaps reaping the benefits of doing so, as they're likely going to garner a large viewership. Fox News and CNN, the last two hosts, boasted strong ratings.
Donald Trump, Ben Carson, Marco Rubio, Jeb Bush, Carly Fiorina, Ted Cruz, Mike Huckabee, Chris Christie, John Kasich, and Rand Paul will participate in the two-hour debate, beginning at 8 p.m. Those without an average of 3 percent in a specified group of national polls were pushed to the undercard debate at 6 p.m., which includes Rick Santorum, George Pataki, Lindsey Graham, and Bobby Jindal.
The outlook for the prime-time debate promises to be more substantive than the others. Whether or not that will hold true remains to be seen. (Already Trump has blasted the debate, saying it'll be "unfair.") CNBC's Carl Quintanilla, Becky Quick, and John Harwood will deliver questions focused on the economy, an expected move on a channel dedicated to covering business. The focus will provide candidates the opportunity to speak specifically on policy, something viewers haven't seen much of from the Republicans as of yet.
Among those that could benefit from such a focus are Bush, Fiorina, and Trump. Bush, for one, has frequently talked about strengthening Florida's economy during his tenure as governor and his goal to grow the national economy by 4 percent a year. Meanwhile, Trump recently released a tax plan—which included a tax cut—although it was criticized by both the left and the right. "It's going to cost me a fortune," he declared. And then there's Fiorina, the former Hewlett-Packard chief executive, who will likely resort to her extensive business experience. While Fiorina will be able to reference her business knowledge, she's also working to gain a strong footing that has been lost since the last debates.
But what Fiorina does have working in her favor is that she's an outsider. Candidates with no record in Washington, including Trump and Carson, are surging in the polls, leaving establishment candidates like Bush and Rubio trailing behind. And they'll likely do their best to turn that tide tonight.
The resounding difference between this debate and the others is that Trump has fallen in some polls, giving headway to Carson. During the CNN debate, the two seemed happy, friendly. That may not be the case this time. Trump has already recycled a criticism usually used toward Bush, calling Carson "low energy."
We want to hear what you think about this article. Submit a letter to the editor or write to letters@theatlantic.com.