Getting a Drone for Christmas? Better Register with the Government.
The FAA wants to finish registration rules by mid-December, but questions remain about how an agency prone to missing deadlines can meet this one.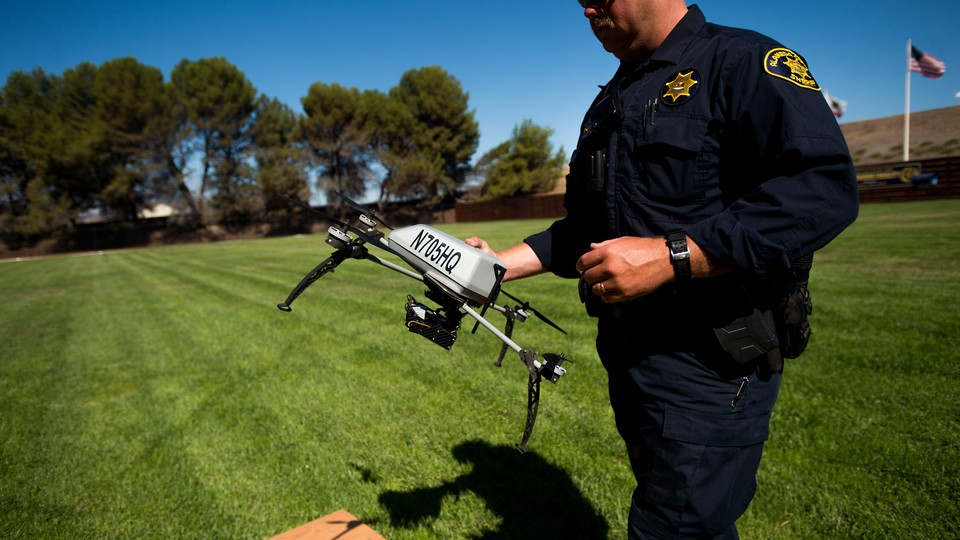 In a bid to prevent dangerous crashes, federal regulators will begin requiring the registration of most recreational drones before the end of the year.
The move, announced Monday by Transportation Secretary Anthony Foxx, is a significant tightening of regulations ahead of a holiday season that is expected to see a major surge in the popularity of drones.
The Federal Aviation Administration has until now avoided putting strict restrictions on drone flights by average consumers, instead focusing its efforts on developing a framework for commercial drone use. While there is a general ban on commercial drones, the FAA has granted thousands of exemptions to a range of industries, from agriculture to news-gathering.
As soon as December, even recreational drone operators will be required to share information about themselves and their drones before taking off. Foxx said Monday that the Transportation Department is convening a task force, comprised of government agencies and private-sector groups, to determine the best process for registering and keeping track of a large volume of drones.
"Registration will help us enforce the rules against those who operate unsafely by allowing the FAA to identify the operators of unmanned aircraft," Foxx said Monday. "There can be no accountability if the person breaking the rules cannot be identified."
The drone industry, wary of even more onerous regulations, largely welcomed the FAA's announcement Monday. Drone groups will play a central role in the Transportation Department's registration task force.
But the praise came alongside calls for the government not to overregulate recreational drone use. Gary Shapiro, CEO of the Consumer Electronic Association, warned against creating an unnecessary bureaucracy around recreational drone use. "Any proposal must sensibly and reliably differentiate products from toys to equipment intended for commercial use," Shapiro said in a statement. He said the task force should examine "if there are better ways to meet the objectives of regulators and law enforcement."
The task force, which will be made up of 25-30 groups in and out of the government, will consider offering exemptions to the registration requirement for toys or other small drones.
The agency is giving itself an ambitious mid-December deadline for setting up the drone registration database. The hurried timeline is likely spurred by the fast-approaching holiday season—by its own estimates, as many as 1 million drones will end up under Christmas trees this year—but an agency known for missing deadlines may have trouble meeting this one.
Congress tasked the FAA with releasing final rules for commercial drone use by September, but the agency estimates that the rules will not be ready until summer.
"The level of urgency here is sufficient to move as quickly as we possibly can," Foxx said Monday about the drone registration rules—but developing them quickly would require fast answers many outstanding questions.
"It would be the most amazing feat of governance I've seen in my 33 years in the federal government," Jim Dentons, a recently retired top drone official at the FAA, told The Wall Street Journal.
FAA Deputy Administrator Michael Whitaker said earlier this month that discussions are ongoing about the "logistics" of setting up a registry: "What would be the best tool for that, whether it's at point of sale, how you verify ID, things of that nature."
Whitaker, speaking at a hearing in front of the House Transportation Committee's Subcommittee on Aviation this month, said the government needed help from outside groups to make a registry work. "We would not be set up to take this level of registration data," Whitaker said. "We want to make sure it's assessable if we do that, and also that it can be used for law enforcement purposes."
The government has grown increasingly concerned about rogue drone flights that have the potential to disrupt critical operations in the sky. Commercial-airline pilots have reported a rapid increase in drone sightings and near misses, prompting calls for geofencing technology to keep drones away from airports. And drones flying near wildfires have interfered with firefighters nearly two dozen times this year, according to recent testimony from a U.S. Forest Service official.
The FAA is considering a number of ways to protect larger aircraft from errant drones. Most recently, the agency announced that it began testing a military-grade technology that could identify drones passing into restricted airspace, even disabling or taking control of the vehicle.