Where Is the Place for Devout Gay Families in the Church?
A pair of moms—who met when they were nuns—show the tension surrounding homosexuality in Catholicism.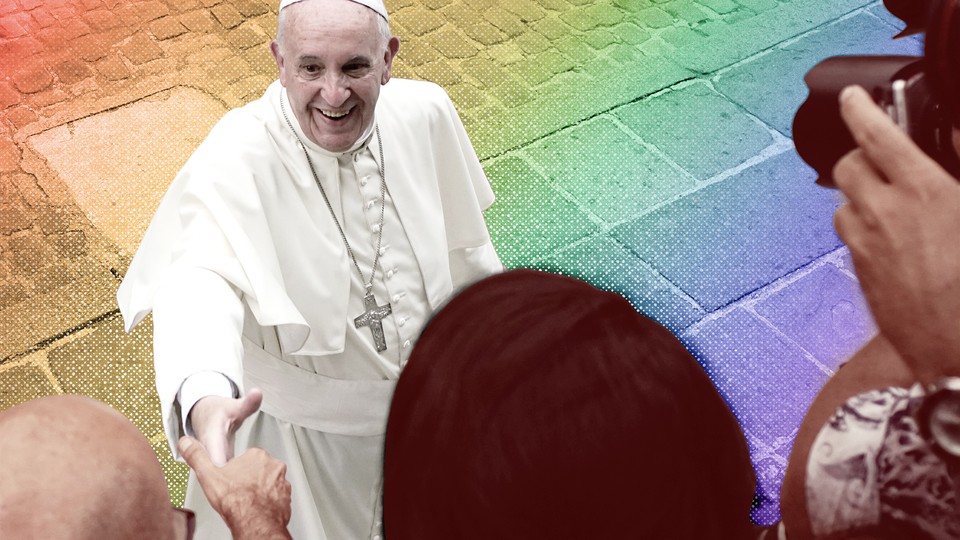 Gabriela Fore—aged 9, soon turning 10—was adopted in 2006 by Annmarie and Claire Fore. During the pope's visit, she sang in the official choir of the Archdiocese of Philadelphia, which greeted Francis during the weekend's masses. The Fores regularly attend St. Vincent de Paul Church in the Germantown neighborhood of Philly, where they have participated on and off in gay-and-lesbian spirituality groups. The priests are welcoming, as is their congregation, the women said; they feel comfortable holding hands in church.
They are a totally ordinary Catholic family, except that Annmarie and Claire are gay. Well, and not totally ordinary—Annmarie and Claire are also former nuns who met during their time as Franciscan sisters and eventually left to get married. At times, they've considered leaving the Church altogether. But when they've gone to other kinds of religious services with friends, they felt like "this is not us," Annmarie said. Their spirituality is specific, formed by and within the Catholic Church. That hasn't changed just because they're now married lesbians, rather than chaste sisters. But in Roman Catholicism, it's not enough to declare your religious identity—the institution determines who is part of the body faithful. The Church, which views "homosexual acts as acts of grave depravity," does not approve of families like the Fores.
Even the world's most hierarchical religious institution isn't immune to broader social changes, though. This month, Catholic bishops are in Rome for the second of two synods, or meetings, about the topic of family and marriage. Already, there's been drama between conservative and progressive prelates, with the former accusing the latter of trying to change Church teachings in a fundamental way. Gay marriage isn't even close to being on the table; at most, the bishops might issue guidance on how to minister to LGBT Catholics, as some hinted at last fall's gathering.
This is the world of the clergy. But the world of the faithful isn't necessarily the same. In America and elsewhere, there are already gay Catholic families attending Mass, taking communion, and living out their faith. And while some in the official Church hierarchy might not accept them, a lot of Catholic leaders do. Before the pope's visit, for example, the Fores told the music director they're a gay family. But "she was like, 'Ok, welcome, you know, whatever,'" said Annmarie.
"Sometimes it's easier to walk away and not stay in the struggle," Claire said. "But I think in this instance, we need to stay, because who is anybody to say that God doesn't love us?"
"And Jesus is our model for that," Annmarie added. "The Pharisees, the leaders of his church—he challenged their laws, and came to bring some of the flaws of his faith to light. Why would we not be called to do that?
* * *
In most all religions, those who take a more traditional view are often assumed to be the authentic owners of their faith. These rule-keepers may fear the erosion of traditional teachings, the mix of secularism and orthodoxy; to them, doctrinal change represents a potentially existential threat. As the dissenting bishops allegedly wrote in their letter to Pope Francis at the synod in Rome: "The collapse of liberal Protestant churches in the modern era, accelerated by their abandonment of key elements of Christian belief and practice in the name of pastoral adaptation, warrants great caution in our own synodal discussions."
Particularly in America, this fear is most powerful on issues that have to do with sex. The topics the Church construes as "family issues"—pre-marital sex, divorce, contraception, abortion, and homosexuality—sometimes seem to consume the rhetoric, and spending, of Catholic leaders in the United States. This may be one reason for the bleeding of America's pews: Those whose lives don't fit the mold of lifelong, heterosexual marital fidelity may not feel they have a place among Jesus's flock.
The easy retort, of course, is that people can't just pick and choose the tenets of their faith—those who do are "cafeteria Catholics." And, yes, some Americans are partially observant, uneducated, lapsed, or nominal Catholics, whether by upbringing or necessity or complete personal okay-ness with their level of observance. But it's a little difficult to level that accusation at the Fores. Not to be all like, they're former nuns!, but: They're former nuns—women religious, technically, but "nun" is the word they used to describe themselves. When a woman is thinking about becoming a religious sister, she goes through what's called a discernment process—intense self-reflection on whether God is calling her to this vocation, or life's work. She picks a specific order she's interested in joining, often for its charism, or particular kind of spirituality or area of focus. When Annmarie decided to leave the Franciscan sisters, she had been in this process of "formation" with the community for four years. Claire was 40; she had already been part of the community for 18 years and had taken final vows.
Those whose lives don't fit the mold of lifelong, heterosexual marital fidelity may not feel they have a place among Jesus's flock.
"Neither of us even knew that we were lesbians," Annmarie said. "It was through the formation, for both of us really, it was through the experiences that the community allowed us for our own personal growth, that we figured out who we are as a whole person. It blossomed from a friendship to a love relationship."
The women decided they would each make their own decision about whether or not to stay in religious life. If they both chose to leave, they said, then they could stay together. In 1999, Annmarie chose to leave before taking her first vows. A month later, Claire did the same. They held a commitment ceremony in 2002.
For the most part, Claire's family was supportive. It took them some time to start using terms like "daughter-in-law" and stop sending two separate cards at Christmas, she said, but they affirmed their love for her and their support for her choices.
Annmarie's family, though, was a bit different. She grew up in what she described as a very traditional Catholic household in Wilmington. Her dad was a deacon, or an ordained minister who can perform baptisms, lead prayers, and oversee weddings and funerals, among other things. When she came out to them, a few years after leaving the Franciscan sisters, "They could not just say, oh, you're our daughter and we love you," Annmarie said. "It's, 'This is wrong, and therefore you should not do it or change.' We had a period of about five years of barely talking."
Ironically, the thing that helped them reconcile was Catholic family life. When Annmarie and Claire adopted Gabriela, "I wanted my dad to baptize her. I wanted them to be her grandparents," Annmarie said.
"Three weeks—it took him three weeks to answer us," Claire said.
But ultimately, "he came to the baptism, and that broke down a huge wall," Annmarie said. "It wasn't an overnight miracle or anything. But since then we've been able to go to their house together as a family." They still don't consider Claire to be Annmarie's wife. But "by the grace of God I've been able to accept them for where they're at and have been able to move forward, and they've been in my life and they've been in Gabriela's life," Annmarie said.
"We believe our marriage is an outward sign of God's presence. So, yeah, it's a sacrament."
When I asked the women whether they believe their marriage is a sacrament, they had a quick theological debate about what that would mean for them, in both technical and symbolic terms. "I'm married to her," Claire said. "I don't know whether it's just because where the Church is with it that I haven't been able to get to the point where I see it as a sacrament. But do I believe that we were called together by God? Yes."
"It's not often we get reminded of the fact that it's not matrimony, it's not a sacrament, but whenever I do hear that, it's still sad to me," Annmarie said. "I want that blessing of the Church." Yet, in broader terms, a sacrament is "an outward sign of God's presence," she said. "We believe [our marriage] is an outward sign of God's presence. So, yeah, it's a sacrament."
Almost certainly, the vast majority of Catholic theologians and canon lawyers would disagree with her. But the Fores' relationship with God, and their existence as a family, may not be captured by the technicalities of canon law. And in a lot of ways, their lives are not about being gay. When the women were deciding whether to leave the Franciscan sisters, they said, the hardest part was choosing to leave religious life, not choosing to come out as lesbians. And when they describe their current callings, the vocations they've found beyond religious life, the central theme is family.
"I never really thought that I would be a mother," Claire said. "But when we got together, that was like the only thing I knew that we wanted"—she turned to Gabriela—"was you."
* * *
Throughout his papacy, Francis has offered somewhat mixed messages on the Church's posture toward gays and lesbians. The most famous five words he's ever said are, "Who am I to judge?" He was referring to an allegedly gay priest. But he's also been a vocal advocate of traditional marriage, expressing worry that "gender theory" leads people to discount the God-given, differentiated roles of men and women, including in matrimony.
One topic he has been emphatic about, though, is the importance of children in Catholic family life. "In recent decades there has been a breakdown in the way Catholics pass down the Christian faith to the young," he wrote in his 2013 apostolic exhortation, Evangelii Gaudium. "Growing numbers of parents do not bring their children for baptism or teach them how to pray." He has gone out of his way to praise the contributions of women in the Church, particularly in their roles as mothers. Aside from one rather charming but perhaps ill-advised observation about Catholic mating tendencies and rabbit sex, he has been a staunch advocate for Catholic family formation within the Church.
Which, depending on how you look at it, might make it ironic that a family like the Fores is not officially welcome in the Church. Among some of the top American Catholic clergy, the drumbeat against homosexuality has only gotten stronger in the months following the U.S. Supreme Court's same-sex marriage decision. In October, Newark Archbishop John Myers issued guidelines stating that:
Catholics must be in a marriage recognized as valid by the Church to receive Holy Communion or the other Sacraments. Non-Catholics and any Catholic who publicly rejects Church teaching or discipline, either by public statements or by joining or supporting organizations which do so, are not to receive the Sacraments.
This is notable because of the timing: These guidelines were announced during the synod in Rome, which is surely not coincidental. But it's also remarkable for its breadth: Not only are gay couples not supposed to take communion; anyone who publicly supports them can't, either.
The Archbishop of Philadelphia, Charles Chaput, has expressed a similar attitude. Before the pope's visit, he wrote a letter in reference to a lesbian woman who got fired from local Catholic school. "We have a foundational responsibility to being faithful to the teachings of Jesus Christ regarding the meaning of marriage and the meaning of human sexuality," he wrote. "It seems that many prefer worldly ways rather than the ways of Jesus."
"If we didn't believe in who our God is, we could take what Archbishop Chaput is saying: 'Ok, out.' That's what he wants," Claire said. "But that's not what I believe God wants."
"I do believe that [the Church] can change in its teaching around and respect for LGBT folks and marriage," Annmarie said. "Those are issues that can evolve. Maybe not in my lifetime"—"And not in mine," Claire interjected—"But it doesn't mean I say, 'Well, the heck with you.' I have faith in God's ability to work through our very human church, with all of its flaws."
This is a very American attitude: to be openly defiant of strict rules about faith; to have conviction, even though it may not be sanctioned by authorities; to see core disagreements as a strength, not a weakness. It is possible that splits over sex and family life will break the Catholic Church. But in the meantime, the Fores will keep attending church, and keep praying that their faith will be rewarded by some future pope—or, perhaps, this one. More than a decade after they left religious orders and made a lifelong commitment to one another, Annmarie and Claire Fore were legally married. It was October 4, 2014, the Feast of St. Francis.