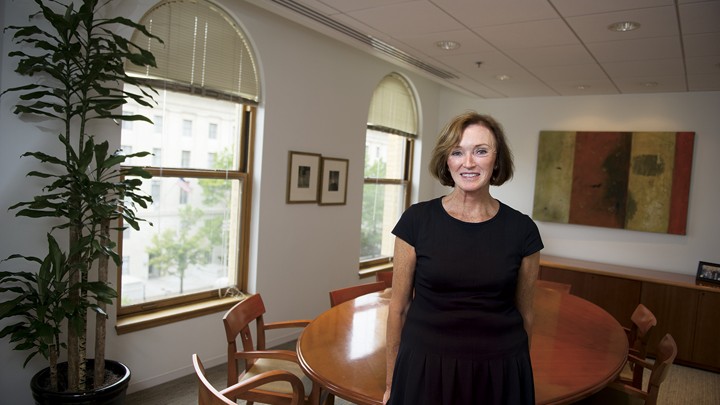 Until February, Marilyn Tavenner was the head of the Centers for Medicare and Medicaid Services at the Health and Human Services Department, and best known as the Obama administration official chiefly responsible for the rollout of Healthcare.gov. Then she stepped down from that post and disappeared from view, only to resurface in August—on the other side of the negotiating table.
Tavenner, 64, is now CEO and president of America's Health Insurance Plans, the nation's largest association of insurance companies, where she divides her time between management, speaking functions, and directing AHIP's legislative agenda, including meeting with members of Congress. (Federal conflict-of-interest rules bar her from directly lobbying CMS or other parts of HHS.) She's excited about her new mission, which she views as a logical next step in her career, she says when I visit her in her new offices in downtown D.C. "Now that the number of uninsured has dropped, a lot of people are more focused on quality and cost, so what we're trying to do is put those two together: make sure you've got a quality product, and make sure the cost is acceptable."
Not surprisingly, however, her move from regulator to advocate has raised some eyebrows. It's "gamekeeper turned poacher," says Thomas Miller, a resident fellow at the right-leaning American Enterprise Institute, where he specializes in health insurance regulation and the Affordable Care Act. Insurers want to know "how things operate in the hen house when you're raiding the chickens as a fox," Miller says, and Tavenner can tell them, in great detail.
As Miller's response suggests, the public perception of the health insurance industry isn't entirely positive: A 2011 Harris Poll found the sector to be among the least popular in the country. And when President Obama was trying to build public support for the Affordable Care Act, he recognized the industry as a convenient whipping boy. But at some point during the health-care-reform process, the perspective within the federal government changed, says Sabrina Corlette, a research professor at the Center on Health Insurance Reforms at Georgetown University: "The Obama administration has really come to see the insurance industry as partners in the health-care-reform effort." After all, she notes, there are a number of places where government objectives and the objectives of insurance companies align: Both want more Americans to have health insurance (more customers), and both want Americans to stay healthy (fewer costs). When the relationship is viewed that way, Tavenner is a natural choice to be at the center of it.
The Fieldale, Virginia, native has experience on both the executive and clinical sides of health care, and her hospital bona fides have deep roots. She attended the nursing school at Roanoke Memorial Hospital (now known as Carilion Roanoke Memorial Hospital), after which she earned a bachelor's degree in nursing and then a master's in health administration from Virginia Commonwealth University. In 1981, she went to work for the Hospital Corporation of America, starting out as a nurse at the Richmond-based Johnston-Willis Hospital and eventually moving into management. By 1993, she had become director of nursing, and when the organization's CEO left, the board of directors tapped her for the job. "It was a big jump," she says. She stayed with HCA, working in various capacities, until 2005, when Tim Kaine became governor of Virginia. "When he was elected, he asked me if I'd come be secretary of health," she says. After four years in that role, she joined the Obama administration as head of CMS.
Despite the numerous bumps along the way, Tavenner views her years at CMS as well spent. "I couldn't have worked there during a more exciting time," she says. In addition, she notes, "I learned just how complicated the process can be, particularly when you're working in government and working with the private sector." As that sentiment implies, Tavenner's current position at the nexus of government and industry is unlikely to be without tension or significant challenges. But she's no stranger to those things, or to overcoming them. "The reason I went into public policy had to do with the number of uninsured," Tavenner tells me, "and it's been nice to see that change."
We want to hear what you think about this article. Submit a letter to the editor or write to letters@theatlantic.com.