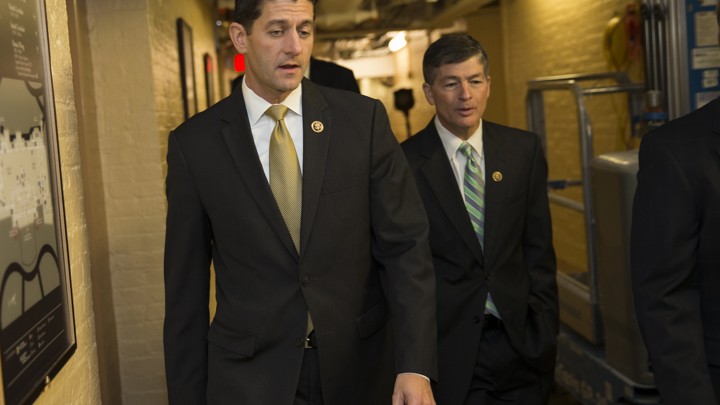 Rep. Paul Ryan still has a lot of convincing to do to win the support of the Freedom Caucus.
House Speaker John Boehner, however, thinks Ryan is up to the task.
"I think Paul is going to get the support he is looking for," Boehner told reporters during a Wednesday morning press conference.
Ryan told members Tuesday night that he was willing to serve, but only if he earned the endorsement of all three of the House Republican's main caucuses: the Freedom Caucus, Tuesday Group, and the Republican Study Committee.
The Freedom Caucus has a long list of concerns for Ryan ranging from his stance on immigration reform to his stipulation that he will only run for speaker if members do away with the "motion to vacate the chair," a rule conservatives in the conference had used to threaten Boehner's speakership.
"The demands to change Jefferson's rules on the motion to vacate the chair seems kind of arcane, but I think it has worked since 1801 so I think that should probably not be changed," says Rep. Tim Huelskamp of Kansas. "If it was good enough for Thomas Jefferson, I think it is good enough for us."
Rep. Mo Brooks from Alabama said he takes issue with the fact that "there are members of Congress who would try to force Paul Ryan into the speakership position when he has said candidly that he does not want the job and because of family commitments, does not have the time to do it."
Boehner said Wednesday that he has spent time helping Ryan reimagine the job of speaker so that Ryan would be able to spend less time on the road, fundraising away from his family in Wisconsin.
"I think there is a way to do that and I frankly outlined a way that Paul could do this differently than the way I did it," Boehner said.
Ryan still will sit down and meet with the Freedom Caucus in a formal discussion. He has set a deadline of Friday to make his decision.
We want to hear what you think about this article. Submit a letter to the editor or write to letters@theatlantic.com.
Lauren Fox
is a congressional reporter at
U.S. News.
Her work has appeared in
Salon
,
MSNBC,
and
Columbia Journalism Review
.