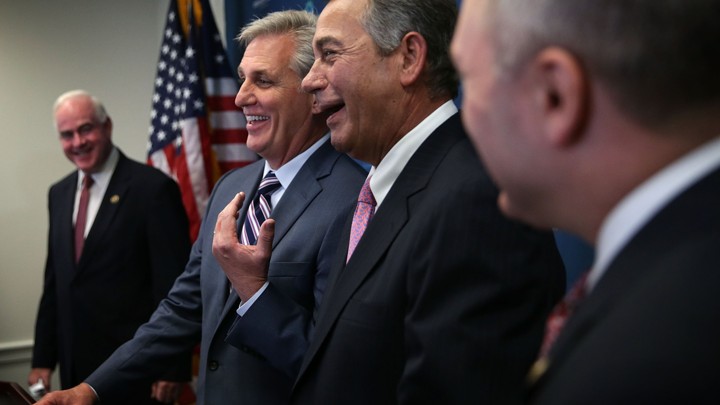 House Republicans' dissatisfaction with their current menu of leadership options became even clearer Monday, as a committee chairman stepped into the race to be speaker and Republicans delayed the rest of their down-ballot elections until the top job is settled.
The three candidates for speaker—Majority Leader Kevin McCarthy, Oversight and Government Reform Committee Chairman Jason Chaffetz, and Rep. Daniel Webster—will make their pitch to an alliance of conservative caucuses Tuesday. Meetings with other caucuses and delegations are set throughout the week. But conservatives' endorsement, or even disparate support from some of their members, will be critical to winning the election.
That backing is especially vital for McCarthy, now that he appears to face a more concerted fight. Sources in McCarthy's campaign said they believe he will still win, but Chaffetz's candidacy immediately put what seemed like an assured McCarthy victory into question. Although McCarthy needs only half of the conference to vote for him at Thursday's closed-door speaker election—a feat he can easily pull off—the test of his support from the Right will come Oct. 29 when the vote comes to the House floor.
Conservatives have already shown themselves willing to buck the party nominee publicly. Chaffetz entered the race saying that McCarthy cannot win the requisite 218 votes on the House floor due to conservative opposition and a feeling that a fresh face is needed to project change to restless Republican constituents. He said roughly 50 members would not vote for McCarthy under any circumstances.
"I don't think they want to go home and say they just gave a pro­mo­tion to the ex­ist­ing lead­er­ship," Chaf­fetz said. In­stead, what House Re­pub­lic­ans have been telling him, he said, is: "'I can't vote for the guy; I'm go­ing to get killed at home. That's not what we need. We need to go a dif­fer­ent dir­ec­tion.'"
Yet it remains unclear exactly how much support Chaffetz has. He told reporters Monday that he was recruited for the role, but declined to say by whom except that the nudging was from the conservative side of the party. It is clear that members of the party have been searching for another candidate. Chaffetz himself tried to goad Rep. Trey Gowdy into running for majority leader as recently as last week, but no one has yet publicly supported Chaffetz.
If Chaffetz was recruited by conservatives, it was not a concerted effort from the House Freedom Caucus, said Rep. Mick Mulvaney, a founding member of the group.
"I'm not aware of any effort at all to recruit Jason Chaffetz to run for speaker," Mulvaney said Monday, adding that he is undecided in the race until he can hear from all the candidates. "I found out about it about the same time as everybody else did. And he called me about a half hour later."
And for their part, centrist members who so far support McCarthy have not shown any signs that they would rally around Chaffetz as an alternative.
"I don't know about 218," said one McCarthy supporter, when asked whether the Californian could lock up support on the floor, "but I do know the two-thirds of the conference voting for McCarthy would never rally around Chaffetz, or any Freedom Caucus[-aligned] member."
That could leave room for another candidate to join the race, although the usual suspects—Gowdy, Ways and Means Committee Chairman Paul Ryan, and Financial Services Chairman Jeb Hensarling—have said repeatedly they are not interested. Webster is not expected to draw much support.
Meanwhile, the composition of the rest of the leadership team remains just as fluid. Speaker John Boehner on Monday announced that he will delay any further elections until after a speaker is chosen.
"After the new Speak­er is elec­ted on Oc­to­ber 29th, the mem­bers of our Con­fer­ence will se­lect the rest of their lead­er­ship team," Boehner said in a statement. "The new Speak­er will es­tab­lish the date for these ad­di­tion­al lead­er­ship elec­tions. This new pro­cess will en­sure House Re­pub­lic­ans have a strong, uni­fied team to lead our con­fer­ence and fo­cus on the Amer­ic­an people's pri­or­it­ies."
Members who were asking for the delay welcomed the decision. Mulvaney joined with Reps. Peter Roskam, Jim Renacci, and Jim Jordan in cheering the statement, noting that it gives the conference time to discuss internal rules changes and gives the candidates more time to spell out how they would lead.
Other elections would happen only if McCarthy vacates his post. But if that does happen, the delay could spell trouble for Majority Whip Steve Scalise, whose team was confidently projecting over the weekend that he has the votes to win the race for majority leader against Budget Committee Chairman Tom Price.
"Our team is strong and growing, and we look forward to having all of these elections take place as soon as our conference is ready," Scalise spokesman Chris Bond said. Price's office declined to comment.
We want to hear what you think about this article. Submit a letter to the editor or write to letters@theatlantic.com.
Daniel Newhauser is a staff correspondent for National Journal, where he primarily covers the House of Representatives. He was formerly a House leadership reporter for Roll Call, where he started as an intern in 2010 and quickly earned a slot as a beat reporter.
A native of San Antonio, Texas, Newhauser traveled further West to study journalism at Arizona State University's Walter Cronkite School of Journalism and Mass Communication and write for newspapers including the East Valley Tribune and the Green Valley News & Sun.