Florida's Moderate Lawmakers Are in Trouble Thanks to a New Congressional Map
Both of the Florida Democrats representing "Romney districts" and two of the three Republicans in "Obama districts" could be on their way out in 2016.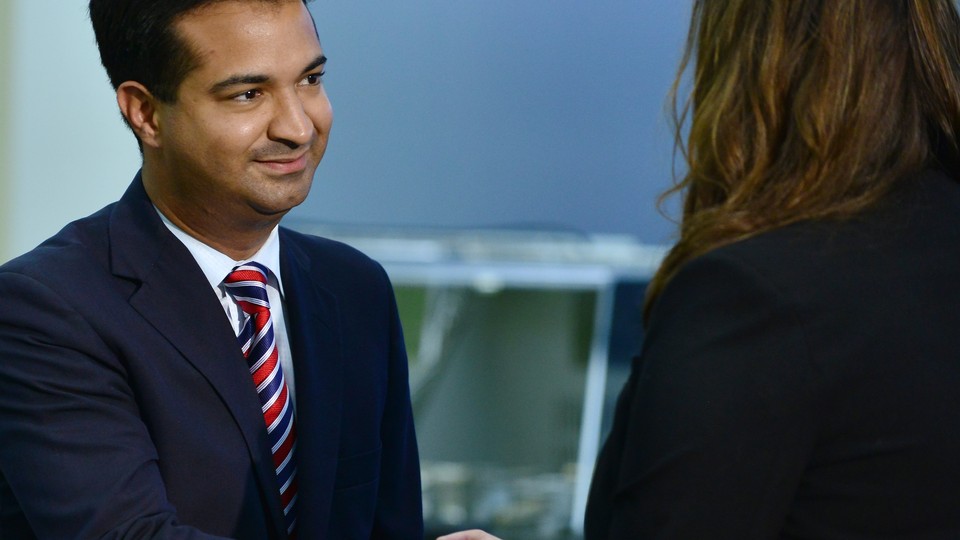 A Florida judge ruled last week in favor of a new congressional map that's bad news for some of the state's most popular—and moderate—members of Congress.
Freshman Republican Rep. Carlos Curbelo, in particular, will be pushed into double-digit Democratic territory if the state Supreme Court accepts Circuit Judge Terry Lewis's selection of a new congressional map. And Democratic Rep. Gwen Graham might face even steeper odds to return to Congress in 2017 under the new map, which favors the opposite party in both of their districts.
Republican Rep. David Jolly's district will also favor Democrats, with Jolly taking on a run for Senate instead of a try for reelection after it became apparent that the GOP would struggle in his new House district. And Democratic Rep. Patrick Murphy's district hasn't changed much, but he was one of just a handful of House Democrats (along with Graham) to win districts that Mitt Romney carried in 2012, and now he has left that seat to run for the Senate, too.
If the latest map is adopted, Curbelo's district will have changed the most from the draft maps that circulated in the legislature this summer after judges ordered lawmakers to redraw congressional boundaries more in line with the state's "Fair District" rules.
Republicans are confident in Curbelo's ability to win over independents, and he overcame a Democratic lean when he first won his Miami-area seat in 2014 after President Obama carried it with 53 percent of the vote in 2012. But the new map puts Curbelo in one of the toughest GOP-held seats in the country. Obama won 55.4 percent of the vote there in 2012, according to Democratic redistricting consultant Matthew Isbell.
In 2014, one of the best elections for the GOP in modern history, only four House Republicans won districts that leaned that far left in the last presidential race: Reps. David Valadao, Robert Dold, Rod Blum, and John Katko.
By comparison, the House seat that Jolly abandoned to seek the Senate instead was slightly friendlier, by the numbers. Obama won 54.6 percent of the vote in that Tampa-area district in 2012.
But Republicans don't think that Curbelo's chances at reelection are hopeless. As a Spanish-speaking Hispanic lawmaker who supports immigration reform, he has the ability to win over voters who may not have taken a shine to Romney or other ballot-topping Republicans in past elections, said GOP consultant Rick Wilson.
"55 percent is not—do you want that? No. Is it an insurmountable catastrophe? No," Wilson said. "Because Carlos speaks Spanish, he's of the community, he's got some advantages, and the other side will likely have a 57-way primary for this seat."
But even if Curbelo can win reelection, Florida's congressional moderates are endangered. Curbelo, Graham, Jolly, and Murphy have proven to be some of the best Florida lawmakers at winning over independents and crossover voters. Graham and Murphy are the only Florida Democrats to represent districts that Romney won in 2012. Curbelo, Jolly, and Rep. Ileana Ros-Lehtinen—who still appears to have a solid lock on her seat—are the state's only Republicans who represent districts Obama won in 2012.
The map isn't set in stone. The state Supreme Court called for a single submission from Lewis, making any more changes unlikely. But considering that the debate came down to just a few neighborhoods in Curbelo's district—which ended up pushing it even further into Democratic territory—it's not safe to write Curbelo off yet, Wilson said.
"The problem with this district—a lot of the commenting on it—is that it is still not finalized, and even trivial changes at the edges could still be meaningful," Wilson said.