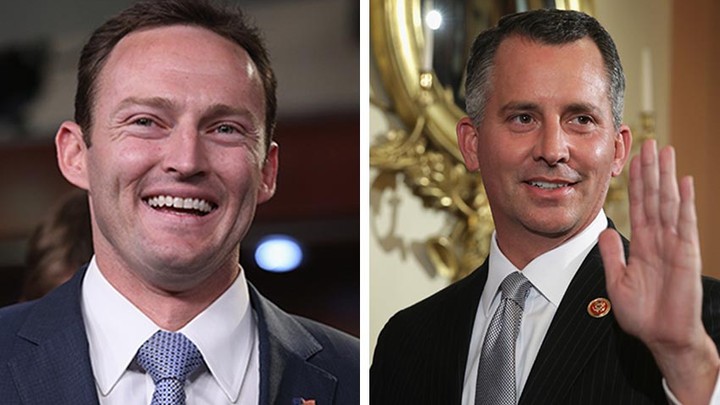 Florida's 2016 Senate race may pit a pair of friends against each other, if moderate voters get their way next summer.
Reps. Patrick Murphy, a Democrat from Jupiter, and David Jolly, a Republican from Indian Shores, have become close friends and frequent legislative allies during their short time in Congress, sponsoring more than a dozen of piece of legislation together since Jolly was elected in early 2014, during Murphy's first term.
They never expected that they would someday run against each other, allies say. But thanks to a redistricting court case that made Jolly and other House incumbents in Florida all but unelectable in their districts, that's exactly what's happening in the race to replace Marco Rubio in the Senate. Murphy announced in March that he'd run for Senate, and Jolly followed suit in July after it became clear that his district would change.
"People have joked it would be the most civil Senate race in the country should he and I get the nomination," Jolly said in an interview. "I think we approach Congress and governing the same way, there's a natural affinity there. He is a dear friend of mine."
"They get along really well, our staffs get along really well," said Eric Johnson, Murphy's chief of staff. "There are other offices like that too; Patrick has two or three Republican members that he's gotten along with and built real friendships. But David is nice because he's smart and they're both new. … Patrick and David don't agree on the majority of issues, but they're both people who have found a way to disagree without being disagreeable."
Yet what was once, and could yet again be, a helpful alliance—one that bolstered both representatives' bipartisan credentials, as Murphy held a district that leaned Republican and Jolly held a district that leaned Democratic—now could be used against them as both face partisan Senate primaries next year. Murphy, who is locked in an increasingly nasty battle for the Democratic nomination with Rep. Alan Grayson, declined through his office to be interviewed for this story. But he did put a little distance between himself and Jolly in a statement.
"David and I are friends," reads Murphy's statement. "It's helpful to have folks like David on the other side to talk to. But while David and I get along, I was certainly disappointed by the bill he introduced defunding Planned Parenthood.  I am proud to stand up for Planned Parenthood and vote against attempts to take away women's access to health care. That's not an excuse to throw mud, though. Too often our politics winds up in the gutter. It's a good thing when politicians are able to make friends on the other side of the aisle to get things done."
Jolly and Murphy's relationship has led to an unusually large overlap in their legislative profiles. According to Quorum Analytics, no member of Congress—Democrat or Republican—has cosponsored more of Jolly's bills than Murphy, while Jolly has signed onto more of Murphy's bills than any other member this Congress. While none of those bills passed, they let Murphy and Jolly tout bipartisan cooperation on environmental and veterans issues, among others.
Along with freshman Reps. Carlos Curbelo (a Republican) and Gwen Graham (a Democrat), Jolly and Murphy are part of an informal group that meets monthly, away from the congressional dining hall, to discuss issues important to Florida.
"We have been able to help each other out on issues from Everglades—I've been able to help him out on Everglades issues through the appropriations process—to working together on responsible spending cuts," said Jolly. "We actually have legislation out there where we articulate very specific functions of government to eliminate duplication of spending. And then on veterans issues as well."
Murphy has been careful to only introduce legislation with bipartisan support, often finding a partner in Jolly. That's helped Murphy built on the moderate profile he touted since he defeated GOP firebrand Allen West in 2012, when his campaign ran ads calling him an "independent leader." Jolly, who has criticized the House GOP's conservative coalition, has also burnished a bipartisan image via the relationship.
But while those bipartisan track records could make Jolly and Murphy appealing statewide candidates in battleground Florida, to get there, they have to negotiate primaries with more partisan opponents. Jolly is up against, among others, tea-party favorite Ron DeSantis, a congressman with moneyed supporters, such as the Club for Growth and Senate Conservatives Fund, which have already ripped into Jolly for a perceived lack of conservatism.
So far, Jolly hasn't shied away from the relationship. Instead, he used it to take a veiled shot at House conservatives, saying he and Murphy "work together to find consensus in a Congress that refuses to do so." His only criticism of the Democrat: "Should Patrick be successful, it would mean Chuck Schumer would become the [Senate] majority leader, and I think that's wrong for the country."
Grayson, Murphy's liberal opponent, is fond of calling Murphy a "Democrat in name only," and pointing out that he was once a member of the Republican Party and a Mitt Romney donor (in 2008) to boot.
But Jolly said no one should be surprised to see Florida's consensus builders rising up through the ranks.
"I would point out, by the way, among those four people in the state of Florida who appear to be the most committed to building consensus, three of them are the ones often talked about to be statewide candidates: myself, Patrick, and Gwen," said Jolly. "I think there's a correlation."
We want to hear what you think about this article. Submit a letter to the editor or write to letters@theatlantic.com.
Andrea Drusch
is the Senate correspondent for the
National Journal Hotline
.