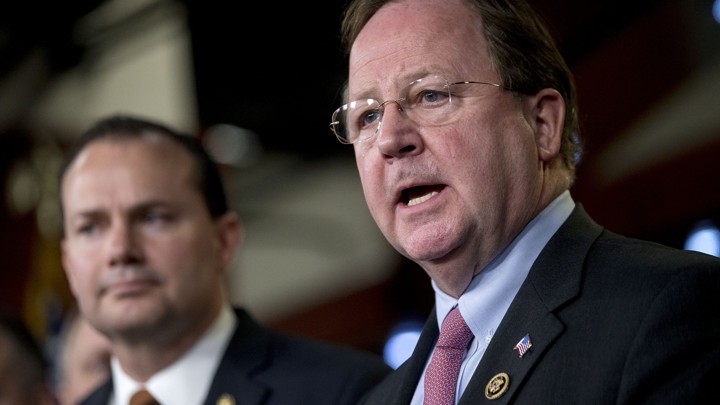 As the race for House speaker remains paralyzed amid Rep. Paul Ryan's hesitation to jump in, at least one Republican is reaching out directly to his colleagues to express his interest in the job.
Rep. Bill Flores, chairman of the Republican Study Committee, wrote in a letter to colleagues Monday that he is considering running for the top House position, but only if Ryan declines.
"While we all await an announcement regarding the schedule for the next speaker election, I would appreciate the opportunity to hear your thoughts about the qualities our next speaker should possess, and how we can work together to reunite and restore our country and our conference," Flores wrote. "In addition, I would like to hear your thoughts about my potential pursuit of the speaker's position. Over the next few days, I will reach out to each of you to seek your feedback and advice."
Flores pointed to his private sector experience as an executive in the energy sector, and said his chairmanship of the Republican Study Committee shows that he can be a conservative leader. Flores won the RSC race on a pragmatic platform, and in his letter, he said he would try to unite the conference around "best achievable outcomes" as well as address rules changes sought by many conservatives.
Yet it is not clear if the more conservative House Freedom Caucus would support him, and any nomination largely hinges on their support. The Freedom Caucus formed only after Flores beat out what would become one of their own, Rep. Mick Mulvaney, for the RSC chairmanship. And though the group shares some common members, Mulvaney and his colleagues started the Freedom Caucus in part because they did not think Flores would pressure leaders hard enough.
Flores would be the country's first Hispanic speaker, and as a Texan he might enjoy the support of a large number of fellow members from the Lone Star State. Still, he is not the only Texan considering a run. Reps. Pete Sessions, Michael McCaul, and Mike Conaway are reportedly considering running for the post.
Meanwhile, at least five percent of the Republican Conference is now reportedly looking at entering the race if Ryan does not run. Potential candidates include Reps. Marsha Blackburn, Darrell Issa, John Kline, Jeff Miller, Mike Pompeo, Peter Roskam, Greg Walden, Lynn Westmoreland, and Ryan Zinke.
We want to hear what you think about this article. Submit a letter to the editor or write to letters@theatlantic.com.
Daniel Newhauser is a staff correspondent for National Journal, where he primarily covers the House of Representatives. He was formerly a House leadership reporter for Roll Call, where he started as an intern in 2010 and quickly earned a slot as a beat reporter.
A native of San Antonio, Texas, Newhauser traveled further West to study journalism at Arizona State University's Walter Cronkite School of Journalism and Mass Communication and write for newspapers including the East Valley Tribune and the Green Valley News & Sun.