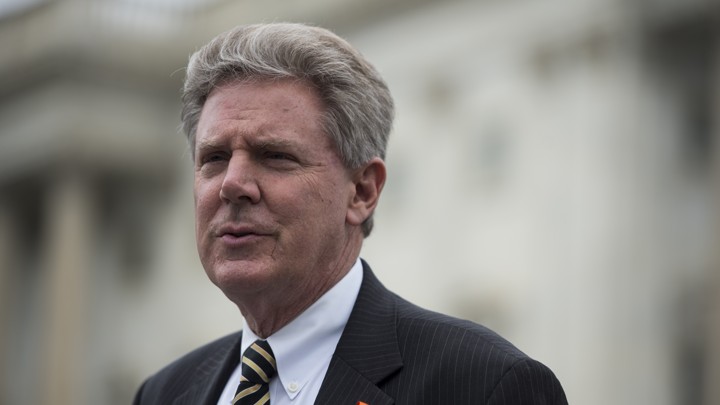 A key House Democrat urged the Federal Communications Commission on Friday to abandon its plan to regulate certain online TV services the same way it regulates cable companies.
While the FCC is used to criticism from Republicans, the opposition from Rep. Frank Pallone, the top Democrat on the House Energy and Commerce Committee, is an unusual and significant blow to the commission's proposal. Amazon, Apple, and Microsoft have previously criticized the plan in filings with the FCC.
"We should hit the pause button on regulating streaming video," Pallone said at an event in Washington, D.C. hosted by Duke University School of Law. "When it comes to adopting new policies, we all must ask ourselves whether new polices actually make people better off. In the case of defining online video providers as cable companies, I do not think we can say yes. Until we all better understand the ultimate impact on consumers, the FCC should avoid adopting sweeping new regulations."
An FCC official declined to respond to Pallone's speech but said the issue is still a priority to FCC Chairman Tom Wheeler. The purpose of the proposal is to help streaming-video services compete on a level playing field with traditional cable TV bundles, but the FCC is facing growing concerns that it could unintentionally stifle the very companies it is trying to help.
Under the plan, certain online services would have the same right as cable com­pan­ies to ne­go­ti­ate fairly for ac­cess to broad­cast networks such as Fox and CBS. TV providers that also own their own cable channels (such as Comcast) wouldn't be allowed to block their online rivals from carrying those channels.
The proposal would apply only to companies that offer multiple streams of live or scheduled programming. So the rules wouldn't cover Netflix and Hulu, which allow subscribers to watch videos whenever they want. But it would apply to Verizon's new Go90 service, Dish Network's Sling TV, and to projects that are rumored to be in the works from Amazon and other tech companies.
The idea is that by making it easier for the online companies to offer popular channels, it will make them a more enticing alternative to pricey cable bundles. "Big-com­pany con­trol over ac­cess to pro­gram­ming should not keep pro­grams from be­ing avail­able on the In­ter­net," Wheel­er wrote in a blog post last year, when he first announced the proposal. "Today, we propose to break that bottleneck."
But while Wheeler's proposal would grant on­line ser­vices some reg­u­lat­ory perks, it could also mean new bur­dens. The on­line ser­vices might have to air emer­gency alerts, of­fer closed cap­tion­ing, carry cer­tain loc­al sta­tions, and com­ply with equal-hir­ing rules. And tech companies are worried the FCC could eventually expand the rules to cover even on-demand online TV services.
In Friday's speech, Pallone said he knows plenty of consumers are frustrated with their cable providers. But, he said, new online TV companies are finding ways to challenge the old business models without the FCC's help. "Regulating certain business models does risk stifling innovation," he said. "The online video market is still burgeoning. Right now, we cannot know what business models consumers will prefer. And we cannot know yet how to craft the proper consumer protections."
The FCC voted to seek comment on the proposal last December, and Wheeler has said he wants to approve final rules this fall.
We want to hear what you think about this article. Submit a letter to the editor or write to letters@theatlantic.com.