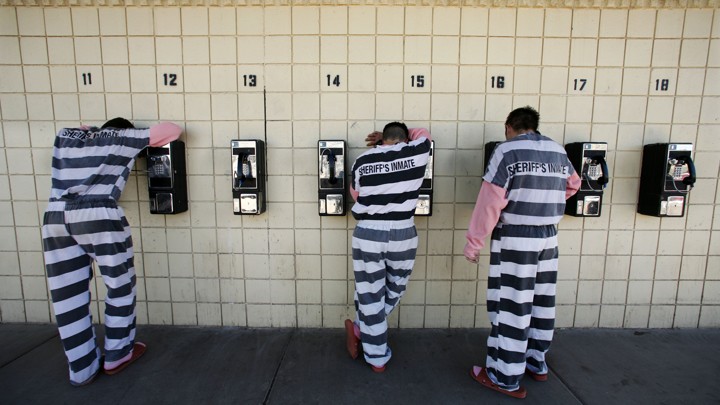 Federal regulators on Thursday capped the rates that prison phone companies can charge inmates and their families, delivering a major victory to civil-rights groups and prisoner advocates who have been decrying alleged price gouging for more than 14 years.
In a 3-2 vote, the Federal Communications Commission declared that the current rates charged by phone companies, which average about $3 for a 15-minute call and can sometimes reach as high as $14 per minute, are "unjust and unreasonable." The new regulations will limit the cost of most 15-minute calls to $1.65 per call.
"For the majority of those faced with these bills, high payments are their reality and incredible sacrifices unimaginable to most of us are being made," said Mignon Clyburn, a Democratic FCC commissioner who spearheaded the action. "This is untenable, egregious, and unconscionable."
She argued that the high prices unfairly hurt the families of inmates and that making it easier for inmates to stay in touch with loved ones can help to reduce recidivism.
Martha Wright, a blind Washington, D.C., nurse who wanted to speak to her incarcerated grandson, petitioned the FCC to crack down on prison phone rates in 2003, but the issue languished. Wright died last year.
"Today's vote will never make up for the inactions of the past, but it is my hope that the order will finally bring relief to those that have waited for so long," said Clyburn, who teared up as she spoke of the burdens that high phone rates place on poor families.
Chairman Tom Wheeler and Commissioner Jessica Rosenworcel, the two other Democrats on the FCC, joined Clyburn and applauded her efforts on the issue. While criminal-justice reform has been gaining bipartisan support in Congress in recent years, Thursday's action by the FCC was a strictly party-line vote, with Republicans arguing that the agency was overstepping its legal authority.
Instead of addressing prison payphone rates, Republican Commissioner Ajit Pai focused his remarks on the dangers of contraband cell phones in prisons. "While behind bars, inmates are running drug operations. They are managing gang activities. They are ordering hits. They are running phone scams," he said. "The time has come to end this crime wave."
The FCC already voted in 2013 to cap rates for prison phone calls across state lines. The commission on Thursday tightened those rules and expanded them to all calls within states. The commission limited extra charges on calls and established a tiered system, allowing more flexibility for smaller jails than major prisons.
Some civil rights groups had been pressing for lower caps on the call rates, but applauded Thursday's action. "Today's vote is a major victory for black families and communities, who are already coping with disproportionate policing and over-incarceration, and who have for too long been seen as a billion-dollar cash cow by prison phone companies," said Rashad Robinson, the executive director of the Color of Change. "Prison phone companies have profited off the backs of a literally captive audience, charging unconscionable prices with no correlation to the actual cost of services."
Prison phone companies like Global TelLink, Securus, Telmate, and Pay Tel have claimed the decision will prevent them from getting "fair" compensation and have threatened to sue the agency.
We want to hear what you think about this article. Submit a letter to the editor or write to letters@theatlantic.com.