FCC Chief Vows to Require "Equal Time" on TV for Candidates
Donald Trump will go on "Saturday Night Live" next month, which could result in TV time for his rivals.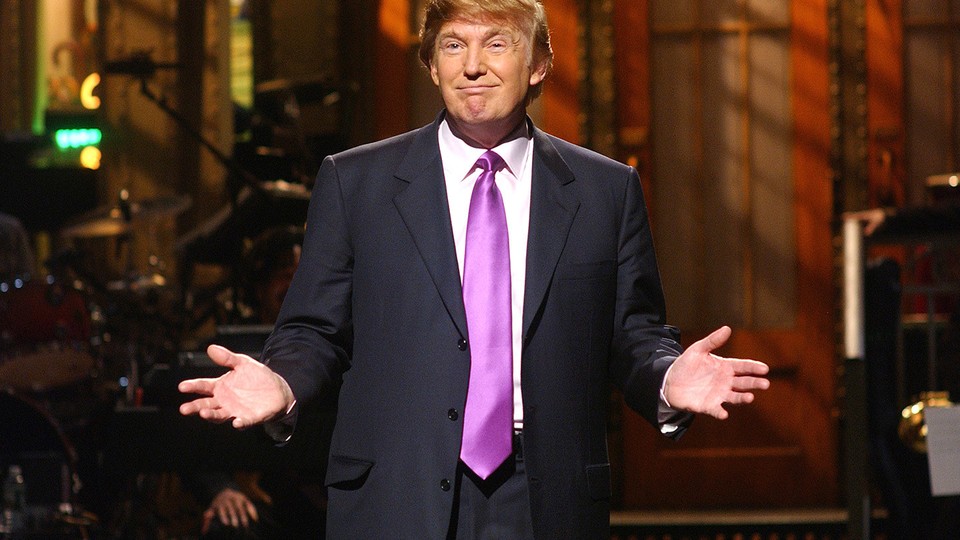 The head of the Federal Communications Commission promised Thursday to enforce his agency's regulations requiring television stations to give political candidates equal opportunities for airtime.
"The rules are pretty clear. Rules are rules," FCC Chairman Tom Wheeler told reporters. "I hope that we have developed a reputation as folks who enforce the rules."
Hillary Clinton's appearance earlier this month on Saturday Night Live could trigger the so-called "equal-time" rules, as could Donald Trump's plan to host the long-running NBC comedy show next month. That doesn't necessarily mean Lincoln Chafee will be the next host of SNL—but it could mean that local NBC affiliates across the country will have to give presidential candidates access to equal TV time.
Under a law passed in 1934, the FCC requires broadcast television and radio stations (but not cable channels) to give equal opportunities to "legally qualified" candidates. The law exempts news programs, which the FCC has broadly interpreted to include talk shows like The Tonight Show.
But the rules would likely apply to a scripted program like SNL. Concern over having to give airtime to other candidates led some stations to stop airing Arnold Schwarzenegger movies in his campaigns for California governor and stations to pull reruns of Law & Order when Fred Thompson ran for the Republican presidential nomination in 2007.
Lawrence Lessig, a Harvard University law professor who is running a long-shot presidential campaign to draw attention to campaign-finance issues, has already filed requests with dozens of NBC affiliates for three minutes and 12 seconds of airtime following Clinton's appearance on SNL last month.
"We are not asking him to be placed on Saturday Night Live itself, of course—just the opportunity he is guaranteed under federal law to use your publicly licensed airwaves to make his case to your viewers, comparable to what Secretary Clinton was afforded for free," Adam Bonin, an attorney for Lessig, wrote in a letter to the NBC stations.
In response, NBC asked Lessig to prove that he is a "legally qualified candidate," which can be established by qualifying for ballots in at least 10 states or "substantial" campaign activity. If the NBC stations refuse to provide airtime to Lessig, he could complain to the FCC.
In an email to National Journal, Bonin said he is "delighted" but not surprised by Wheeler's promise to enforce the rules. "The law on this is clear, and the FCC has been enforcing it since the early days of radio," Bonin said.
The two Republican FCC commissioners, Ajit Pai and Michael O'Rielly, declined to comment on the equal-time rules, noting that they could have to rule on disputes. The equal-time rules are distinct from the "Fairness Doctrine"—the now-defunct FCC policy that was reviled by conservatives and required stations to air opposing views on important issues. The agency formally repealed the Fairness Doctrine in 2011.
Andrew Schwartzman, a media attorney at Georgetown University Law Center's Communications and Technology Law Clinic, said that it is rare for presidential candidates to invoke the equal-time rules but that the issue frequently comes into play in local and state races. "Over-the-air television and radio remain the most important force shaping public opinion with respect to elections," Schwartzman said. "A broadcaster licensed to serve the public should not be able to put a thumb on the scale."