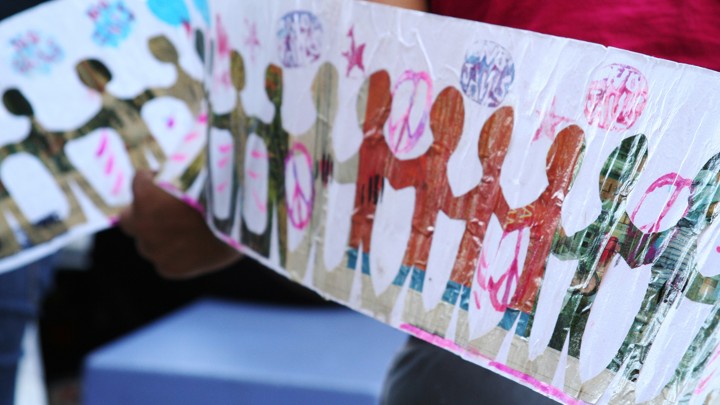 A newly released report by the Center for American Progress titled "Point of Entry: The Preschool-to-Prison Pipeline" found that "African American children are more than three times more likely to be suspended and expelled than their non-Hispanic White counterparts."
The report noted that, "…early childhood learning environments are a point of entry to the school-to-prison pipeline, particularly for African American children." And although African American children make up only 18 percent of preschoolers, they represent 42 percent of preschool suspensions, the report pointed out.
Tunette Powell, 29, is living that grim reality. Powell's two young sons, ages 6 and 4, are routinely removed from the classroom. Last year they were suspended eight times between them. "The system told us if you have a two-parent home and you lived in this environment and raised your kids like this, it would be completely different. But it was wrong again, because my kids are living that life and yet they are both still being suspended," said Powell.
Her children's turbulent school experiences mirror her own from over two decades ago. She was expelled from preschool and suspended nearly every year between kindergarten and eighth grade. "School was very much a difficult thing for me in always feeling like I didn't fit in, didn't find my place," Powell says. "I was that bad kid and nobody ever got to know me or my story."
Today, Powell is president of her oldest son's Parent Teacher Association at his school.
Spending Priorities Questioned
Last week, Rep. Keith Ellison (D-Minn.) noted that the U.S. "incarcerates five times more children than any other nation in the world" during a discussion on the Preschool-to-Prison Pipeline at the Center for American Progress.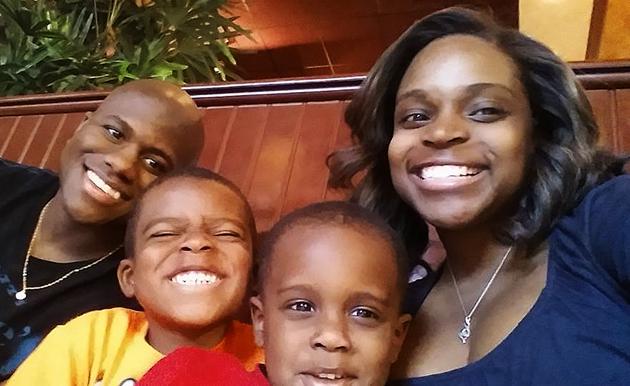 "In America, prisons are big business," said Ellison. "We believe you can solve any public safety problem with a set of handcuffs and a prison cell. This is a cultural norm that we have to confront."
The U.S. spends $88,000 a year incarcerating one child, but only $10,500 a year educating a single child, said Ellison. "If we just flip the numbers around we would do wonders."
The Center for American Progress report noted that suspensions are the "most important initial indicator" of life outcomes such as unemployment, adult earning potential and incarceration. Students who are suspended are 10 times more likely to drop out of school and eight times more likely to be incarcerated late in life, the report found.
"When we talk about mass incarceration we have to start to look at schools and what's happening in the schools," said panelist Jonathan Stith, national coordinator for the Alliance for Educational Justice.
"The connection is clear. When you talk about three million young people who've been suspended or pushed out multiple times, most of them being black youth, it begins to set up an environment where they don't want to engage in learning and development, then they're open to different avenues." Stith said schools are criminalizing students for normal youthful behavior, pointing to the recent suspension of a young black student for participating in a staring contest.
Training Helps
The Center for American Progress report revealed what many African American parents already believe: teachers' biases play a major role in suspension decisions. The report pointed to a 2014 study published in the Journal of Personality and Social Psychology, which found that "African American children were seen as less innocent and more deserving of punishment than their white peers."
That's why teacher training is important, said Janine Bacquie, director of Early Childhood Policy and Practice and Key Liaison to the Black Community Crusade for Children Freedom Schools Administrator. When teachers aren't exposed to different group of students it could lead to negative stereotypes, Bacquie noted during the panel discussion.
"Professional development has to address the implicit and explicit bias that teachers have with children," said Bacquie. "We have to provide some strategies. The research has been clear on things like cooperative learning and multiculturalism, engaging our families and providing additional wraparound services for them."
Bacquie also said that home visits are important so that teachers can understand the struggles that some parents in poverty have to deal with daily.
"The training we provide for teachers really has to look at this whole issue of poverty because black children, as a group of children, are among the poorest, and they're also facing hunger, inadequate health care, increased retention rates, homelessness and other factors that are apart of that load that's associated with poverty," said Bacquie. "We really have to talk with teachers about how we can help students living in poverty and also what happens to children when they're exposed to toxic stress."
Student behavior could be a symptom of a bigger problem, such as an incarcerated parent or a parent dealing with substance abuse, said Bacquie. Instead of pushing students out of school, schools should be supportive environments.
"What are the systems of support that are in place? Are there counseling services available for the families? Are there counseling services available for the child? Is there a positive behavior and support intervention network in the school?" Bacquie asked. "When a child is in crisis do you deploy the counselor or do you deploy the school resource officer? Is there some sort of understanding, consideration and support?"
Parents Needed
Ellison believes parent engagement is key. He noted that though language in the Elementary and Secondary Education Act, which is up for reauthorization, provided for positive support structures to reduce suspension rates, civic participation will make the difference.
"What is missing here is not research, not good legislation, it is the political will to make a change," he said. "That's the heart and soul of the matter."
Stith agreed. "We need to build a massive movement to dismantle this school to prison pipeline. It should be all-hands on deck."
Bacquie noted that during a time in their lives when young black children should have support they have been increasingly subjected to harsh and negative treatment.
"They are criminalized at a very young age which leads them on a very horrible trajectory that starts at early ages where they are perceived as a danger and it continues on through their careers," said Bacquie. "It leads to marginalized lives. It leads to disenfranchisement. It leads to incarceration and it also leads to shortness of life."
The Center for American Progress report provided several recommendations, including: ending suspensions and expulsions for preschool students, preparing teachers to work with diverse cultures, providing support services for children with emotional and mental health needs, and promoting family engagement in school activities.
This article is part of our Next America: Criminal Justice project, which is supported by a grant from the John D. and Catherine T. MacArthur Foundation.
We want to hear what you think about this article. Submit a letter to the editor or write to letters@theatlantic.com.