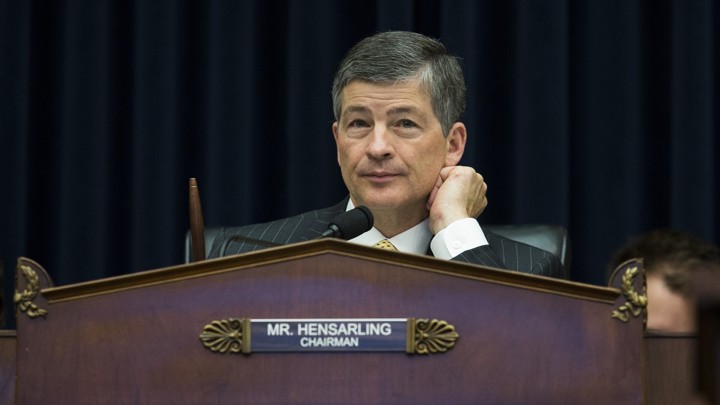 For months, House Democrats have called on Republican leadership to allow a vote to reauthorize the Export-Import Bank. Now, thanks to a member of the GOP rank-and-file, they may finally get their chance—but the measure would still have to overcome a pending Republican leadership change and an uncertain fate in the Senate..
Rep. Stephen Fincher of Tennessee plans to file a discharge petition to force a vote on the bank, which expired June 30. The rarely utilized procedure allows a bill to bypass the standard committee process if the petition earns the signatures of a majority of House members. With the overwhelming support of Democrats and a large swath of business-friendly Republicans, Ex-Im may have the numbers to get to the floor.
"Let's see what the Republicans put on the table, but I think this could be very hopeful," said House Minority Leader Nancy Pelosi. She noted that her own caucus's use of the maneuver to pass campaign finance reform in 2002. "It will be really important for us to see how many signatures the Republicans have on the discharge petition, because we'll have an overwhelming vote if they bring the bill to the floor. ... If Republicans have enough people on the discharge petition, then we will join in and go from there, and I'm optimistic that they will from what I hear from the other side."
There's little doubt that Ex-Im has the votes to pass in the House, but Financial Services Committee Chairman Jeb Hensarling, whose panel holds jurisdiction over the bank, has stopped it from getting to the floor. Hensarling's office declined to comment on the discharge petition.
Democrats said they hadn't been briefed on Fincher's plan, but were willing to get on board if Republicans can demonstrate they have the numbers necessary to force a vote. "We're going to be very open to whatever is the path to success on this," said Rep. Denny Heck, who has been one of the most outspoken backers of Ex-Im. "If that's it, great."
Fincher's office said the petition can be filed as soon as seven legislative days after the initial rule on the bill, meaning he can start seeking signatures on the next-to-last week in October. Even with Democratic support, Fincher will need the backing of at least 30 Republicans. While more than that number support the bank, it's unclear how many would be willing to buck their leadership to bring the bill to the floor.
"We're approaching the number necessary of Republicans," said GOP Rep. Adam Kinzinger. "I think this is going to be successful, and I think this is going to send a very strong message too that first off, that people who want to govern are in charge. We're back."
As for the GOP leaders, Kinzinger said they should have listened to the majority long ago. "Leadership has forced us to this position," he said. "We've been hoping that it would be brought forward and it hasn't been brought forward. We have a chairman that's basically held this up against the wishes of a larger amount of the House, including, frankly, Republicans."
Another GOP supporter, Rep. Steve Stivers, was less eager to force the issue, but said it might ultimately be necessary. "We hope we don't have to do it," he said. "I hope I don't have to sign a discharge petition. It's a fairly unprecedented thing that I hope we don't have to use." Stivers was hopeful that Fincher's move would pressure House Speaker John Boehner to put the bill on the floor before the petition forced his hand. "This thing has 300 votes. This isn't a bush-league, 219-vote bill. This could pass on suspension, for God's sake. … I feel confident that there are more than enough people to get it to the floor one way or another."
Complicating matters is the fact that Majority Leader Kevin McCarthy, an opponent of Ex-Im, is expected to be voted in to replace Boehner in a matter of weeks, creating pressure to act now. "This is the time," Kinzinger said. "I like Kevin McCarthy, I'm happy to vote for him for speaker, but he is not a supporter of Ex-Im Bank and we recognize that this is the moment that we have to move."
Democrats acknowledge that reality as well. "The number's crucial on their side," said Rep. Ron Kind, who heads the business-friendly New Democrat Coalition. "It's just a question of whether or not they want to take that route. And I think many of them are viewing this as the last, best option."
But even with the renewed momentum in the House, a stand-alone bill is still unlikely to get taken up by the Senate this year. A spokesman for Senate Majority Leader Mitch McConnell said Thursday that the Senate would not take up the Ex-Im legislation "on its own." Because of the slow legislative processes in the Senate, the bill would very likely take more than a week to get through to final passage and floor time is already scarce, McConnell spokesman Don Stewart said as Congress heads toward the end of the year with several spending bills, highway legislation, and a bill to raise the debt ceiling left to accomplish. "We're not going to give a week and a half on a bill he doesn't support," Stewart said.
The Senate has already voted twice to reauthorize the Export-Import Bank's charter, earning well over the 60 votes needed to pass the legislation, evidence that supporters have the votes to get the legislation through the upper chamber. However, the last two Senate votes on Ex-Im have been attached to much larger legislative vehicles—the previous highway bill and the National Defense Authorization Act, neither of which made it to the House. For now, it looks like Senate supporters will have to find another train leaving the station to hitch Ex-Im to. There will be plenty of possibilities, including a conference version of the NDAA that McConnell has promised to vote on next week. But they'll need the support of leadership to attach Ex-Im to any bill.
Still, the movement in the House is at least a morale boost for Ex-Im backers in the Senate. "I think this discharge petition is great news," Sen. Heidi Heitkamp, one of the lead Democratic supporters of the Ex-Im Bank reauthorization, said Thursday.
Heitkamp said she had not yet spoken with leadership about the legislation, but added that supporters feel like "we have a commitment" to get a vote on the bill and having it originate in the House only adds to their case. "I think if comes across [from the House], there will be a big push to make sure that we'd get an opportunity to take the same kind of vote," Heitkamp said.
We want to hear what you think about this article. Submit a letter to the editor or write to letters@theatlantic.com.
Alex Brown
is a Congressional correspondent at
National Journal.
Daniel Newhauser is a staff correspondent for National Journal, where he primarily covers the House of Representatives. He was formerly a House leadership reporter for Roll Call, where he started as an intern in 2010 and quickly earned a slot as a beat reporter.
A native of San Antonio, Texas, Newhauser traveled further West to study journalism at Arizona State University's Walter Cronkite School of Journalism and Mass Communication and write for newspapers including the East Valley Tribune and the Green Valley News & Sun.