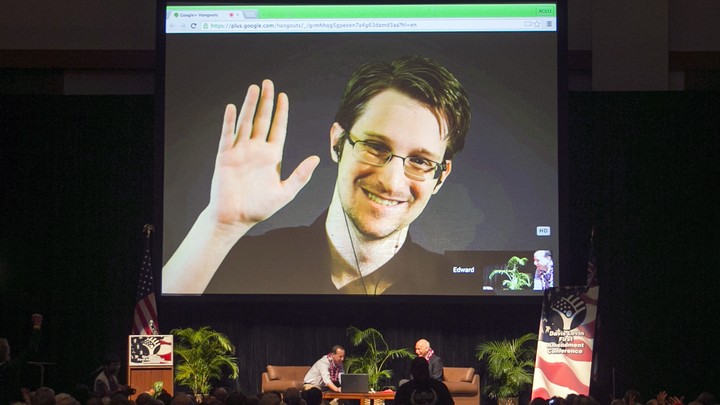 The European Parliament approved a resolution Thursday calling on its member nations to protect Edward Snowden and prevent his extradition to the United States.
In a 285-to-281 vote, the lawmakers called on European nations to "drop any criminal charges against Edward Snowden, grant him protection, and consequently prevent extradition or rendition by third parties, in recognition of his status as whistle-blower and international human-rights defender."
The resolution is nonbinding, but it could be an important step toward Snowden getting asylum in a European country. The former National Security Agency contractor who leaked details of the agency's vast surveillance operations has been living in Russia for more than two years. On Twitter, Snowden called the vote "extraordinary" and a "chance to move forward."
The U.S. government, however, has no plans to stop its pursuit of the NSA leaker. "Our position has not changed," Ned Price, a White House spokesman, said in an email. "Mr. Snowden is accused of leaking classified information and faces felony charges here in the United States. As such, he should be returned to the U.S. as soon as possible, where he will be accorded full due process."
The European Parliament also approved a resolution supporting a decision earlier this month by the European Union's top court that declared that, because of the NSA's "mass and un­dif­fer­en­ti­ated" surveillance, U.S. tech companies lack the adequate privacy protections required by EU law. The decision scrapped a "safe harbor" agreement that had allowed companies to freely store personal data of Europeans on U.S. servers. European and American negotiators are now working on a new agreement to try to avoid squelching the flow of digital business across the Atlantic.
In their resolution, the members of the European Parliament declared that the efforts by the European Commission (the EU's executive body) to protect privacy have been "highly inadequate" given the scope of NSA spying. "EU citizens' fundamental rights remain in danger" and "too little has been done to ensure their full protection," they said.
The lawmakers also approved a resolution expressing concern over the passage of recent laws in France, the United Kingdom, and the Netherlands to expand surveillance powers.
We want to hear what you think about this article. Submit a letter to the editor or write to letters@theatlantic.com.