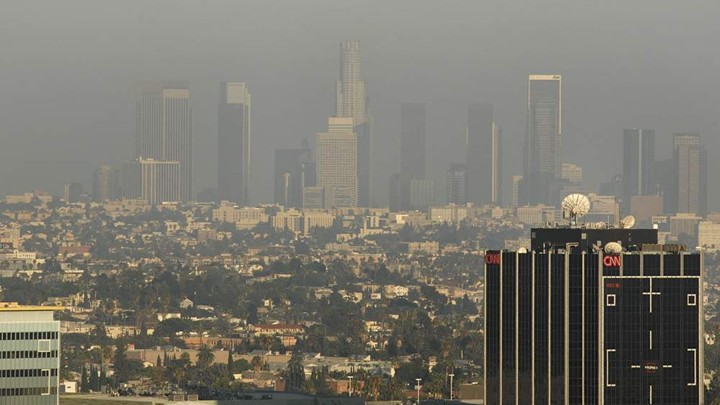 After a banner second term that has seen the most aggressive action on climate change from any administration, the Obama administration just opened up a new fault line with environmentalists.
The Environmental Protection Agency today released its new air-quality standards for ground-level ozone, lowering the allowable level from 75 parts per billion to 70 ppb. That's well short of what environmentalists and public-health groups had been pushing and a level they say wouldn't do enough to protect public health.
Industry groups and Republicans, meanwhile, are not likely to be any happier—they have been long opposed to any standard lower than the status quo because of the potential cost of compliance.
Ozone is a major component of smog and results from a mixture of pollutants like nitrogen oxide that react in heat. The resulting pollution has been linked to respiratory diseases like asthma and heart disease, and it has been linked to premature death.
EPA said that the new standard would avert 230,000 asthma attacks and up to 660 premature deaths a year by 2025, with annual public-health benefits of between $2.9 billion and $5.9 billion. That's compared with the annual costs of $1.4 billion.
But environmentalists have said that more gains were possible with a lower standard and asked for it to be set at 60 ppb, which they said would do the most to protect vulnerable groups like children and the elderly. And having been disappointed on the ozone standard in the past, greens have indicated they could take legal action against EPA.
"No matter how the EPA tries to spin it, this is truly a blemish on the president's environmental legacy," said Frank O'Donnell, president of Clean Air Watch.
On a press call, EPA administrator Gina McCarthy defended the "complex process" to get to 70 ppb, saying that the "best available clinical data" had shown that 72 ppb was actually the lowest exposure level that would cause adverse health effects for healthy adults. Setting it at 70 ppb, she said, would help to "protect all people from this level of exposure," including children and older Americans.
"This updated standard will substantially increase public-health protection. There is absolutely no question about that," McCarthy said. She also pointed out that the standard only allows levels as high as 70 ppb on certain days, so the norm will be below that throughout the year.
Greens, however, are still not satisfied and say that McCarthy's explanation does not account for a sufficient margin for the most vulnerable populations.
EPA's own science advisers last year recommended a range of between 60 ppb and 70 ppb, but they cautioned that exposure to the upper end of that spectrum could "result in significant adverse effects," such as impaired lung development and respiratory disease. The lower end of the recommended range, the Clean Air Scientific Advisory Committee said, "would certainly offer more public-health protection."
On a call with reporters this week, Earthjustice attorney David Baron said there was a "good likelihood" that greens could sue the EPA over a 70 ppb standard. He said a 70 ppb level would represent "nothing short of a betrayal of the Clean Air Act's promise."
Greens have long been wary of the White House's approach to setting the ozone standard after a 2011 proposal was pulled over concerns about its economic impact, leaving a 2008 standard of 75 ppb in place. Greens ultimately sued again, resulting in a court-ordered deadline to release the rule Thursday.
Industry groups—who have called the ozone rule the most expensive regulation to come out of the White House—didn't want the agency to lower the standard at all but instead keep it at 75 ppb. They've said that any lower standard would plunge too much of the country out of compliance, opening up states and counties to expensive fines and pollution controls.
According to EPA, just 14 counties outside of California would be out of compliance with the new standard in 2025. (California has high levels of ozone.) Other environmental rules, such as fuel-economy standards and the carbon-pollution limits for power plants will help reduce the pollutants that combine to form ozone, helping states meet the standards.
In a statement Thursday, National Association of Manufacturers president Jay Timmons said that a "worst-case scenario was avoided" with the 70 ppb standard but that the rule was still too tough.
"However, make no mistake: The new ozone standard will inflict pain on companies that build things in America—and destroy job opportunities for American workers," Timmons said.
Opponents have called on Republicans in Congress to put a stop to the rules. There are several House and Senate bills that would put a hold on the ozone standard until all states had complied with the current 75 ppb levels, and recent spending bills have included riders to put a stop to the regulations.  
There was a flurry of lobbying activity in the lead-up to the rule's release, with groups on both sides meeting almost daily with the White House. Industry groups led by NAM and the U.S. Chamber of Commerce ran state-specific campaigns throughout the summer and blasted the airwaves with ads warning about the cost of compliance.
The standards also would not begin taking effect until 2020 at the earliest due to the long time line of air-quality standards; states are still working on implementing plans for the last revision of the ozone rules.
However, state and local officials seem to be pleased with the middle-ground approach from EPA. The ozone standard has always carried plenty of questions with it; the components of ozone are also naturally occurring or can drift in from across state lines, raising questions about how EPA would make allowances for such issues.
In a statement, Bill Becker of the National Association of Clean Air Agencies, which represents state and local air groups, said EPA "has threaded the needle" and "appropriately balanced the views of divergent stakeholders."
Democratic Governors John Hickenlooper of Colorado and Terry McAuliffe of Virginia had both raised questions about a lower ozone standard because of the impact it could have on their economies, with McAuliffe calling for a 70 ppb standard. In an August interview with a Denver TV station, Hickenlooper said he was "very concerned" about a tighter standard, saying, "To set up a standard where you know you're not going to be able to achieve it, and obviously we're at a unique disadvantage because we're a mile high.
The EPA rule does account for extreme conditions and has tried to tailor the rule to account for the natural questions about ozone pollution. McCarthy said that EPA did not expect background ozone to interfere with any state's ability to meet the standards. California, which has high levels of ozone, has a longer time line for compliance.
This post has been updated.
We want to hear what you think about this article. Submit a letter to the editor or write to letters@theatlantic.com.
Jason Plautz
is a Colorado-based reporter covering energy and environment policy.