Ed Dept. to Schools: You Must Teach All Students, Regardless Of Legal Status
A new guide offers pointers on how to educate undocumented students.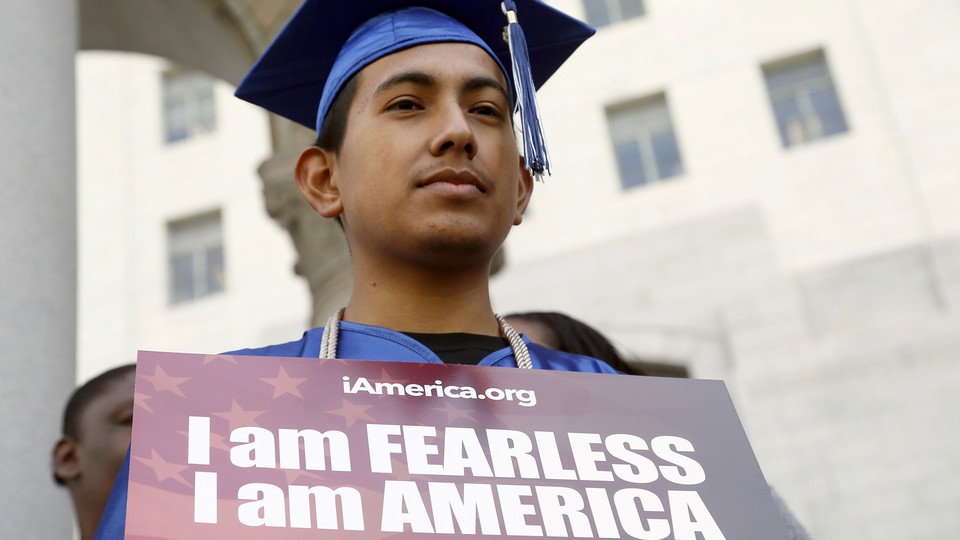 The Education Department just issued a subtle reminder to educators across the country: Regardless of citizenship or immigration status, all students are legally entitled to education in the United States.
Aimed at high school and college students as well as educators, a new guide lays out information about deferred action for childhood arrivals (DACA), which offers some young people a temporary reprieve from deportation and opens access to some jobs and scholarships. The guide also outlines which states allow undocumented college students to apply for financial aid.
Right now, 65,000 undocumented students graduate high school each year, but only about 54 percent of all undocumented young people have a high school diploma, compared to 82 percent of those born in the United States. The Education Department estimates that 5 to 10 percent of undocumented high school graduates enroll in college. A fraction graduate.
"That's tragic," John King, who will become acting education secretary at the end of the year, told Next America. "We've got to fix that." He hopes that the guide will help students and clear up any "misconceptions," and encourage teachers and counselors to educate students and their families about DACA renewal and the college application process. Some school systems, including the Hempstead Union Free School District, have been investigated for failing to adequately educate undocumented students.
While the guide lists private scholarships and states that give financial aid to undocumented students, immigrant activists have raised concerns that these students are not eligible to receive federal financial aid. A Lumina Foundation report on the barriers to higher education that undocumented students face calls on the department to waive the citizenship or permanent residency requirement of Pell Grants through an Experimental Sites Initiative. The nation's Higher Education Act allows the education secretary to waive some regulations to study their effectiveness, which Education Secretary Arne Duncan used recently to give some prisoners access to Pell grants.
When asked whether the department will consider such action, King demurred, saying, "We would love to see Congress move on this issue." Proponents of comprehensive immigration reform have said they would like to see access to aid built into immigration reform, but the chances of a plan clearing Congress anytime soon are slim.
But Sarah Audelo, policy director for Generation Progress, the youth arm of the left-leaning Center for American Progress, thinks the guide comes at an important time. As the presidential election ramps up, Audelo hears a lot of "hate-mongering" toward immigrants. Texas and Arizona are among states that have sought to roll back rights for undocumented students in recent years. Like King, Audelo called on lawmakers to do more to aid undocumented students. The Center for American Progress put out a scholarship guide for undocumented students. It is one of the most viewed pages, she said.
While this new guide is geared toward older students, the Education Department will release similar guides focused on elementary and early-childhood education in the coming months.