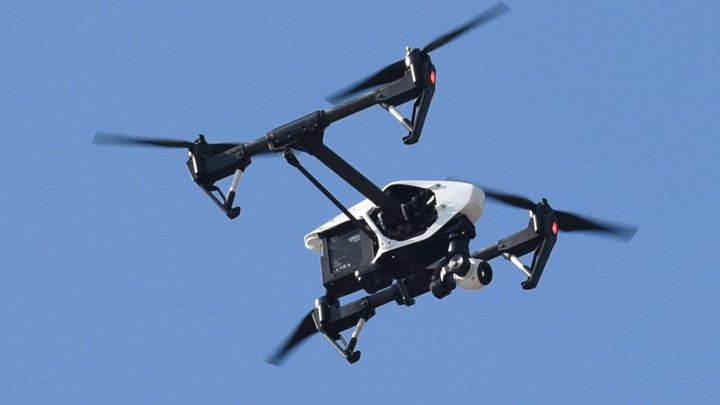 The Federal Aviation Administration on Tuesday announced its largest fine ever against a drone operator, showing that the agency is not afraid to crack down on the booming commercial drone industry.
The agency plans to fine SkyPan International, an aerial-photography company, $1.9 million for conducting 65 unauthorized flights in New York City and Chicago between 2012 and 2014. The flights in congested airspace threatened lives and property, the FAA alleged. 
The FAA has issued dozens of waivers in recent months to allow Hollywood studios and other companies to operate drones, but for most cases, there is a blanket federal ban on the commercial use of drones. SkyPan did obtain a waiver in April 2015, but all of the alleged unauthorized flights occurred before that date.
"Flying unmanned aircraft in violation of the Federal Aviation Regulations is illegal and can be dangerous," FAA Administrator Michael Huerta said in a statement. "We have the safest airspace in the world, and everyone who uses it must understand and observe our comprehensive set of rules and regulations."
In 2012, Congress directed the FAA to develop regulations to allow for commercial drones in U.S. airspace by September 30 of this year. The FAA, which is still working on the new rules, missed the deadline, meaning that its ban is still in place. People can fly a small drone for recreational purposes as long as they follow rules, like keeping it within sight and flying no higher than 400 feet.
While many lawmakers have been urging the FAA to move more quickly to allow broader legal use of drones, others have been alarmed by the increasing number of near collisions between drones and airplanes. "I call on the Federal Aviation Administration to take aggressive action to protect everyone who relies on safe and secure skies," Sen. Richard Blumenthal, a Connecticut Democrat, wrote in a letter in August.
SkyPan has 30 days to respond to the FAA's complaint. "SkyPan has been conducting aerial photography above private property in urban areas for 27 years in full compliance with published FAA regulations. SkyPan is fully insured and proud of its impeccable record of protecting the public's safety, security and privacy," the company said in a statement.
Michael Drobac, the executive director of the Small Unmanned Aerial Vehicle Coalition, a lobbying group that until recently included SkyPan, called the fine "astronomical" and "heavy-handed."
"Technically, they were not in accord with the FAA's guidance," Drobac admitted. "But it seems a little audacious to be handing out penalties this large when the agency itself has missed a congressionally-mandated deadline to have a rule in place for commercial use."
—This article has been updated with a comment from SkyPan
We want to hear what you think about this article. Submit a letter to the editor or write to letters@theatlantic.com.