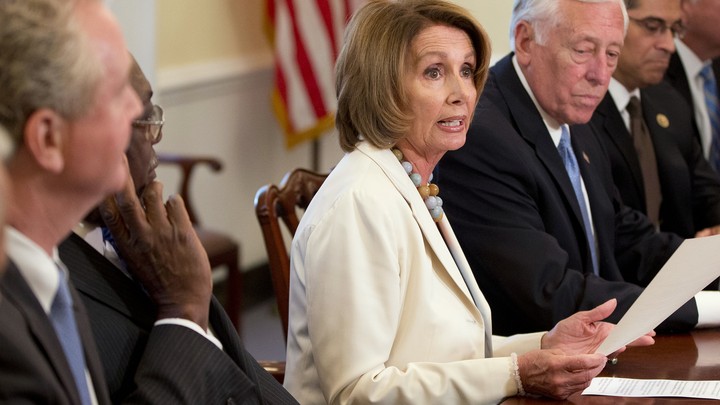 Paul Ryan may or may not be the leader who can fix a fractured House. But Democrats aren't pinning their hopes—or their votes—on his tentative candidacy for speaker.
Despite a suggestion from Minority Leader Nancy Pelosi that Democrats might have an "openness" to backing an aisle-bridging GOP candidate, most of her caucus seems to have no interest in helping choose the next leader of the House—even if Republicans can't find a majority on their own.
"I don't see that scenario happening," said caucus vice chair Joe Crowley, who serves on the Ways and Means Committee chaired by Ryan. Crowley mentioned that he has a collegial relationship with Ryan but said, "I don't plan on voting for any Republican speaker."
Rep. Sander Levin, the ranking member on Ways and Means, agreed. "We have to hope that Republicans will elect a speaker we can work with," he said. "We don't want to get involved in the determination of who is the speaker. The majority has to face that and resolve it."
It's not that Democrats don't like Ryan. And they all seem to want to move on from the uncertainty that has taken over the House since Speaker John Boehner announced his retirement. But they say it would only serve to further divide the institution if Ryan—or any other Republican—pitched for Democratic votes after failing to secure the 218 necessary from within the Republican caucus.
"We're in trouble if Republicans require or need Democrats to help them elect their next leader," said caucus chair Xavier Becerra. "It doesn't make for a good way to run government."
For his part, Ryan has said he won't run without a clear mandate from the GOP, seemingly making Democrats' input irrelevant. And, of course, any "support" from across the aisle could do more harm than good in his efforts to seek Republican votes. Crowley joked that he shot Ryan a "You stink" last week to boost his conservative credibility. And Minority Whip Steny Hoyer added a tease of his own Wednesday on Senate Minority Leader Harry Reid's endorsement of Ryan. "I'm sure Paul received that with great enthusiasm," he said.
Any talk of Democrats backing Ryan has so far been limited to humor. "This is a Republican decision to be made by them," Hoyer said. "There's been no discussion on our side about supporting Paul Ryan or anybody else."
That doesn't mean they're not rooting for him. "We'd love to see Republicans get their act together and decide who they want to be their leader, because that person will become the speaker, and we need someone to run the House," Becerra said. "[Ryan has] proven himself in so many different ways. There is no doubt that he has the ability to get some things done, otherwise I don't think Republicans would be considering him. We wish him well in that regard."
Many see Ryan as the last, best chance to restore order to the House. "There's no Plan B," said Rep. Ron Kind, a fellow Wisconsinite and Ways and Means member. "Who's the alternative? Where do they go if he rejects the speakership then, too?"
Ultimately, they say, his success will depend on the bargain he cuts within his caucus to earn the job—not on pre-election input from Democrats. "Whether or not he will actually work with Democrats to move an agenda that works for the American people, I think has more to do with whatever deal he's made or will make with the Freedom Caucus, with the Tea Party," Crowley said.
We want to hear what you think about this article. Submit a letter to the editor or write to letters@theatlantic.com.
Alex Brown
is a Congressional correspondent at
National Journal.