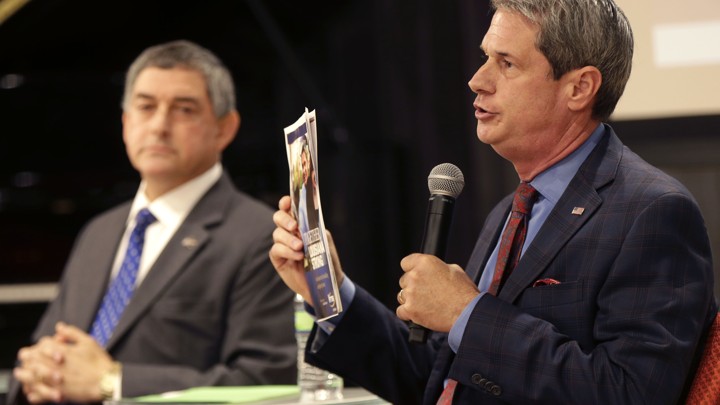 On Tuesday, Sen. David Vitter brought the Senate to one of its first votes on an immigration bill since a bipartisan reform package in 2013. Except his bill was hardly the sweeping effort Democrats have been hoping for over the last two years.
Democrats blocked the bill from moving forward. The bill received 54 "yes" votes, six short of the 60-vote threshold.
After months of disagreement between Republicans in the Judiciary Committee, Senate Majority Leader Mitch McConnell bypassed the panel and brought Vitter's "sanctuary cities" bill straight to the floor just days before Vitter faces off in a jungle primary for governor back home, giving the Louisianan a well-timed chance to shore up his base.
The bill would have blocked some funding to cities and jurisdictions that refused to cooperate with Immigration and Customs Enforcement, and would have increased penalties for illegal immigrants with felonies caught crossing the border multiple times.
The legislation was a reaction to the death of 32-year-old Kate Steinle, who was shot this summer in San Francisco, allegedly by an immigrant who had already been deported five times and had seven felony convictions.
Tuesday's vote widened Republican schisms on immigration. Moderates like Sens. Dean Heller of Nevada and Jeff Flake of Arizona said they would have preferred a more robust debate over comprehensive immigration reform on the floor.
Flake, however, said that he still supported the bill.
"The sanctuary-cities part needed to be dealt with for a long time," Flake said. "We need immigration reform. Many of us prefer comprehensive reform, but if we can't get that, we ought to do piecemeal."
Heller had threatened to attach comprehensive immigration reform as an amendment to the bill. Other Republicans, however, saw the vote as an opportunity to make incremental progress.
"We cannot allow cities to act in violation of federal law, whether it has to do with sanctuary cities or whatever," said Sen. John McCain, another Arizona Republican.
Republicans were not the only ones hoping to use the bill to their political advantage. For Democrats, the vote offered an opportunity to gin up their Latino voter base and paint Republicans as anti-immigrant. Republican presidential candidates Marco Rubio, Rand Paul, and Ted Cruz all voted "yes." Sen. Lindsey Graham was not at the vote.
Senate Minority Leader Harry Reid dismissed the bill as the "The Donald Trump Act," named after the Republican presidential primary front-runner, who has remained atop polls for months with flashy promises to build a border wall and send millions of immigrants back to Mexico and Central America.
"The Donald Trump Act would shatter the trust between law enforcement and communities that keeps our nation safe," Reid said on the floor. "Republicans should abandon this shameless attempt to appease the base elements of their party.  They should work with Democrats to pass comprehensive immigration reform, which is years overdue."
Two Democratic senators, however—Joe Manchin of West Virginia and Joe Donnelly of Indiana—voted to support the legislation.
---
Alex Rogers contributed to this article
We want to hear what you think about this article. Submit a letter to the editor or write to letters@theatlantic.com.
Lauren Fox
is a congressional reporter at
U.S. News.
Her work has appeared in
Salon
,
MSNBC,
and
Columbia Journalism Review
.