David Vitter's Long-Delayed Political Punishment
The Louisiana senator and candidate for governor didn't pay a political price for admitting "a very serious sin" in 2007, but voters might be penalizing him now.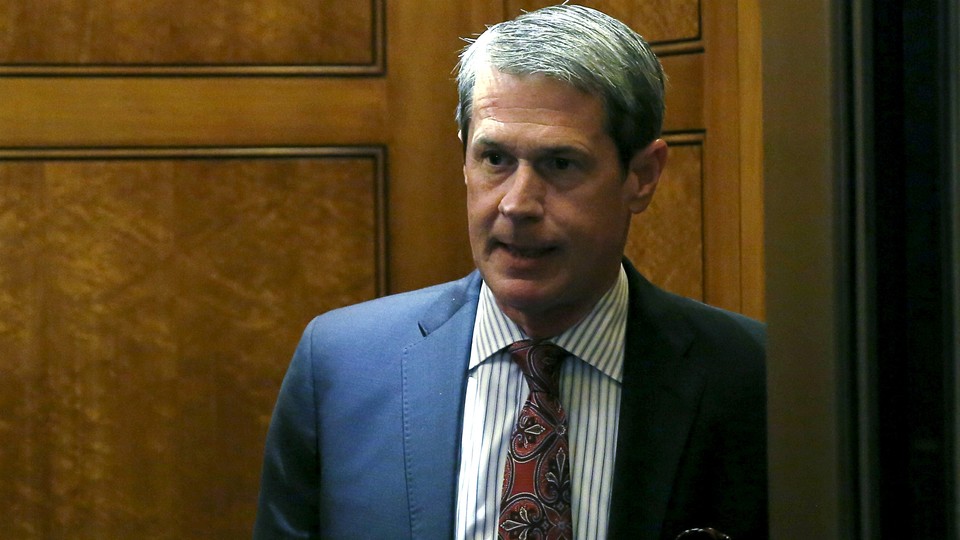 Is David Vitter's past finally catching up with him?
By modern political standards, the conservative Republican should not still be in the United States Senate, and by extension, he should not be the frontrunner to serve as Louisiana's next governor.
In 2007, Vitter apologized for committing "a serious sin" after his phone number appeared on the client list of Deborah Jeane Palfrey, known as the "D.C. Madam." Whatever your opinion of prostitution or adultery (Vitter is married), such scandals are usually career-ending, even in a political culture that is more forgiving than it was decades ago. Eliot Spitzer resigned as governor of considerably more liberal New York after admitting to dalliances with prostitutes in 2010. Senator John Ensign, a Republican from Nevada, stepped down a year later amid an investigation into whether he had an affair with a member of his staff. Anthony Weiner was forced out of the House for sexual indiscretions that never became physical.
As each of those scandals played out, fingers pointed toward Vitter: Why did Spitzer, Ensign, Weiner, and other offenders-of-sexual-norms have to go while he got to stay? There are a number of plausible reasons why he was able to survive the immediate fallout from his apology and tacit admission. While Louisiana is a red state, Vitter did not have to endure the same media microscope as Spitzer and Weiner did in New York, and unlike Ensign, he was not a member of the party leadership. (And to the frustration of reporters in Washington, Vitter showed discipline by rarely speaking to them.) But none was as important as the fact that Vitter did not have to run for reelection for another three years, and when he did, he was able to ride the Republican wave of 2010, easily defeating his Democratic opponent by more than 20 points.
From then on, Vitter probably thought he was in the clear. The voters had given him a pass in the form of a convincing electoral mandate. The scandal, it seemed, was behind him. He positioned himself to run for governor in 2015, when Bobby Jindal would be leaving office after two terms. With his wife Wendy by his side (and filming a campaign ad on his behalf), Vitter became the biggest name and the best-financed Republican in the race, despite his chilly relationship with Jindal.
Yet the long-dormant scandal has returned during Vitter's bid for governor, as the senator's rivals have seized on his past admission of a "very serious sin" as well as additional, unsubstantiated allegations that have been lodged against him. (Vitter's campaign has denied them.) One Republican opponent, Lieutenant Governor Jay Dardenne, alluded to a "shadow" over Vitter in one primary debate, and said at another forum that unlike Vitter, he had not "frequented prostitution, and certainly have not done that sitting on the floor of the United States Congress."* Anti-Vitter super PACs have used ads to broadcast the allegations to a wider audience.
Adding another twist to the scandalized Senate race is the fact that the name of the Democratic candidate is John Edwards, although the state legislator's use of a middle name (Bel) should help dissuade voters from associating him with another senator tarnished by infidelity. Winning 40 percent of the vote, Edwards easily topped Vitter and the other Republicans in Louisiana's jungle primary on Saturday. But the surprise was that Vitter got only 23 percent, barely earning the second spot in the state's runoff election on November 21. His underperformance prompted the Cook Political Report, a nonpartisan election forecaster, to rate the race a toss-up, shifting it out of the Republican column. "Vitter is a prolific fundraiser and has been a political force in the state," Jennifer Duffy, the Report's senior editor, wrote in explaining the decision.
At the same time, he has some vulnerabilities that seem to carry more weight with voters than we would have anticipated. The resurrection of the 2007 prostitution scandal is chief among them.
Vitter is far from doomed. Republicans split the vote in the primary election for Senate a year ago before rallying around Bill Cassidy and soundly defeating Mary Landrieu, the incumbent Democrat, in the run-off. The GOP will now train its attacks on Edwards, who must rely on picking off enough anti-Vitter support to claim a majority in a state that favors Republicans. But the shaky support for Vitter in the primary shows that his prostitution scandal is not fully consigned to the past. If Louisiana voters forgot about it, they are getting plenty of reminders now.
---
* This article originally attributed a quote referring to David Vitter's prostitution scandal to Scott Angelle. We regret the error.