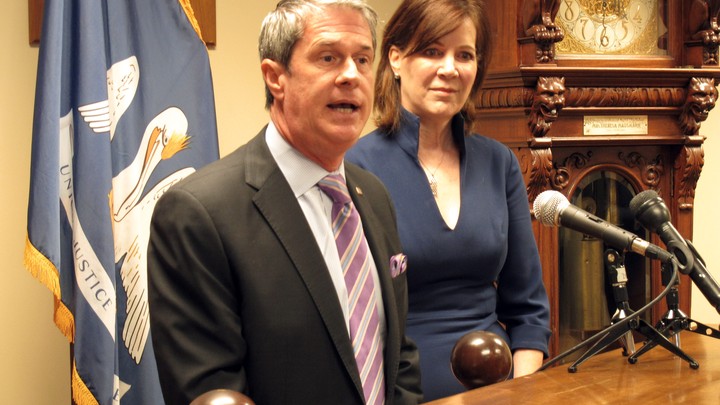 Sen. David Vitter has been the favorite to become Louisiana's next governor since he announced his campaign in January. But he's facing a rockier-than-expected campaign, with Republicans attacking his personal integrity and a centrist Democrat emerging as a credible candidate.
On Saturday, Louisiana voters will choose among four leading candidates in the gubernatorial primary: Vitter, Public Service Commissioner Scott Angelle—a Democrat-turned-Republican who is a former appointee of Gov. Bobby Jindal—Republican Lt. Gov. Jay Dardenne, and former state Rep. John Bel Edwards, the lone Democrat running competitively in the race. There are five other candidates, including two other Democrats, but none are expected to win a significant share of the vote.
If no candidate wins a majority of support on Saturday—which is increasingly likely—then the top two vote getters will advance to a runoff election Nov. 21. Public polls indicate a runoff between Edwards and Vitter is likely, unless another Republican squeezes enough votes from Vitter to claim the second runoff spot, an outside possibility given Vitter's unique vulnerabilities.
The race has been defined by outgoing Gov. Bobby Jindal's unpopularity and the budget problems that he'll leave behind. All four candidates have sought to draw distinctions between themselves and Jindal over both his personal style—Jindal is cast as inaccessible and too focused on his political ambitions at the expense of governing—and on policy. Jindal never made an endorsement in the race to replace him, and none of the Republicans in the race are endorsing Jindal's presidential bid.
In recent weeks, however, the race has been dominated by a renewed debate over Vitter's scandal-clad past. In 2007, Vitter admitted to a "very serious sin" after his cell-phone number appeared in the records of a D.C. escort service accused of trafficking in prostitution. A brothel in New Orleans also claimed Vitter was a former client before it was shut down in 2001. Vitter has avoided the subject during his campaign for governor, but his opponents have been eager to use the murk and the myth surrounding the topic to draw an ethical contrast. 
Vitter survived these types of attacks when he ran for reelection to the Senate in 2010, but this year's open primary has presented a more challenging dynamic. Vitter this year faced attacks from fellow Republicans as well as outside PACs hoping to elect "Anyone But Vitter," a tagline one group adopted. This year's Louisiana gubernatorial race is the first to feature super PACs, which opened up avenues for Vitter supporters and opponents to dump cash into the race and on the airwaves.
"It is likely, historically and mathematically, that Edwards has some sort of floor. But a person who doesn't have a floor is Vitter," said Dave Carney, a Dardenne campaign adviser. "The real question is which Republican is going to be in the runoff."
Angelle and Dardenne have been competing with Vitter for that second runoff spot. Angelle is primarily competing for conservative votes and offered some of the most pointed attacks against Vitter's character. In a final televised debate on Wednesday at Louisiana State University, in which Vitter did not participate, Angelle said, "We have a stench that is getting ready to come over Louisiana, if we elect David Vitter as governor ... There is a shadow that has been cast over Senator Vitter, a shadow that if it continues, will follow Louisiana. When that follows Louisiana, it hurts our ability to create jobs. It hurts our ability to grow our economy. We can't have a cavalier attitude about this. I understand a serious sin. It is now perhaps a lifestyle that we need to examine, a lifestyle that Louisiana cannot afford." In Angelle's closing TV ad, he ends by saying, "I want your vote, and I won't ever embarrass you."
Dardenne, meanwhile, has tacked to the middle on some issues. He is the only candidate who says he would consider raising taxes to address the state's budget problems. He too alludes to Vitter's scandals, saying in his campaign ads he's governed "without a hint of scandal."
Angelle and Dardenne's dual presence, however, has split support among Republicans looking for an alternative to Vitter, offering Vitter a clearer path to the runoff.
"[Vitter] commands 50 percent of all Republicans in Louisiana and some of what we call Bubba Democrats, and he's a Republican so he gets a lot of white support," said Bernie Pinsonat, a poll­ster for the Bat­on Rouge-based South­ern Me­dia & Opin­ion Re­search. "But Democrats don't like him, some Republicans don't like him and some women have problems with the scandal so, he has his problems here. But he also dominates Louisiana with money and with his base, and no one else has the kind of base he has."
"I don't think either Angelle or Dardenne have made a significant enough move to get past Edwards or Vitter," said G. Pearson Cross, a polit­ic­al sci­ence pro­fess­or at the Uni­versity of Louisi­ana at La­fay­ette.
Vitter also heads into the Saturday primary with the backing of the majority of Louisiana's mostly Republican Congressional delegation - many of whom are eyeing his Senate seat should it become open if he wins – in addition to the most money stowed away for a runoff, and high-profile support from five of the Republican 2016 presidential candidates.
In a runoff, whichever Republican comes out on top on Saturday will likely be up against Edwards, a state representative with a relatively moderate profile. Edwards has been playing up his opposition to abortion, support for gun rights, and military experience. He's a credible candidate who could run competitively against Vitter because of the Republican's problems, particularly with women voters. However, Edwards faces the extremely tough task of overcoming Louisiana's aversion to the national Democratic brand, and poor track record of electing Democrats in recent years.
The Republican Governors Association isn't endorsing anyone in the primary, but has already spent more than $1 million on TV ads attacking Edwards and tying him to President Obama. "Louisiana voters have three strong conservative leaders to choose from to be their next governor in David Vitter, Jay Dardenne and Scott Angelle. A vote for John Bel Edwards, however, would be a vote for Barack Obama, Obama's failed policies, bigger government and higher taxes," said RGA spokesman Jon Thompson.  
The Democratic Governors Association doesn't have plans to spend money on a runoff, but isn't ruling it out. "We're keeping an eye on the race and we'll be making spending decisions as time goes on. But I think everyone is going to reassess if there's a runoff in what way they can invest, and we will be among that group," said DGA communications director Jared Leopold.
We want to hear what you think about this article. Submit a letter to the editor or write to letters@theatlantic.com.