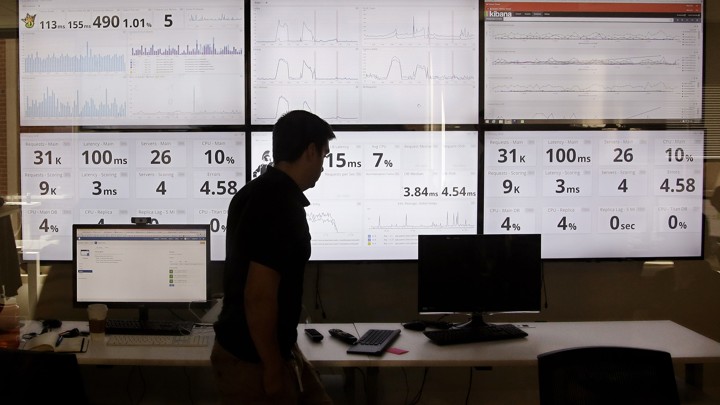 Amid a glaring spotlight of attention from federal and state officials, the CEO of one of the nation's largest daily-fantasy sites said Thursday that government regulation of the industry would be welcome.
In a letter to customers, FanDuel CEO Nigel Eccles said that the industry was now large enough that an industry-wide approach was needed to ensure the integrity and legality of the games.
"To be clear, our industry needs strong, common sense, enforceable consumer protection requirements to ensure its continued growth and success," Eccles wrote.
The letter comes just days after the fantasy industry announced its own self-policing body, headed by former Obama administration Deputy Labor Secretary Seth Harris. The Fantasy Sports Con­trol Agency would set internal standards and establish an auditing and transparency system.
But given the amount of scrutiny on the booming industry, it seems almost inevitable that some state and federal regulation is coming down the pike. Democrats on the House Energy and Commerce Committee have been probing the sites, and the committee is expected to hold a hearing on the industry.
Rep. Frank Pallone of New Jersey has called daily fantasy "an industry crying for consumer protection" that currently operates "in a void within the legal structure—without any regulation or the necessary transparency."
Earli­er this month, Nevada barred daily fantasy, say­ing that it was gambling and re­quired a li­cense to op­er­ate in the state. The Mas­sachu­setts Gam­ing Com­mis­sion is set to con­sider the is­sue as well this week, join­ing oth­er states, such as Illinois, that are re­view­ing the in­dustry. The Justice De­part­ment and the New York at­tor­ney gen­er­al have also opened up an in­vest­ig­a­tion in­to the sites after it was re­vealed that a DraftK­ings em­ploy­ee with ac­cess to the site's data had won $350,000 on the com­pet­ing site Fan­Duel (the site claims the em­ploy­ee did not have ac­cess to the in­form­a­tion while play­ing on Fan­Duel).
The letter, then, would seem to be a way to get ahead of a government crackdown and recognize the realities of the industry, said Marc Edelman, an associate professor at the Baruch College Zicklin School of Business.
"Given that federal and state investigations of daily fantasy sports are not likely to stop based on new attempts at internal self-regulation, he's pleading with government to say, 'Regulate us; don't shut us down,'" said Edelman, who consults on legal issues in the fantasy industry. "This may be a win-win for everybody."
Eccles's letter says that there have been "smart, but tough proposals" in several state legislatures that "can serve as the basis for the sensible regulation of the fantasy sports industry." Among the specific issues he says could be addressed are age verification, protection of user information, and requirements of third-party audits.
In a statement, a spokesman for DraftKings said the company was "committed to working with the Fantasy Sports Control Agency, the FSTA and our partners in the industry, as well as all relevant government authorities." 
"We are seeing a number of state regulators and other authorities taking a reasoned and measured approach to the daily fantasy sports business and hope that trend continues along with due consideration for the interests of sports fans across the country who love to play these games," the spokesman added. 
The industry has existed in a strange gray area of gambling law. The sites—where users pay to par­ti­cip­ate in a cash-prize con­text on a daily or weekly basis—are leg­al thanks to a loop­hole in the 2006 Un­law­ful In­ter­net Gambling Act. But even the author of that carve-out has said that the daily sites aren't what he had in mind.
The sites have defended themselves, saying that they are not gambling operations, but instead games of skill (they've also been defended by executives from leagues like the National Football League and Major League Baseball, which back the daily sites). That would clear them of the regulations and scrutiny required of online gambling.
And Harris has said that the self-policing body would fill the role of government investigation, freeing up government resources for other matters.
But the question is increasingly popping up in states and the federal government. It even made an appearance at Wednesday's Republican presidential debate, when Jeb Bush was asked if the daily-fantasy sites should be regulated (he said it was "day trading without any regulation at all" and called for more scrutiny).
I. Nelson Rose, a professor at Whittier Law School and an expert on gaming law, said that with the big money backing daily-fantasy sites from sports leagues and media companies like ESPN, it's unlikely the sites will disappear entirely, especially as cultural acceptance for gambling seems to be growing. He said that there could be legislation in the future to clarify the definition of fantasy sports, with stipulations that the contests take place over multiple days and require trades.
"DFS may be getting hit almost every day. But it has not, and will not, throw in the towel. We are still in the early rounds," Rose wrote in a column for the journal Gaming Law Review and Economics.
Eccles acknowledged the newness of the daily-fantasy industry, comparing it to Netflix or StubHub, the ticket-resale site. And with that newness, he said, comes scrutiny.
Edelman said that daily fantasy essentially faces two choices: to be a legal, regulated industry like sports gambling in parts of Europe, or to be outlawed like online poker, which is now legal only in a handful of states.
"The regulated model seems to be a win-win for everybody," Edelman said, adding that Eccles's letter was sending the right signals to the government. "It's a reasonable solution that daily-fantasy-sports operators and the government would likely feel favorable instituting."
We want to hear what you think about this article. Submit a letter to the editor or write to letters@theatlantic.com.
Jason Plautz
is a Colorado-based reporter covering energy and environment policy.