Cruz, Paul, and Rubio Have a Common Enemy—the Budget Deal
The three GOP White House contenders really don't like the spending agreement.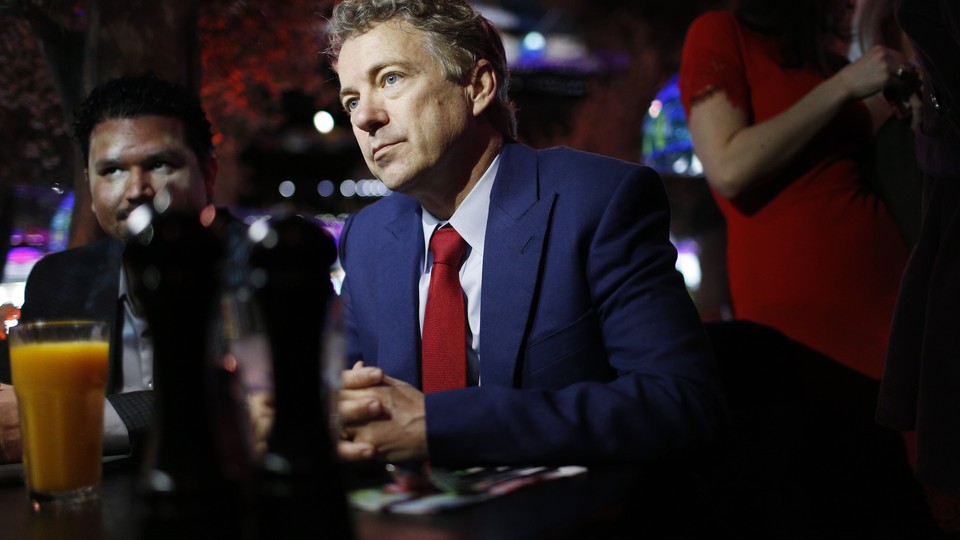 Three of the Republican senators running for president will oppose the budget deal crafted by the White House and their congressional leaders, proving once again that while each are running in slightly different lanes, all are comfortable raging against Washington.
While the opposition of the first-term senators—Marco Rubio of Florida, Ted Cruz of Texas, and Rand Paul of Kentucky—is now crystal clear, their messages varied.
Cruz was more directly and personally confrontational with the GOP leadership, while Rubio and Paul focused their ire at the process and result.
"John Boehner's golden parachute will certainly cement his legacy, but it is a slap in the face to conservatives who rose up across the country in 2014 on a promise that we would stop the disastrous runaway spending and debt in Washington," said Cruz in a statement, referring to the departing House speaker.
Rubio knocked the budget deal—which lifts caps on domestic and military spending by $80 billion over two years, in addition to increasing spending by tens of billions more in a separate war account—in part for not providing enough for the Pentagon. "I oppose this deal, which fails to seriously address the long-term drivers of our debt, contains no fundamental reforms to stop Washington from spending money it doesn't have, and does not come close to meeting our military needs in a dangerous global security environment," Rubio said.
And Paul announced that he would "do everything in my power to stop this steaming pile of legislation," adding that he would call on others to join him in filibustering the debt-ceiling vote, which would require 40 other senators to block the bill. Congress must raise the debt ceiling by Nov. 3 or face a devastating default, according to the Treasury Department, and the deal reached by congressional leaders would both set the budget top-line figures for years and sustain the debt limit until March 2017. Their idea was that it would help whoever their presidential candidate is by preventing an embarrassing calamity shortly before Election Day.
But that good-faith gesture hasn't gotten them their votes. And it wasn't too much of a surprise: Last year, none of the three voted to move a bill extending the debt limit forward.