Congress Nears Deal on Its Other Crisis: Highway Funding
Lawmakers veer closer to the edge, but both chambers see a path forward.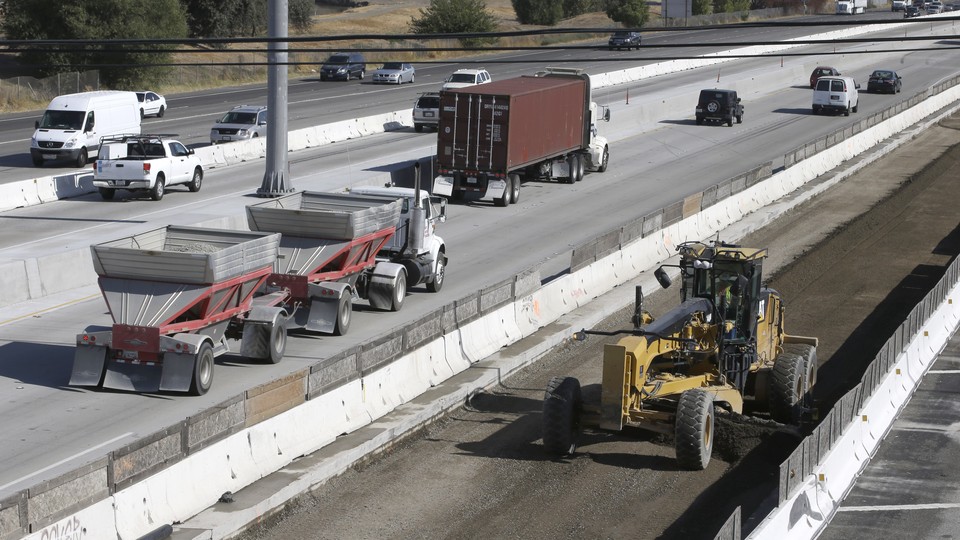 While party leaders huddle with the White House to try to deal with the nation's pressing fiscal problems, Congress is inching closer to breaking another crisis: the looming highway spending cliff.
Federal transportation spending is set to expire at the end of the week, but the House could vote as early as Tuesday on a short-term extension that would buy members more time for a long-term bill. The Senate passed a six-year transportation bill in July, and the House Transportation and Infrastructure Committee passed its own six-year bill last week.
With a little extra time -- and some cooperation -- sponsors say they're hopeful that the bills could be merged and passed before Thanksgiving, clearing one more impending crisis from the packed autumn agenda.
The House is set to vote as early as Tuesday on yet another short-term extension that would keep transportation funding alive until Nov. 20, and aides say the Senate would take it up shortly after that.
But Sen. Jim Inhofe, chairman of the Senate Environment and Public Works Committee and lead author of the Senate transportation bill, warned that that extension means Congress will inch even closer to transportation hell. If Congress doesn't act by Nov. 20, a highway bill would have to compete with funding the federal government, the expiration of certain tax provisions, and the National Defense Authorization Act, but the Highway Trust Fund would also dip to dangerously low levels.
Transportation Secretary Anthony Foxx has warned that starting in November, the federal government may have to implement cash management procedures, meaning that states will see a lag in getting reimbursed. According to the Transportation Department, the highway fund will have a positive balance through June 2016, but it has to conserve money if the fund dips below a certain level out of caution.
"Mark my words -- a failure for Congress to enact a long-term bill by Thanksgiving will result in a lost 2016 construction season," Inhofe said on the floor on Monday. "This is a terrible outcome that must be avoided at all cost."
A multi-year bill paying for road and transit agencies has proven elusive because the 18.4-cent-per-gallon federal gas tax has not been raised or indexed to inflation since 1993, leaving the Highway Trust Fund with perilously low balances. To keep the current level of about $50 billion per year, legislators had to come up with an additional $16 billion a year, and a gas tax increase has been a political non-starter.
Congress hasn't moved a bill longer than two years in a decade.
The Senate in July passed a $350 billion bill, but included a hodge-podge of pay-fors that would only cover about three years (among them sales from the country's petroleum reserve and cuts to dividends paid to large banks). House Republicans ended up not going for that bill because of the funding gap, leaving it up to the House Transportation Committee to write its own bill.
That House bill, a $325 billion, six-year bill, passed the committee last week and a spokesman for the committee said it could come to the floor in the next couple of weeks. The funding details on that bill haven't been revealed by the House Ways and Means Committee yet, and would have to be unveiled before the bill reaches the floor, unless the House elects to simply go to conference without pay-fors.
Transportation Committee chairman Bill Shuster of Pennsylvania said he was "confident that we can resolve the differences between the House and Senate measures and producing a final product that's good for our Nation's infrastructure." Inhofe and his Democratic partner, Sen. Barbara Boxer, said in a joint statement last week that they see a "very short conference period" owing to the similarities between the bills.
Those talks will also take place apart from the broader budget and debt ceiling negotiations between the White House and Congress.
Shuster's short-term extension, however, also tucks in a policy provision that could prove controversial. It extends until 2018 a requirement that railroads install a safety technology known as positive train control, or PTC. The system had been required by the end of the year, but many railroads had warned that they would not meet that deadline and would have to start phasing out some service in order to avoid violating the law.
Some Democrats, however, have said that a long-term extension leaves too much time for railroads to drag their feet and that extensions should only be granted to railroads who have shown they are trying to meet the deadline.