Congress Gets Chance to Vent, But Few Answers, in VW Hearing
Volkswagen says that its executives weren't complicit in emission cheating.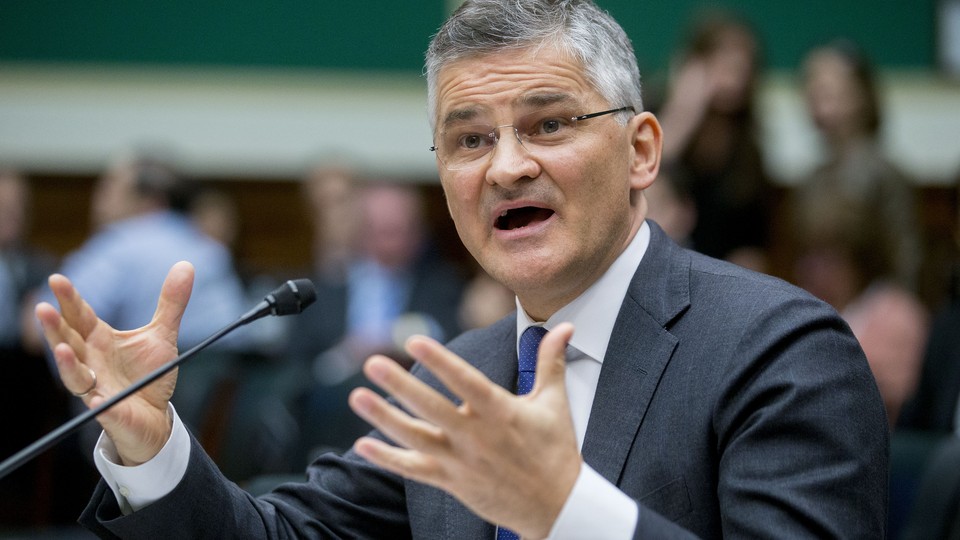 House members said Thursday that Volkswagen had "betrayed a nation" and left customers and dealers in the lurch by installing a "defeat device" to allow diesel vehicles to dodge emissions regulations.
But there were few answers about why the company cheated—and how it would fix it.
Michael Horn, head of Volkswagen Group of America, told a House Energy and Commerce subcommittee that engineers were responsible for the device and that senior Volkswagen officials were not aware of it. Even as members of the panel expressed skepticism, Horn confessed, "I agree it's very hard to believe ... and personally I struggle as well."
Horn also said he could not explain why the device was deliberately installed.
Rep. Chris Collins, a New York Republican, was incredulous, saying that VW executives had to be either "incompetent" or "complicit" in the cheating scandal.
Horn said that he himself was made aware of the existence of the "defeat device" in September, just a few days before a meeting with the Environmental Protection Agency and the California Air Resources Board. A 2014 test by a university in West Virginia revealed inconsistencies with real-world emissions from VW's diesel cars, but Horn said that executives were not aware of a deliberate software code at that time.
In his opening remarks, Horn offered a "sincere apology," saying, "We have broken the trust of our customers, dealerships, and employees, as well as the public and regulators."
Volkswagen has admitted installing software on 11 million vehicles worldwide that would skirt emissions tests, resulting in the cars spewing 40 times the legal limit of nitrogen oxide on the road.
The Justice Department and several state environmental regulators are investigating the cheating scandal, as are governments worldwide. The Senate Finance Committee also said this week that it was investigating whether the scheme had cost the U.S. Treasury millions in tax credits for low-emission vehicles.
Horn said the company is working to develop a fix for the 482,000 cars affected by the device, but could not offer a timeline for when that would begin. Of those, 325,000 are part of the first generation of vehicles and will require a hardware fix on top of changes to software, a more difficult process that may not start until late next year.
In all, the total recall effort is likely to take at least one or two years, Horn said. He said the company is also exploring other options, like buybacks, and help for its dealers who have been affected. The company has withdrawn its request for certification for new diesel models in the U.S. as a result of the scandal.
He also emphasized several times that the EPA has said the cars are currently legal and safe to drive. The fix, he said, would not affect the fuel economy of the car, but could have an impact on performance.
But members blasted the company for its actions. Rep. Tim Murphy, chairman of the oversight subcommittee that held the hearing, said the actions represented a "fundamental violation of public trust."
Energy and Commerce Chairman Fred Upton of Michigan said the company had "betrayed a nation—a nation of regulators, loyalists, and innocent customers.
"Either clean it up, or get off the road," Upton added.
Democratic Rep. Peter Welch of Vermont, reading input from his constituents, compared Volkswagen to Lance Armstrong and Bernie Madoff and asked, "How do you consider yourself part of the human race?"
One common theme of the hearing was lawmakers trying to make it personal. Several—including subcommittee chairman Murphy and ranking member Diana DeGette—said that their first car was a Volkswagen. Rep. Morgan Griffith, a Virginia Republican, said he had bought a 2012 Volkswagen diesel car.
"I'm your consumers, ... and I'm very disappointed," Griffith said.
Members also raised questions about the clean-air impact, since the cars were emitting well above the legal limit of nitrogen oxide, a pollutant linked to asthma and other respiratory problems. Democratic Rep. Frank Pallone of New Jersey asked how the company planned to mitigate the potential health problems. Horn responded that the company was concerned but pointed out that Volkswagen's vehicles represent a fraction of a percent of overall nitrogen-oxide pollution in the U.S.