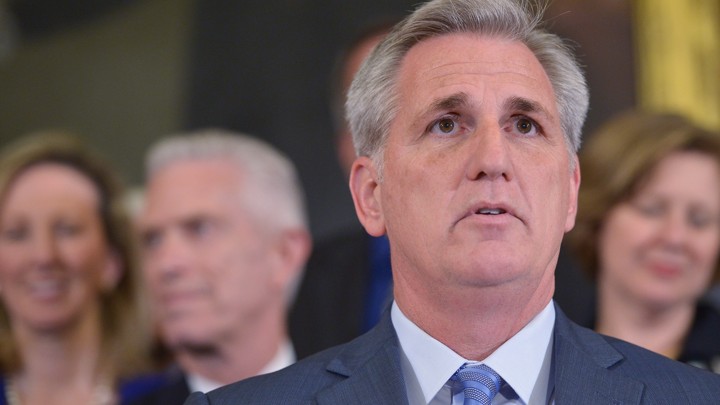 The two main candidates to replace John Boehner as House speaker are lobbying hard for the conservative vote, and both men have skeletons in their political closets.
House Majority Leader Kevin McCarthy and Rep. Jason Chaffetz are meeting Tuesday night with the most conservative groups in the House, including the House Freedom Caucus.
But neither, on paper, has the resume to end simmering concerns among hard-liners that they lack representation in the highest ranks of the House, despite its rightward lurch in recent years.
By the rankings of the American Conservative Union, McCarthy and Chaffetz have similar career records, with McCarthy achieving a lifetime score of nearly 89 percent and Chaffetz at around 92.
But since Republicans regained the majority and their votes became more than just symbolic opposition to Democratic control, the gap has widened, with Chaffetz garnering an average score of 88.25 in the first four years of the Boehner era and McCarthy at 78.5.
For instance, last year Chaffetz voted for the Republican Study Committee budget plan, while McCarthy voted against it en route to House passage of then-Budget Committee Chairman Paul Ryan's blueprint (which both voted for).
But Chaffetz has also staked out positions and cast votes that run afoul of hard-liners, including his sponsorship of online-sales-tax legislation that a number of conservative groups oppose.
McCarthy, according to his spokesman, opposes it too.
Neither lawmaker is close to pure by the standards of Heritage Action, an influential conservative group.
But Chaffetz comes much closer in their tally, garnering an 80 percent career average to McCarthy's 53 percent. For comparison, House Freedom Caucus Chairman Jim Jordan has a lifetime score of 93 percent with the group.
Chaffetz and McCarthy have split on topics, including 2014 votes on extending the debt ceiling, aid for workers displaced by global trade, and reauthorizing the Overseas Private Investment Corporation (which was tacked onto a broader bill about expanding African electricity access), with Chaffetz voting no on all.
But votes don't tell the whole story.
Erick Erickson, editor in chief of the conservative website RedState, said on his radio show Tuesday that he's not wild about either, noting that he's "not a huge fan of the crop that we've got" but if forced to choose would pick McCarthy.
He also noted that "I have got concerns with Jason Chaffetz that I don't have with Kevin McCarthy." He cited Chaffetz's push to greatly restrict online gambling, the Internet-sales-tax bill, and other issues, though he stressed that he was not endorsing McCarthy (who he said seems like a "shallow guy").
"I think Jason Chaffetz would get into his position as speaker and say, 'I am a conservative; I don't need conservatives at the table,'" Erickson said. "That's what John Boehner did." In contrast, he predicted that McCarthy would give conservatives a seat at the table.
Some outside experts do not see much daylight between the two men.
"The Chaffetz challenge is a bit puzzling. There's no significant difference between him and McCarthy in voting records, nor even on such intangibles like region, age or seniority," said Thomas Schaller, a political science professor at the University of Maryland-Baltimore County who wrote a recent book focused on the House GOP.
"It's hard to chalk it up to anything beyond pure political ambition," he said.
Chaffetz, who officially announced his surprise campaign for speaker Sunday, has not sought to run as a conservative hard-liner. Instead, he has cast himself as a figure who can spur cooperation between the branches of the House GOP.
He told reporters Monday that House Republicans "need to find a person who can bridge the far-ultra-right-wing faction of our party with the more centrist members."
"We've got to be able to build that bridge, and I'm suggesting that I'm one of a handful of people that the disaffected feel will listen to them, respect them, and hear them out but will also be palatable to the more centrist members," he said.
We want to hear what you think about this article. Submit a letter to the editor or write to letters@theatlantic.com.
Ben Geman
is an energy and environment correspondent at
National Journal