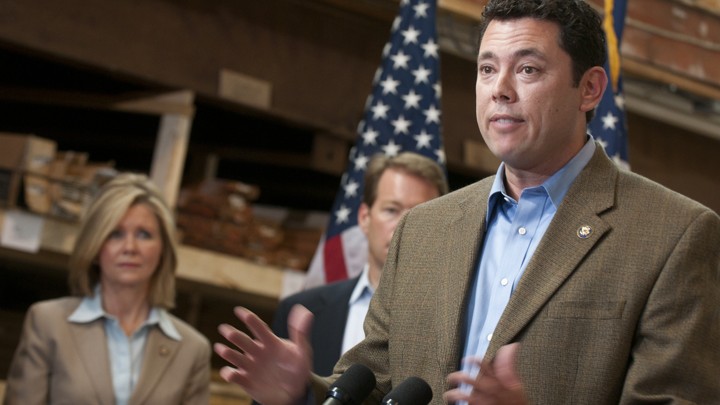 "Finally these members are calling me back," Rep. Jason Chaffetz said, tapping his buzzing Apple Watch as he faced a roomful of reporters for the first time since making public his long-shot bid to become the next speaker.
The election is Thursday, and Chaffetz is only on day two of his bid for the gavel. He started making calls Sunday and the responses have been slow going. Still, Chaffetz is keen to prove he can be a new kind of leader of the Republican Party, and that's, he said, why he's challenging his friend, Majority Leader Kevin McCarthy.
Looking to secure the conservative vote, Chaffetz is on the attack: Senate Majority Leader Mitch McConnell is "absolutely flat-out wrong" to pledge not to shut down the government, McCarthy is not a good enough public speaker to speak for House Republicans, and if anyone wants to punish him for saying so by, for instance, taking his committee gavel, the public has his back, he said.
Chaffetz acknowledged McCarthy has far more support right now, but given the tenor of the party in general and the conference in particular, Chaffetz said he thinks McCarthy simply cannot secure the 218 votes needed on the House floor to win the speakership. Unlike other party leadership positions, the speakership must be won by a vote of the full house, including Democrats. Chaffetz said roughly 50 members have expressed to him that under no circumstances can they cast a public ballot for McCarthy.
"I don't think they want to go home and say they just gave a promotion to the existing leadership," Chaffetz said. Instead, what House Republicans have been telling him, he said, is: "'I can't vote for the guy, I'm going to get killed at home. That's not what we need. We need to go a different direction.'"
That's where Chaffetz comes in. The buoyant 48-year-old Mormon from Utah touts his experience as a former Brigham Young University place-kicker, his communications background, and his fledgling chairmanship of the Oversight and Government Reform Committee, the hearing room in which he met reporters for a lengthy sit-down interview.
Yet Chaffetz is not even Chaffetz's first choice for speaker. Last week, he touted Rep. Trey Gowdy, and on Monday, he said Rep. Paul Ryan might make a better choice, too. But as those members took themselves out of contention, Chaffetz said conservative members recruited him.
"It's not as if this group organically has been chanting, 'Chaffetz, Chaffetz.' I get that, I get that," he said. "What I'm offering myself up as is, Can I be palatable to those people who desperately want this change and will not, cannot, vote for Kevin McCarthy on the House floor?"
"Ultimately," he said of the GOP Conference, "they need to find a person who can bridge the far-ultra-right-wing faction of our party with the more centrist members. We've got to be able to build that bridge, and I'm suggesting that I'm one of a handful of people that the disaffected feel will listen to them, respect them, and hear them out but will also be palatable to the more centrist members."
Chaffetz—along with many other Republicans—has been a vocal critic of McCarthy's recent suggestion that the Benghazi Committee exists to politically attack Democratic presidential front-runner Hillary Clinton. (McCarthy has since walked back those comments.) "We need a speaker who can speak," Chaffetz said repeatedly during the interview. When asked whether that's an attack on McCarthy, he shot back with a smile, "Do you really think I need to explain that one?"
"My ascension has to happen organically. It's not because I have some sophisticated whip operation and I've handed out to checks to members over the last several years," he said. "There will eventually be a realization that we better darn well put up a fresh face, somebody who can speak, somebody that can help raise the money outside of the role, and somebody who can be a fair arbiter internally to get the process endorsed and supported by more members."
Whether that realization comes on Thursday or later in the month when members nominate their candidate for speaker on the the House floor, Chaffetz does not know. But even if McCarthy wins the secret vote among Republicans on Thursday, it is clear Chaffetz is ready to be the compromise candidate in the case of a deadlock on the floor.
Chaffetz said he wants to reform the committee structure to allow bills to move through the process rather than be handed down from leadership with no panel hearings or member input. He also said he would be OK with bills failing on the floor if that's the will of the House. He refers to that plan when asked how he would handle a pending debt-ceiling increase or government-funding lapse. Although he said he does not personally support raising the debt ceiling without preconditions or allowing a government-funding bill to pass without a provision cutting funding for Planned Parenthood, he said he wants to allow the relevant committees to have their chance to handle those issues before asserting himself.
He also is pushing for internal reforms backed by conservatives that include changing the way the conference constitutes the Steering Committee, a secretive group of members who vote on who will chair almost every committee. Making those changes, he said, would go a long way to ending the infighting that has marred the House Republican Conference over the last several years and that ultimately led to Speaker John Boehner's retirement.
"If we can reform the process part, then I think we can get some of those other members to come along and live with the results and actually stand up and support those results," he said. "But right now, there is a gulf and a divide that is causing animosity."
Chaffetz himself was the target of some of that animosity earlier this year, when he removed Rep. Mark Meadows from a subcommittee chairmanship after Meadows and others voted against a procedural motion on the House floor. He was pushed into backing down, and Meadows went on to offer the motion to remove Boehner from the speakership that presaged his pending resignation. Still, Chaffetz said he was wrong to remove Meadows and called it a learning experience.
"It was an important lesson to me that you're not going to break knuckles in order to build unity," he said. "But what's important is what I did with it. My committee members felt that I overextended myself. I spent an hour and 40 minutes with them in a full group, I listened to them, I prayed about it, and I came back and re-instituted him."
Yet, he said he'll be fair to moderate Republicans, too, many of whom he said he spent time with on the phone on Sunday. "What I do and how I do it has not been the vitriolic approach that some of the others have taken. I can say it and do it in such a way that is palatable to our own centrist members."
We want to hear what you think about this article. Submit a letter to the editor or write to letters@theatlantic.com.
Daniel Newhauser is a staff correspondent for National Journal, where he primarily covers the House of Representatives. He was formerly a House leadership reporter for Roll Call, where he started as an intern in 2010 and quickly earned a slot as a beat reporter.
A native of San Antonio, Texas, Newhauser traveled further West to study journalism at Arizona State University's Walter Cronkite School of Journalism and Mass Communication and write for newspapers including the East Valley Tribune and the Green Valley News & Sun.