Candidates With Super PAC Connections Face Off in New York GOP House Primary
In the race to replace Rep. Chris GIbson, one candidate and his family has funded a super PAC, while another used to run a group funded by some of the GOP's biggest donors.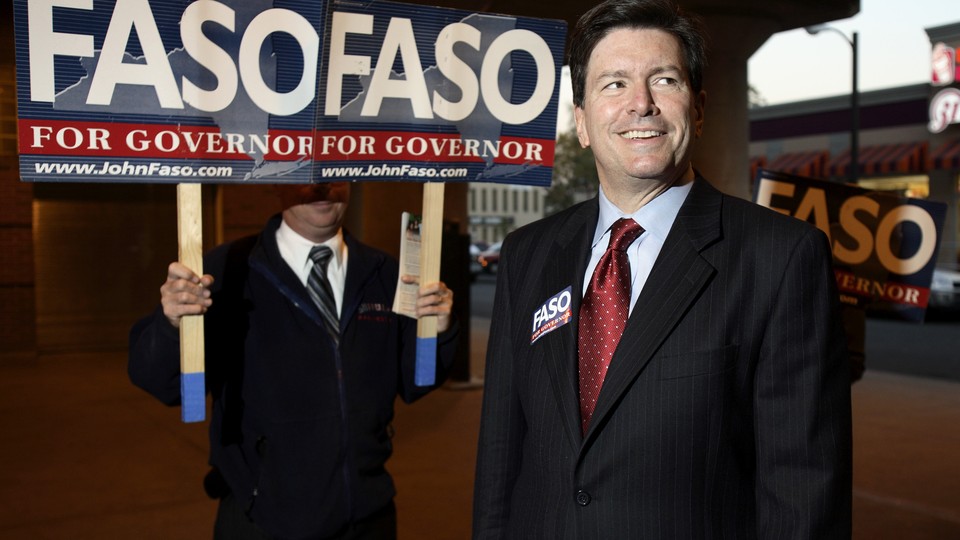 Both parties will likely throw millions of dollars into winning Rep. Chris Gibson's battleground House seat next year, when the popular, moderate Republican retires. But before we even get to that point, a potentially expensive and bruising primary—already fueled by super-PAC dollars—is playing out among Republicans in New York's Hudson Valley.
Three Republicans—2006 gubernatorial nominee John Faso, businessman Andrew Heaney, and Assemblyman Pete Lopez—are running to succeed Gibson in the vast upstate district. And the first two bring to bear substantial ties to outside-money groups that could play a role in determining the GOP nominee.
Campaign-finance filings show companies owned by Heaney and his family gave $60,000 in June to the New York Jobs Council, a super PAC that's already taking early shots at Faso. And Faso, a former minority leader in the state Assembly, himself launched a super PAC last cycle. His group, New York 2014, has since shuttered, but not before spending about $1.4 million last year to boost Republican congressional candidates in the state. The contributor roster included Paul Singer, Ken Griffin, Robert Mercer, and other major names in Republican fundraising.
"It's going to be a very expensive primary," said Susan Del Percio, a New York-based GOP strategist who worked on Faso's 2006 gubernatorial bid. "It could be a record-breaking primary, even nationwide, if you include the super PACs."
In addition to their connections to big-money groups, the candidates are reporting sizable fundraising hauls: Heaney raised $643,000 this quarter, while Faso brought in about $625,000. Lopez, who only announced his plans to run Thursday, has not filed any fundraising reports yet.
Even before any well-heeled super-PAC donors get involved, the campaign totals from Heaney and Faso are already enough to suggest a costly primary could be ahead, though local Republicans hope to unite behind a candidate before a competitive general election.
Already, the New York Jobs Council is jabbing Faso on Twitter, slamming him as an "insider establishment candidate" and tweeting out articles from 2010 on Faso's law firm settling in a pay-to-play probe.
Faso consultant Cam Savage called that issue "nothing more than a political attack." As local press reported at the time, the subpoenas came a month after another PAC cofounded by Faso launched attack ads against now-Gov. Andrew Cuomo, who opened the investigation as attorney general.
The New York Jobs Council hasn't received any donations besides the Heaney-aligned contributions, the Poughkeepsie Journal first reported. A Heaney spokesman confirmed to the publication that Heaney donated to the super PAC, but the campaign did not respond to phone calls with additional questions about Heaney's ties to the group.
Meanwhile, the PAC says it hasn't yet decided whether it will formally support Heaney, said New York Jobs Council spokesman Andrew Gibson. The group, which has reported spending about $25,000 on consulting fees so far, "has no set budget for this race," Gibson said.
Gibson added that the group's "steering committee is committed to spending whatever it takes to elect a candidate who will fight for good paying jobs" in the district.
While there doesn't appear to be an active PAC connected to Faso right now, Faso characterized his 2014 super-PAC effort as part of a broader record helping upstate New York that will endear him to local Republicans. He pointed to his time in the state Assembly—from 1987 to 2002—and his current role as chairman of the Third Judicial District Convention for the Republican Party.
New York 2014 was "just one example of my longstanding involvement in helping candidates and advancing public policy issues here," Faso said. "I don't think any opponent out there can match that."
Faso said he hasn't "had any discussions with anyone about anything" regarding New York 2014 donors potentially supporting his congressional bid. Other prominent donors to New York 2014 included wrestling magnate Linda McMahon and TD Ameritrade founder Joe Ricketts. But two beneficiaries of Faso's super PAC have already helped his campaign: Freshman GOP Reps. Elise Stefanik and John Katko, the beneficiaries of most of New York 2014's spending last year, recently cohosted a Faso fundraiser in Washington, along with six other New York Republicans in Congress.
Lopez, who once was Faso's district office director, acknowledged his opponents' financial strength. But he maintained his role as a sitting elected official meant he was most familiar to local voters.
"For a candidate to be viable and successful, fundraising needs to be more than the only consideration," Lopez said.
The contours of the district make for expensive campaigns, though. No one media market reaches all voters in the district, and one (New York City) is usually prohibitively expensive for House candidates. Some Republicans are hopeful that the party can save itself time and money via its county party chairs' endorsement process, which could induce nonendorsed candidates to drop out before the primary. When Gibson first ran for the seat in 2010, he cleared his primary field after winning the chairs' endorsement.
But Republicans say that's not as likely this time around with at least two well-funded candidates—and the possibility of more Republicans jumping into the race. Assemblyman Steve McLaughlin and forage company executive Bob Bishop are also weighing bids.
"I'm predicting a primary regardless of the efforts of the county committees," Lopez said. "And I predict a primary that will be expensive and that individuals in the primary will maximize their use of available resources to win."