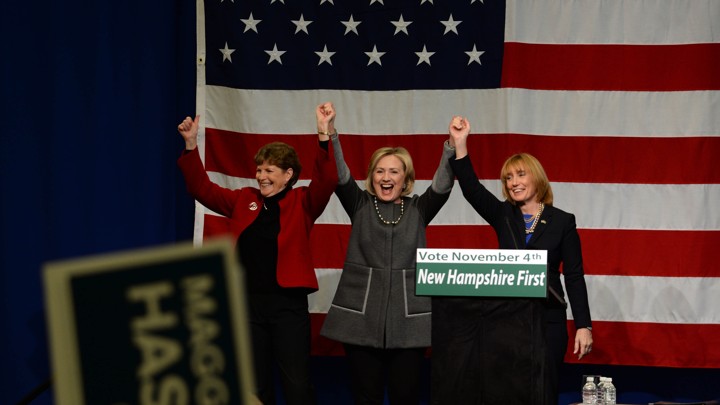 New Hampshire Gov. Maggie Hassan on Monday put a flourish on a banner 2015 for Senate Democrats. From Wisconsin to Ohio to Illinois to, now, New Hampshire, the party has done almost everything right, enticing candidates with popularity or experience (or often both) to run for Senate in swing states across the country.
Now comes the hard part.
Hillary Clinton's sinking poll numbers have complicated the Senate Democrats' path back to a majority. For all their success landing major candidates, their campaigns—like all down-ballot efforts in 2016—could largely reflect the outcome of the presidential race. And despite the boost candidates like Hassan could give, Democrats might have less reason to be optimistic about Senate races like New Hampshire's than they did earlier this year after Clinton's rocky summer.
In some cases, Democrats might face the daunting task of overcoming—rather than benefiting from—Clinton's presence.
"Six months ago, Hillary Clinton looked like she was going to be a dominant nominee for Democrats," said Ryan Williams, a Republican strategist with extensive New Hampshire experience. "Now she's incredibly damaged. Her approval ratings are tanking, and she's looking like a potential anchor around necks of Senate Democrats."
Democrats counter that, more than a year before the general election, rating Clinton as a weak candidate is premature (just as it might be early to suggest, amid Sen. Bernie Sanders's rising support and Vice President Joe Biden's possible entrance, that Clinton wins the Democratic nomination in the first place). The fortunes of a presidential candidate fluctuate from week to week, much less over the course of a year.
But there's little doubt that Clinton, who Democrats once counted on to be an electoral juggernaut, is anything but that right now. In one New Hampshire survey, she fell behind her possible Republican foes with the exception of Donald Trump. In Iowa polling, she trailed even the egomaniacal billionaire many Republican political operatives consider general-election kryptonite. In both states, many more respondents viewed her unfavorably than favorably.
That's dangerous ground for Democratic Senate recruits, including Hassan. Senate races and their presidential counterparts have become increasingly intertwined as the country's electorate grows more polarized. Barring extreme cases—like a Todd Akin-like gaffe or nonexistent fundraising—a candidate is rarely able to outrun his or her party's presidential nominee by more than a handful of percentage points.
That narrow opportunity to over-perform the top of the ticket explains why Democrats were so eager to recruit the two-term New Hampshire governor.
Democrats considered Hassan their white whale of 2016 recruitment: a well-liked, experienced chief executive with the fundraising chops to challenge entrenched Republican Sen. Kelly Ayotte. Popular with the party's liberal and establishment wings, her entrance effectively clears the primary field and sets up an immediate showdown with Ayotte. Hassan started the year with approval ratings around 70 percent; even after fighting with legislative Republicans and being targeted by millions of dollars in early GOP attack ads, her ratings stood at a healthy 51 percent in a recent NBC News/Marist poll.
To many Democrats, ahead of an expected close presidential race in the Granite State, Hassan represented the party's best—and maybe only—hope of victory against Ayotte, who has proven popular herself.
"[Hassan] doesn't have a steep as a learning curve as many candidates who enter Senate races," said Matt Canter, a strategist and former deputy executive director of the Democratic Senatorial Campaign Committee. "… Her team is a very experienced New Hampshire team. She will be well-served by them. Democrats need all of that to beat a skilled politician like Kelly Ayotte."
Yet the top of the ticket has a powerful pull. In each of 2008 and 2012, only one Republican Senate candidate won a state that President Obama also carried (Nevada in 2012 and Maine in 2008). The link between Senate campaigns and the presidential race will be especially strong in 2016, when many of the marquee Senate contests—Florida, Pennsylvania, Wisconsin, New Hampshire, and Ohio—double as presidential battlegrounds.
"[There's] no question that presidential politics affect Senate races during presidential years," Williams said. "The presidential race dominates everything."
Democrats' candidate recruitment has given them reason for confidence outside New Hampshire, too. The party has found relatively popular former officeholders like Russ Feingold and Ted Strickland to run in Wisconsin and Ohio, respectively. In part because of their high name recognition, both men lead in early polls of their matchups with Republican Sens. Ron Johnson and Rob Portman.
In Florida, Rep. Patrick Murphy's entrance gives Democrats a congressman who twice won his battleground district. In Illinois, Rep. Tammy Duckworth is a decorated Army veteran, while former gubernatorial candidate Katie McGinty offers Pennsylvania voters a chance to elect their first female senator. Even in second-tier opportunities like Arizona and Missouri, Democrats have found legitimate candidates capable of taking advantage of a mistake from the GOP incumbent.
Their recruitment record hasn't been perfect: In North Carolina, Democrats have been turned down by nearly every viable candidate recruited by party leaders, including former Sen. Kay Hagan. Democrats still have to manage potentially fraught primaries, especially in Florida and Pennsylvania. And even candidates who look strong on paper can wilt under the harsh scrutiny of a tough race.
But some Republicans carefully watching the Senate landscape grudgingly admit that their foes have put together a strong class of recruits.
"There's still a key hole in North Carolina and they haven't landed the best candidates in Pennsylvania, but on balance Democrats have assembled a solid recruiting class," said one senior GOP strategist, granted anonymity to speak candidly.
We want to hear what you think about this article. Submit a letter to the editor or write to letters@theatlantic.com.