Can Paul Ryan Make "Repeal and Replace" Work?
None of the 2016 contenders has a clear plan for getting rid of Obamacare. That's where Ryan can help—regardless of which job he has.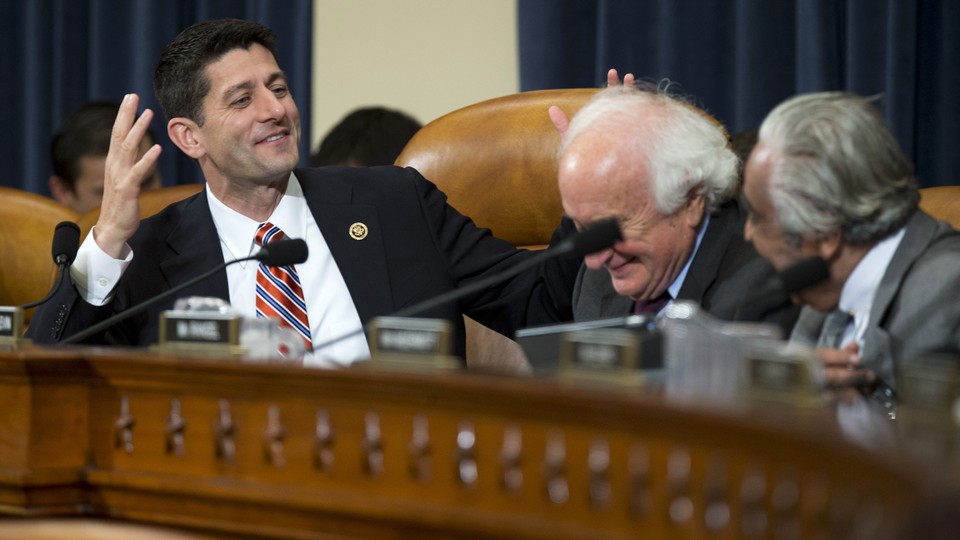 The Republican presidential candidates are still making vague promises to "repeal and replace" Obamacare even as the law becomes further entrenched—and Paul Ryan, the GOP's perennial white knight, is busy trying to figure out how to make such an enormous upheaval work.
"Repeal and replace" has never been as easy as it sounds, in part because it would almost certainly disrupt insurance coverage for millions of people on exchanges and could also throw broader insurance markets into turmoil.
That's why Republicans have never been able to coalesce around a replacement plan, despite years of internal discussions. But repeal remains a calling card for every Republican candidate.
Ryan, widely seen as one of the party's most serious health care wonks, is still trying to square politics with policy. And aides say he'll likely remain in the Obamacare weeds even if he ends up taking over as House speaker.
"No matter what, he'll be a part of this. He just loves this stuff," said Doug Andres, a Ways and Means spokesperson.
That would be good news for a Republican president.
Ryan does not yet have a plan to create a seamless transition from Obamacare, but perhaps more than his colleagues, he understands the challenge facing them should they accomplish what they say they will.
Conservative policy wonks got a small taste of just how hard the task would be earlier this year, when several groups of lawmakers—including Ryan—tried to figure out what they'd do if the Supreme Court axed the health care law's premium subsidies in most of the country.
"I think we have ideas based on this experience, and our ideas we'll continue to work on and flesh out so that we'll be ready with a new president to do this," a GOP health care aide, who was involved with crafting King v. Burwell response plans, told National Journal.
They ultimately didn't need such a plan, but the process was a stark reminder that fiddling with one piece of Obamacare, especially something as critical as its subsidies, has broader ripple effects throughout insurance markets nationwide.
"I think everyone kind of knew there would need to be time, I think it was just surprising how long it would take if you change just little aspects of it," the GOP aide said.
Ryan avoided the spotlight while Congress battled over what it could do should the Supreme Court strike down premium subsidies on federal exchanges, letting the Senate introduce solution legislation and limiting his public input to an op-ed he wrote with other House committee chairmen.
Meanwhile, most plans put forward extended Obamacare premium subsidies for some amount of time while taking a partisan jab at the law—for example, repealing the individual mandate.
But out of the public eye, Ryan was also looking for a way to keep millions of people from potentially losing their health insurance should the court side against the law in King v. Burwell. And working on legislation cushioning the impact of a King win taught the GOP that even the standard six-month-or-so lead time contained in some replacement plans would probably not be long enough.
The Affordable Care Act is a complicated law, and most of its pieces are intertwined. Restoring its subsidies while repealing the individual mandate, for example, might have seemed like a political compromise, but it wouldn't have done much to prevent real-life disruption and premium spikes for millions of consumers.
Weakening its employer mandate is also politically attractive—until you realize that it would probably increase the cost of the premium subsidies. And all of that potential for disruption would be magnified in a comprehensive overhaul.
"There would be huge transition issues that would have to be worked out with any repeal-and-replace plan," said Larry Levitt, a senior vice president at the Kaiser Family Foundation, after former Gov. Jeb Bush released his health-reform plans last week. He said Bush isn't alone in his lack of a well-developed transition plan; he hasn't seen anyone put one forth.
If there isn't one, "It would make the cancelled-plans controversy from the fall of 2013 look like small potatoes," he said.
The largest transition issues, Levitt said, would occur in the individual insurance market and in Medicaid. Presumably, no Republican candidate (except maybe John Kasich) would keep Obamacare's Medicaid expansion, thus stripping low-income people who recently became eligible for the program of their health insurance unless an alternative way to gain coverage becomes available under the candidate's plan.
The Affordable Care Act's minimum-benefits requirements would also be undone, and insurers would create new policies while canceling ACA individual insurance market plans. Those covered by the plans would then have to find new coverage. States would have to change their insurance regulations, and new premiums for new plans would have to be submitted by insurers to state insurance departments for approval.
There's not much evidence so far that the party's presidential candidates have given all this much thought.
Jeb Bush's health care agenda has only a simple bullet point: "Develop a transition plan for the more than 17 million low-income individuals entangled in Obamacare," a backgrounder read. "For example, states could supplement the new tax credit so that low-income individuals have a fully funded HSA to meet all of their out-of-pocket costs."
This bullet barely scratches the surface of what could be at least a year-long process and involve continuing federal payments and creating incentives for insurers to remain in marketplaces. But perhaps those touting repeal-and-replace plans can be forgiven for their lack of detail about a transition; this isn't exactly a rallying issue among voters torn between candidates, or even something recognized by the masses as an issue at all.
However, that's why the GOP has Paul Ryan; he thrives in the realm of number-crunching, working behind the scenes, and being two steps ahead of everyone else.
"These are the reasons he wanted to be Ways and Means chairman," Andres said, "to work on these issues like health care—a big issue."