Can Paul Ryan Fix the 'Broken' U.S. House of Representatives?
In a tearful ceremony, the earnest Wisconsin Republican took the speaker's gavel from John Boehner.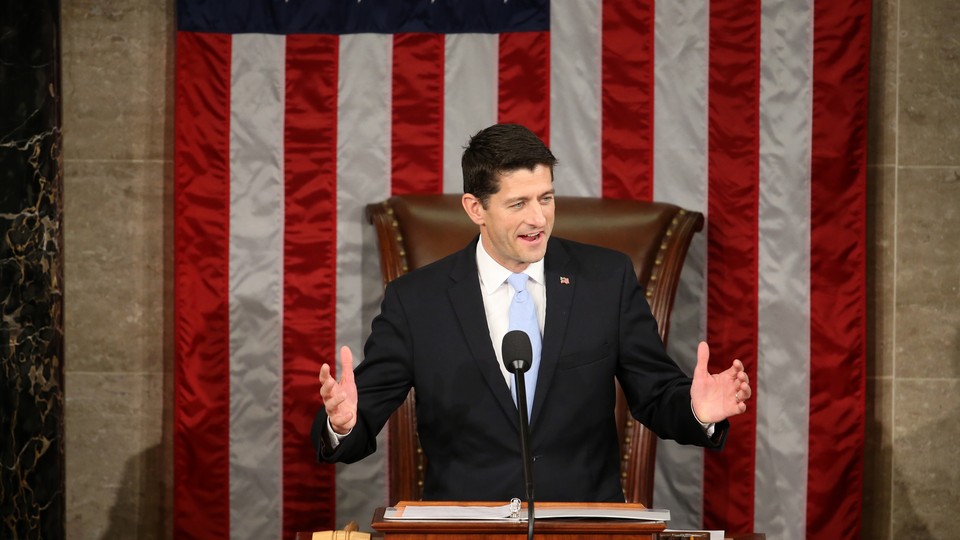 If John Boehner, the often-weepy son of a bartender, was the humble speaker of the House, Paul Ryan looks to be the earnest one.
In a formal transfer of power that was equal parts celebratory and emotional, the 45-year-old Wisconsin Republican on Thursday won an election on the House floor to replace the departing Boehner, who resigned last month rather than try to head off a conservative revolt. Nine Republicans cast their votes for a long-shot challenger, Daniel Webster of Florida, denying Ryan the unanimity he sought but allowing him to claim a measure of unity from a divided Republican conference.
Ryan now has a job he said he never wanted, and he immediately set about to fix a legislative chamber that he bluntly declared to be broken. "We're not solving problems. We're adding to them," Ryan said in his first speech from the House's highest chair. It was a statement with which few lawmakers—Republican or Democrat—would disagree.
But it was awkward nonetheless.
Just moments earlier, Ryan led the House in giving Boehner a sincere and laudatory send-off. The affable Ohioan presided over the election of his successor with his customary goodwill and humor—and a bucketful of his famous tears. As he rose to deliver a farewell address, Boehner turned behind him and asked staffers for a box of tissues. Holding them aloft with a nod to the chamber, he won the first of several ovations.
"I leave here with no regrets, no burdens," Boehner said. "If anything, I leave as I started—just a regular guy humbled by the chance to do a big job. That's what I'm most proud of—that I'm still just me." How well he did that big job will remain a matter of debate. Democrats believed he too often lacked the backbone to confront the most recalcitrant in his party; conservatives howled that he shut them out and took the path of least resistance to cut mediocre—or worse—deals with the White House.
When Boehner resigned, the GOP turned to Ryan, a wonky tax writer who had been a rising star in the party long before Mitt Romney picked him as his running mate in 2012. He ran eagerly for vice president but reluctantly for speaker. And although Ryan agreed to serve only after the party came begging, even he had to make promises to secure the support of the same conservatives who tormented Boehner.
Ryan assured the right he'd run the House differently, promising to shake up the structure of committees and give rank-and-file members a stronger hand in writing legislation that makes it to the floor for a vote. On Wednesday, the Republican conference formally nominated him in a private vote, and on Thursday the House ratified Ryan's selection in a spectacle unique in American politics—a long, slow reading of each name of the chamber's 435 representatives, who then rose to shout the name of their chosen candidate.
Ryan needed a majority of the chamber, and by the time the vote began, the only drama was in guessing how many of the 247 Republicans would cast their support elsewhere. All but three Democrats voted for Nancy Pelosi, the veteran party leader. (General Colin Powell got one vote, as did Representative John Lewis, the civil-rights icon, and Representative Jim Cooper, a Tennessee centrist.) The only other Republican to receive votes was Webster, the former speaker of the Florida House, who had initially won an endorsement from the renegade House Freedom Caucus. In the end, Ryan lost only nine Republicans—fewer defections than Boehner suffered each of his last two elections.
The final vote—the 236th for Ryan—came from Boehner himself, who announced Ryan's election and waited for him in the speaker's chair. "Don't cry!" the smiling Wisconsinite told him as the two friends embraced. It was, as everyone in the House knew, a fruitless request. After struggling to hold back his emotions for more than an hour, Boehner wept openly as he walked to the back of the chamber, waving to acknowledge a bipartisan ovation that lasted several minutes.
"John Boehner, you are the personification of the American dream," Pelosi told him as she prepared to hand the speaker's gavel to Ryan. When he finally got to speak, Ryan paid his own tribute to Boehner. The House applauded again, and Boehner, standing near the back, waved a white handkerchief that he used to wipe away his tears. He gave Ryan an exaggerated salute, turned around, and walked out of the chamber for the final time.
With his large family, and both Mitt and Ann Romney watching from the gallery, Ryan addressed the House as speaker for the first time. Repurposing the words of Harry Truman after he assumed the presidency following the death of Franklin Roosevelt, he asked lawmakers to pray, not for him, but for each other. "Republicans for Democrats and Democrats for Republicans," he asked. "And I don't mean pray for a conversion. Pray for a deeper understanding."
"Wherever you come from, whatever you believe, we are all in the same boat," Ryan continued.
Yet once Boehner left, Ryan shifted his tone.
"Let's be frank: The House is broken," he said. Pledging a clean break that wasn't about "settling scores," Ryan pledged to restore "regular order"—Congress-speak for empowering committees at the expense of top-down, leadership-dictated policy. He didn't delve into specifics in his short speech, but he said he wanted the House to overhaul the tax code, improve healthcare, boost support for the military, and bring down the debt. In an echo of both Boehner and Obama before him, Ryan said that while the "cynics may scoff," "you better believe we will try."
"We will not duck the tough issues. We will take them head on," Ryan pledged. "We should not hide our disagreements. We should embrace. We have nothing to fear from honest differences, honestly stated."
They were pledges warmly welcomed by the entire House, Republicans and Democrats alike. And to a person, they were promises each of them had all heard before—most recently in early January, from the man who minutes earlier had walked out the door. Boehner had tried all of those things, but whether because he was thwarted by his allies or outmaneuvered by Democrats, he had failed to deliver.
The humble barkeep's son is now on his way back to Ohio, and it's now the man from Wisconsin's turn.