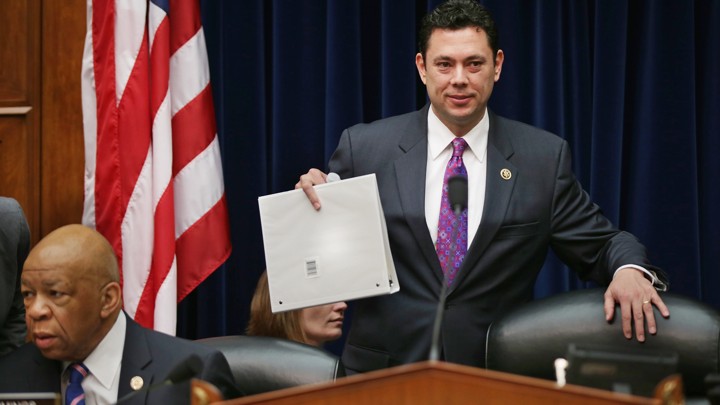 Rep. Jason Chaffetz is reportedly weighing a run for House speaker, a surprise move that shakes up the race to replace outgoing Speaker John Boehner just days before the Oct. 8 election.
News of his potential candidacy arrives as House conservatives have been agitating for more competition in the race. But it will be an uphill battle for Chaffetz, if he runs, to become a serious threat to McCarthy, who has spent years in leadership cajoling, campaigning, and raising money for his fellow House Republicans.
Chaffetz's plan to run was first reported by Politico, and the Associated Press is also reporting that he'll jump in. His office did not respond to requests for comment.
The potential run comes after the Utah Republican publicly criticized Majority Leader Kevin McCarthy, the front-runner for Boehner's job, over McCarthy's claim Tuesday that the House Select Committee on Benghazi deserves credit for hurting Hillary Clinton's presidential campaign. McCarthy's comment, which he has since tried to walk back, has given Democrats ammunition because it was out of step with Republicans' long-standing insistence that the committee formed in 2014 is not a tool to attack Clinton.
A run by Chaffetz would be a bold gamble for the ambitious and high-profile lawmaker with a knack for getting on TV. As chairman of the powerful House Oversight and Government Reform Committee, Chaffetz has held widely covered hearings on topics that include Planned Parenthood and blunders by the Secret Service.
But it's not clear how he could cobble together a winning coalition within the GOP conference. While Chaffetz has highlighted issues popular with conservatives, such as the IRS's treatment of right-wing groups, Chaffetz is not among the GOP hard-liners who have battled against Boehner's team.
Chaffetz was a familiar face on TV when he acted as a frequent surrogate for Mitt Romney during Romney's unsuccessful campaign to unseat President Obama in the 2012 election.
Chaffetz, 48, has also been seeking to inject new blood into the slate of leadership candidates. Early this week, he was among the lawmakers who unsuccessfully urged Trey Gowdy, the head of the Benghazi panel, to run for majority leader.
House Republicans will gather Thursday to decide their leadership in the wake of Boehner's exit later in the month. McCarthy's gaffe about the Benghazi committee put Republicans into damage-control mode, but he's still the front-runner.
And other than the potential Chaffetz run, McCarthy faces only a very long-shot challenge from Rep. Daniel Webster in the speaker's race.
But it's unclear whether Chaffetz can emerge as a true threat to McCarthy, despite McCarthy's misstep about Clinton and the Benghazi panel. If he does get in, he'll have an opportunity to audition before some of the most conservative members of the House GOP caucus Tuesday. That's when House conservatives in groups that include the House Freedom Caucus and Tea Party Caucus are holding a forum for the speaker candidates.
Rep. Tim Huelskamp said that Chaffetz, in light of reports of his candidacy, has been extended an invitation to join.
"When 60 percent of all Republican voters believe that Beltway Republicans have betrayed them, this is a historic time to change the current direction of Congress. Unlike the last three speaker elections, this time we should vet each candidate thoroughly," said Huelskamp, an outspoken House conservative.
Even if Chaffetz can't beat McCarthy, he can complicate the front-runner's path toward the 218 GOP votes he needs to secure the speakership on the House floor, since Democrats will vote en masse for Nancy Pelosi. Chaffetz's candidacy could force McCarthy to bargain with conservatives to ensure that floor defections are kept to a minimum.
We want to hear what you think about this article. Submit a letter to the editor or write to letters@theatlantic.com.
Ben Geman
is an energy and environment correspondent at
National Journal