California Just Made It Easier for Millions To Vote in 2016
This is likely to have a significant impact on the number of Latino voters.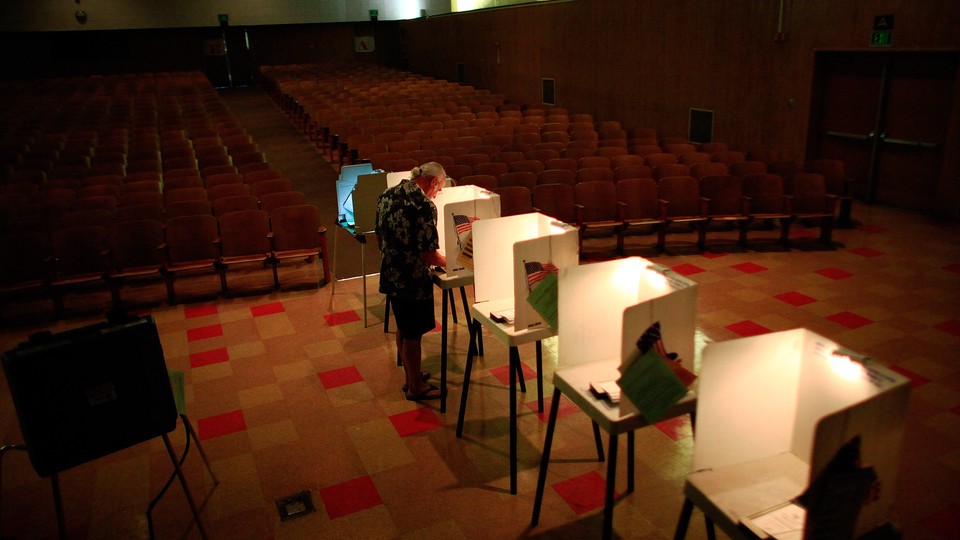 California will begin automatically registering eligible citizens to vote.
Governor Jerry Brown over the weekend signed into law a bill that will allow the Department of Motor Vehicles to send voter registration information directly to the Secretary of State's office when people receive a driver's license or state ID card.
The move could have a dramatic impact on the number of registered voters in California, particularly when it comes to Latinos, who have traditionally turned out in low numbers.
The state estimates that there are 6.6 million eligible but unregistered voters in the state who could be impacted by the change. Right now, the state ranks 38th in terms of voter registration rate.
As the Pew Research Center noted, the Latino population in California is the largest in the nation, with more than a quarter of the nation's Latinos calling the state home. There are 6.4 million Latino eligible voters in California—or 27 percent of the state's eligible voters. Yet, Latinos cast just 17 percent of the votes in the 2014 election, and fewer than 40 percent of eligible Latino voters cast ballots in 2012.
Latinos are similarly underrepresented at the polls nationally, and advocacy groups such as the National Council of La Raza and the National Association of Latino Elected and Appointed Officials have argued that much of the discrepancy can be traced to onerous voter identification laws that make it difficult to register. While California is the largest state to adopt automatic registration, other blue states will be paying attention to how the new process plays out.
"California just became a national leader on voting rights," Myrna Pérez, deputy director of the Democracy Program at the Brennan Center for Justice, said in a statement. "In too many states, our outdated and error-prone registration system blocks millions from the polls. Automatic permanent voter registration can transform voting in America. Other states should look to California as a bold new model for reform."
Lawmakers in 17 states and Washington, D.C., have proposed similar reforms, but only Oregon has a similar law in place. New Jersey has passed a bill, but 2016 Republican presidential candidate Gov. Chris Christie opposed the idea.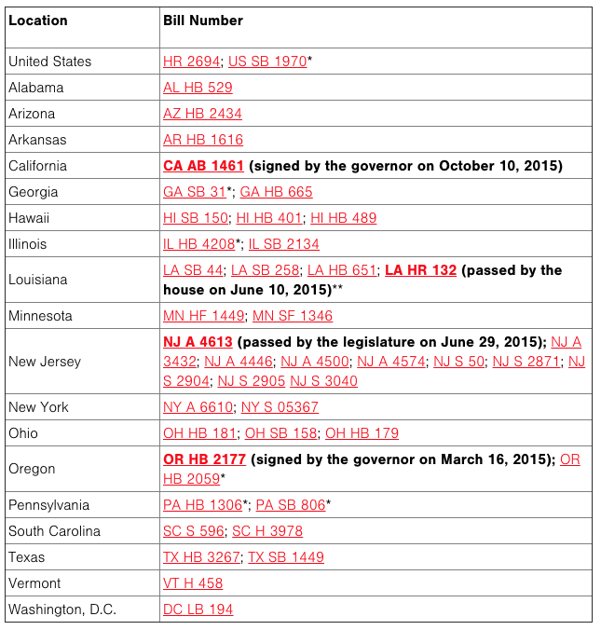 Courtesy of the Brennan Center for Justice 
"There's no question in my mind that there are some advocates of this who are looking to increase the opportunity for voter fraud," Christie said during a radio program in June. "I think there's much more politics behind this than there is democracy."
Republicans frequently cite the potential for fraud as an argument against such proposals. Yet instances of voter fraud are almost nonexistent, and a report from the Advancement Project suggests that laws that require voters to show photo ID and proof of citizenship at the polls could hinder millions of Latino voters.
Latino voters, while not a monolithic entity, tend to vote Democratic, and the Center for American Progress has pointed out that getting more Latinos registered has the potential to swing some states blue.
In Colorado, Florida, and Virginia, the number of eligible Latino citizens in 2012 potentially impacted by photo ID restrictions and other barriers exceeded the margin of victory in those states during the 2008 presidential election.
While Republican presidential candidates such as Christie, Marco Rubio, and Ted Cruz have advocated for voter ID measures, and Jeb Bush restricted early voting as governor of Florida, Democratic front-runner Hillary Clinton and challenger Bernie Sanders have called for nationwide automatic voter registration. 
Voter registration became a hotly debated topic in 2013 after a Supreme Court ruling made it easier for states with a history of discrimination to change their voting laws (they previously needed federal approval to alter voting laws). Since then, states such as Texas and North Carolina have moved to introduce voting restrictions, drawing ire from civil-rights groups who say the changes disproportionately impact the growing eligible Latino population. According to the Brennan Center for Justice, 15 states will have stricter rules in place for the 2016 election than they had in 2012. But 23 states have passed laws making it easier to vote.
"Government should not impede a citizen's right to vote," California Secretary of State Alex Padilla said in a statement after Brown signed the bill. "The New Motor Voter Act will make our democracy stronger by removing a key barrier to voting for millions of California citizens."
While a national automatic registration bill is highly unlikely to make its way through a Republican-controlled Congress, activists hope more lawmakers will follow California's lead at the state level.