Can Drought-Ridden California Keep Growing?
As the population of the San Joaquin Valley swells despite city-planning and water-system crises, it's the poor, rural communities that tend to be worst off.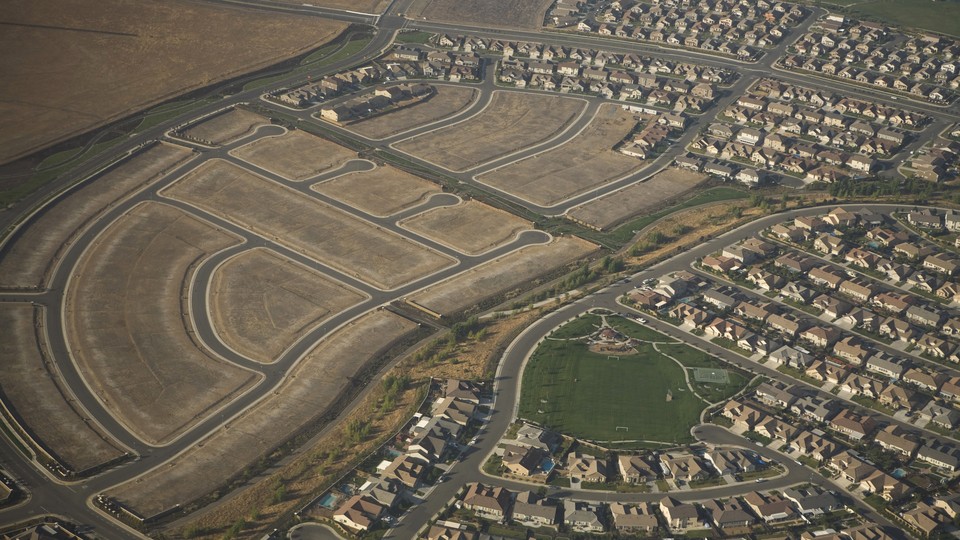 FRESNO, Calif.—In the 600-person, unincorporated community of Lanare, travel options are limited. One bus heads 30 miles to Fresno in the morning, then comes back in the evening. It takes roughly two hours each way.
So Isabel Solorio, a 50-year-old housekeeper and community activist, relies on her old Chevy Suburban to get to doctors' appointments, clients' homes, and stores. Though tomatoes, asparagus, garlic, and grapes all grow within miles of Lanare, there's nowhere to buy truly affordable produce short of Fresno. She goes there weekly, and buys everything she can.
"Paying for so much all at once is very expensive," she says. On the floor of her gleaming kitchen in Lanare sit small pallets of melons and tomatoes. "Gas to the big store is also expensive." Between her needs and her husband's commute to the fields, Solorio estimates they spend more than $200 per week on fuel for hundreds of miles traveled.
In the sprawling, disconnected San Joaquin Valley, home to four million residents, a lot of people get around like Solorio does. Emissions from transportation, mostly from trucks, are what primarily make the region's air quality among the worst in the nation, despite some improvements in the last decade. As many as 21 percent of adults have asthma here—Solorio included—and 24 percent of children. There's a disparate impact at play: The zip codes with the highest rate of respiratory risk have poor and predominantly Hispanic populations. And lately, the drought has made air even more unbreathable.
Air pollution is another byproduct of the San Joaquin Valley's legacy of short-sighted, inequitable land-use planning. Other outcomes, as have been seen in previous stories, include dry wells in the midst of drought, mismanaged, contaminated water systems, and septic tanks that leach into the aquifer. And poor, unincorporated communities of color are disproportionately affected by these gaps in basic services, and are often disenfranchised by local governance structures from finding lasting solutions.
Yet more people are coming to the San Joaquin Valley. Projected to gain three million residents by 2050, the region is growing faster than nearly anywhere else in the country. According to forecasts, most new migrants will be Hispanic and have low incomes. Some will be professionals priced out of San Francisco and Los Angeles. Still others will be wealthier retirees, moving in from the coasts. The advent of high-speed rail will bring in even more new faces from across the demographic spectrum.
Will the valley's growth take shape as it has historically has—spread out and uneven? Or will it be something more sustainable and just? And, crucially, where will the water come from?
In the heart of the valley, Fresno County offers some indications.
A New Era in Planning
In 2008, California became first in the nation to pass a law linking climate change with the way we build towns and cities. The landmark Sustainable Communities and Climate Protection Act, SB 375, required regions to start planning with a goal to reduce greenhouse gases, mainly by reducing trips in cars. This is meant to be achieved with effective new transit options, denser housing through infill and mixed-use development, and updated, "greener" infrastructure to support it all.
"Smart growth," as this planning framework is often called, discourages sprawling into undeveloped, isolated places, and encourages redeveloping what already exists. In the agricultural mecca of the San Joaquin Valley, it also means conserving prime farmland.
In growing Fresno County, some towns are taking steps to contribute to the state's goals. In particular, the city of Fresno, the largest in the San Joaquin Valley, has been encouraging infill, revamping its inner core, and developing green spaces. (James Fallows has detailed Fresno's renaissance.) In the town of Reedley, 25 miles southeast of Fresno, a planned mixed-use housing development will run on solar power and send its treated wastewater back into the aquifer. Hanford, a town of 54,000, has created a successful vanpool program used mainly by low-income workers, one of the first of its kind in the valley.
But in a county that's strapped for cash and searching for a broader tax base, "smart growth" is getting lost in the economics and politics of general growth. Subdivisions just keep getting developed. And some of these new towns may wind up with problems that poor, unincorporated communities have lived with for years.
Sprawl Dies Hard
On an August evening around sunset, the light on Millerton Lake is beautiful, if a little ominous. Bathtub rings etched into the soft brown foothills around the lake glow pink. In California's fourth year of drought, the lake—really an artificial reservoir—is at 35 percent capacity.
Standing on the massive boat ramp that slopes to the water's edge, I can see the frames of houses perched on a crest. There's lots of new development in this area, 35 minutes northeast of the city of Fresno. Tucked further back in the hills, for example, lie the beginnings of a master-planned, unincorporated community called Millerton New Town.
At least 4,500 homes are slated for construction, enough to house 10,000 to 12,000 people, according to planners. Some houses are already occupied or ready to be, and run from around $300,000 to $900,000 based on a Zillow search. Blueprints for a pharmacy school, projected to draw 2,000 students and nearly 300 faculty and staff, are also taking shape. Roughly half of the student body will be housed on the school's campus.
Millerton New Town had been a 2,000-acre twinkle in Fresno County's general plan as far back as the mid-1980s. Officials tell me it never progressed because of concerns about service reliability. But in recent years, new development across the Madera County border got Fresno County eyeing Millerton more aggressively. In 2011, the state granted permission for the community to source water from Millerton Lake. That same year, developers broke ground.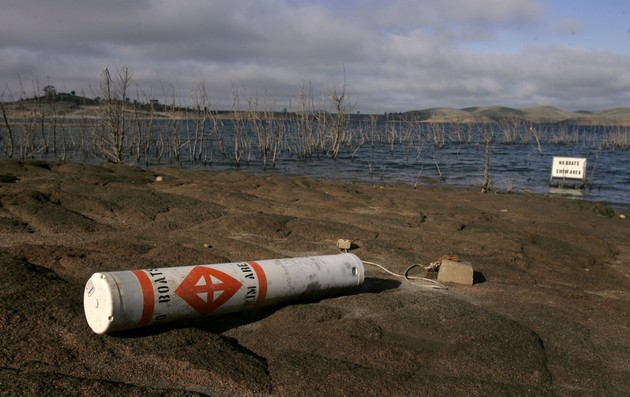 "We thought, before our residents jump into new houses in Madera and we lose the tax base, let's at least provide them an opportunity to stay here," says Henry Perea, one of five Fresno County supervisors.
Millerton New Town may very well provide short-term revenues to the county, but from long-term environmental and financial standpoints, it risks unsustainability, officials and experts told me. It may also perpetuate challenges of water access and affordability that have plagued the region for so long.
"Millerton New Town appears to spit in the face of SB 375," says Mike Dozier, executive director of both Fresno State University's Office of Economic and Community Development and the California Partnership for the San Joaquin Valley, a nonprofit promoting regional growth. "Those students are not all going to be living on campus. People that work there aren't going to want to live there. They will be commuting from Fresno."
Right now, there is only one access road that serves Millerton New Town. It's the same one that boaters and jet-skiers take to get to the lake's recreation area, and the same one revelers take to roll the dice at a nearby tribal casino. That road will likely need widening to serve more vehicles going up and down the hill.
"This is going to contribute to the greenhouse gas situation," Dozier says. Analyses of different scenarios of growth for Fresno County—developed by local planners under SB 375—bear out his conclusion.
Bernard Jimenez, Fresno County's deputy director of planning, has said there's a possibility that light rail will one day serve the area, alongside other environmental mitigations. Developers have argued that the Millerton community will be self-sufficient, with its own services and shopping, so residents won't need to travel.
Either way, Jimenez believes that Millerton will be financially sound: "This is development that covers its own costs, and the community will maintain its own infrastructure. That's been a fundamental policy of the county for decades."
But that too is questionable, since county supervisors have encouraged the development by waiving the public-impact fees that developers would normally pay. These fees are usually considered key to growth "paying for itself"—providing a funding source to build things like a sheriff sub-station, a library, an updated water treatment plant, and any other county facility that might eventually be necessary for a new community. That means residents may wind up needing to pay for those things out of pocket—which they may or may not be able to.
Then there's the matter of water. El Niño or not, there will be future droughts. Water will become more expensive for all Californians, but especially so for residents of places like Millerton New Town—since, as an unincorporated community, it will have to support its water system without the economy of scale or managerial consistency afforded by a city.
Jimenez says the county has been stringent about its water-resource policies for new development. "Millerton New Town will not be relying on groundwater, but on surface water," he says. "I see that as a big distinction."
But in the past four years of drought, Millerton Lake water deliveries have been anything but certain, even for longtime customers. Some developments adjacent to New Town rely on groundwater alone, which is only getting more scarce.
Whatever their water source, potential homebuyers in any new subdivision will need to keep their eyes open to the possibility of water costs becoming burdensome—or even of water running out, Perea told me. He said it's conceivable that Millerton New Town will wind up needing to truck water in from somewhere else (as some other California communities are doing). He mentioned how the planned community of Appaloosa Acres, to the north, has run out of groundwater and is now considering piping water in from Fresno.
What would happen if Millerton New Town ran dry? David Fey, executive officer of the Fresno County Local Agency Formation Commission followed that possibility to its economic endpoint.
"Ultimately, the market will show how feasible the development is when the water goes down," he says. "Then residents can decide if they want move to Fresno or Des Moines."
Of course, residents of poor, unincorporated communities have been struggling with water supply issues for years, and don't generally have the luxury of packing up for Iowa. Solorio feels discriminated against when she sees the county putting resources into a community that doesn't yet exist, while refusing to invest in her very real, struggling hometown. In so many meetings with county officials and in hearings in Sacramento, she says, she's been made to feel like she's asking for a handout.
"When you're investing in other places, there's not a problem," she tells me. "But when we ask, it is drama."
Jimenez says this comparison is apples to oranges, citing again his belief that developments in the Millerton area will be self-sustaining, unlike poor communities such as Lanare, where maintaining services has been a financial and managerial challenge.
But Perea, the county supervisor, is sympathetic to Solorio's critique. Even though he has supported the development of Millerton New Town, he says he would make the same argument if he were her. So why doesn't the county attend to places like Lanare the way it attends to wealthier residents?
Revenues. "It's age-old politics," he says. "Politicians react to one constituency more and less to another. You see the inequities of our decision-making every day."
The Dream of Smart Growth
Lanare has about 125 houses and not much else. There is a two-room community center with a grassless baseball diamond behind it, and a single convenience store on Mount Whitney Avenue. Across the road are mostly fields.
It takes some imagination to see Lanare as something more, something bigger. But that's what Solorio wants: growth. She believes Lanare can support new, affordable housing for more people, eventually. "This is a good idea for the community," she says. "There is so much extra land."
There are certainly plenty of vacant parcels, and homes that sorely need updating to modern codes. But like many chronically underfunded, overlooked communities, Lanare lacks the most basic civic building blocks. The water system, namely, needs improvement: Community wells have been tainted with arsenic for years, as learned in previous stories. Though the state is lending support to building a new system, the community still needs to be able to run and maintain it at a sustainable cost—which takes, among other things, economy of scale.
"If this community is growing more, then we have more taxes for the CSD," says Solorio, referring to the volunteer-run committee that manages infrastructure. "Then the community uses the money to improve things."
It's a catch-22, of course. To grow, the community needs a reliable water system. To have a reliable water system, the community could use growth.
Yet Solorio isn't alone in wanting something more for her tiny town—and believing it can achieve it. Vance McKinney, a truck driver in Matheny Tract, expressed the same thought. North of Lanare in Fresno County, other unincorporated communities are banding together to support a collective economic development plan.
At a certain point, to entertain dreams of growth—and to simply be sustainable—these communities need capital. Given the tenets of smartgrowth, the state should want to invest in existing communities, too.
In 2012, on the heels of SB 375, California passed a bill requiring that a portion of the state's cap-and-trade revenues go to smart-growth projects in disadvantaged communities. Established soon after, the Affordable Housing and Sustainable Communities (AHSC) grant program awards those dollars to proposals for housing, transit, or infrastructure improvements that can be shown to reduce greenhouse gases. It is becoming an important avenue by which the poorest Californians can leverage the state's planning resources—but rural communities are still being left out.
In its first year, only one project serving the rural San Joaquin Valley won AHSC money: That vanpool program for farmworkers in the small city of Hanford received funds to expand.
It's hard for rural towns to prove, in numbers, that they can reduce greenhouse gases through things like denser housing or transit, says Veronica Garibay, co-director of the Leadership Counsel. Held up against communities with existing infrastructure like bus stops and sidewalks, places without them have smaller returns on investment. "You're never going to get the same results as West Oakland," Garibay says.
Yet the valley's poor, rural communities are disproportionately exposed to the environmental hazards that can result from bad planning. "They have all the need there is," says Dozier, the Fresno State economic development expert. "But they haven't been getting their share of cap-and-trade dollars."
This year, there are new guidelines for the AHSC grants, and a new scoring system for proposals that weights greenhouse gas reductions and other co-benefits more proportionally. Plus, a pot of the money is now set aside for rural communities.
The hope now among advocates is that this funding can be used to help plan for growth in places like Lanare. Once it has a better water system is in place—which could be within the next year—Lanare may be better positioned to apply.
Still, it seems that the disadvantaged, rural communities most likely to get the grants are those that are actually closer to cities—East Porterville, or Matheny Tract, for example. Those communities badly need funds, too, and they're more geographically connected to existing transit, schools, and services next door.
Mike McCoy directed the committee that oversees the grant program up until this past July, and continues to advise it. He says he's most interested in seeing greenhouse gas reductions accrue over time "by building affordable housing in rural cities near schools, markets, services, and in sufficient quantity to create real community." That, he says, is what's most likely to reduces long drives in search of services.
Advocates say there needs to be more more funding to address inequities in rural communities that is separate from greenhouse-gas reductions, and McCoy agrees. There have been attempts in the state legislature, specifically by Senate president pro tempore Kevin de León, to dedicate this kind of money. They haven't passed yet, but de León is likely to try again. Says McCoy: "If our fiscal condition permits it, he might win the second time around."
In the meantime, the funding framework that's come out of SB 375 may continue to leave out communities that are starting from scratch. That's a shame not only for places like Lanare, but for the whole state, says Seaton, the co-director of the Leadership Counsel.
"There is an argument for these communities that goes beyond fairness," she says. "We as a state need to transform the way we plan and invest. If you keep leaving rural communities out, they will never be able to contribute."
'This Is My Home'
The mentality of sprawl may be particularly strong in Fresno County, but across the valley, development trends in the same vein: "New towns" are popping up all over the place. The drought has shed light on deep disparities that short-sighted land-use planning has helped create for the valley's poorest communities; it is grim to imagine what the next drought might reveal about wealthier ones.
As for water, there will need to be more ways to capture and stretch it out as California grows and dries. Felicia Marcus, chair of the State Water Resources Control Board, says a web of approaches are needed: "It's storage, conservation, recycling, stormwater capture, and desalination in appropriate cases." Developing ways to replenish groundwater supplies will be critical.
She adds, "Just giving out land-use and building permits when there might not be water isn't actually doing people a favor."
Linking water with land use will be a major challenge for the state in years to come, especially in the San Joaquin Valley.
Meanwhile, it's not clear what the future holds for these communities. Lanare, Matheny Tract, and East Porterville are at different stages in attaining reliable access to water. Others throughout the valley are further behind. It shouldn't be this hard for Californians to have a resource that is their right. In some places, politics are moving out of the way, slowly and painfully. In other places, politics are not budging at all.
There is hope, at least, within Solorio. On a Monday afternoon, she and seven other Lanare residents gather on folding chairs in the community center, talking about what they hope to create here someday. Connie Hammond describes a sack-lunch program for those struggling to afford groceries. Ethel Myles wishes she had a sewer, so that she wouldn't have to worry about the septic tank overflowing when all of her grandchildren come over. Solorio talks about a park she saw one day in Fresno, where recycled water pours down from buckets to splash in. It gave her an idea for building a play structure out of recycled tires. "We need something like that, for kids to play in," Solorio says. But even a simple play structure will require money that the community just doesn't have yet.
"They call this the golden valley," she sighs. "But where is the gold?"
Solorio is going to keep looking.
---
This post appears courtesy of CityLab.