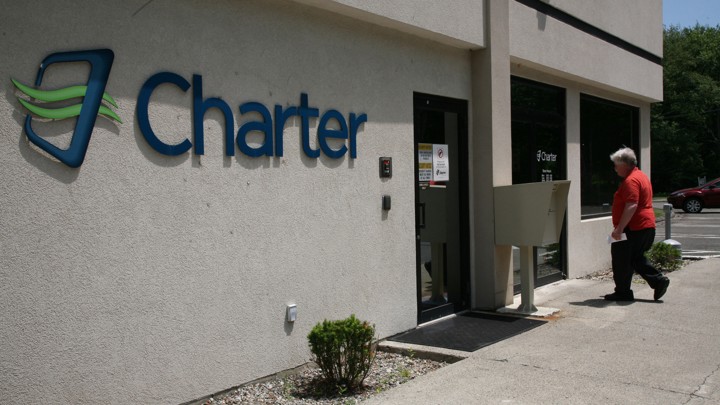 Charter Communications, Time Warner Cable, and Bright House Networks have donated millions of dollars over the years to charities and nonprofits. Now those groups are repaying that generosity by endorsing the cable companies' massive three-way merger.
Dozens of small nonprofits—from the Hispanic Leadership Alliance to a Tennessee chapter of Susan G. Komen for the Cure—have filed letters with the Federal Communications Commission in recent weeks urging the agency to approve the deal.
"Charter has been busy reaching out to a diverse array of community organizations to introduce ourselves and discuss the many public benefits of the transaction," Justin Venech, a spokesman for Charter, said in an emailed statement. "We welcome the support of those who have taken the time to submit comments to the FCC and hope that others will add their voices of support going forward."
If approved, the deal would transform Charter into a national cable behemoth serving 23 million subscribers, second only to Comcast's 27 million.  
The letters from the nonprofit organizations often highlight Charter's commitment to offer low-cost Internet to low-income families, its promise to expand high-speed Internet to more areas, or its decision to carry TV channels aimed at minority communities. But many of the organizations also explicitly point to financial support from the cable companies as a reason for endorsing the deal.  
Charles English, the CEO of the Boys & Girls Club of Greater Dallas, explained that he sent a letter to the FCC because of Time Warner Cable's longstanding support of his organization. The company has donated money for college scholarships, and its employees have volunteered to mentor children, he said.
"It's a partnership. Their success is our success," English said in an interview. "All the things that we do in partnership with our corporate sponsors is going to accrue ultimately to the benefit of our kids."
Lavern Kelly, the president of the central Florida chapter of the National Coalition of 100 Black Women, said she filed a letter after Charter promised to continue Bright House's support of her group's HIV-awareness efforts and other health programs. "Bright House has been very supportive of our organization," she explained.
Martin Castro, the CEO of the Mexican American Opportunity Foundation, acknowledged that Time Warner Cable has donated to his organization, but he said he had a different motivation for endorsing the deal: Charter started carrying Los Angeles Dodgers games soon after the deal was announced. (Previously, only Time Warner customers in Los Angeles were able to subscribe to the Dodgers' channel.) "I'm an avid Dodger fan," Castro said. "To me, that shows they're responsive to consumers' needs."
The Justice Department's Antitrust Division is investigating whether the deal would illegally stifle competition. The FCC is conducting its own parallel review, but with a broader mandate to determine whether the transaction would be in the public interest. While the FCC has traditionally focused its investigations on potential harm to competition, it can include other issues such as diversity, accessibility, or jobs.    
Charter isn't the first company to rally support from nonprofit groups during an FCC review. Dozens of charities and nonprofits endorsed Comcast's 2014-2015 bid for Time Warner Cable and AT&T's 2011 attempt to buy T-Mobile. Both deals ultimately collapsed due to opposition from the Justice Department and the FCC. But the agencies approved AT&T's purchase of DirecTV this year and Comcast's acquisition of NBC-Universal in 2011—two deals that also accumulated support from local charities.
Michael Copps, who served as a Democratic FCC commissioner from 2001 to 2011, said he has grown tired of companies rounding up endorsements from nonprofits. "Big media would line up everybody who they had ever done anything for—whether it was the local charity drive, supporting a sports team, making a donation to the Red Cross, or providing prom dresses for disadvantaged students," said Copps, who is now an adviser for Common Cause, a liberal advocacy group. "That's all well and good, but we're here to talk about the public interest of a specific business deal. And that's a very different thing."
But Copps says he understands the nonprofit groups want to make sure they keep the corporate dollars flowing. "It's difficult to blame some of these folks, but it is short-term gain for long-term loss, I think," he said. "This merger mania just never stops."  
We want to hear what you think about this article. Submit a letter to the editor or write to letters@theatlantic.com.