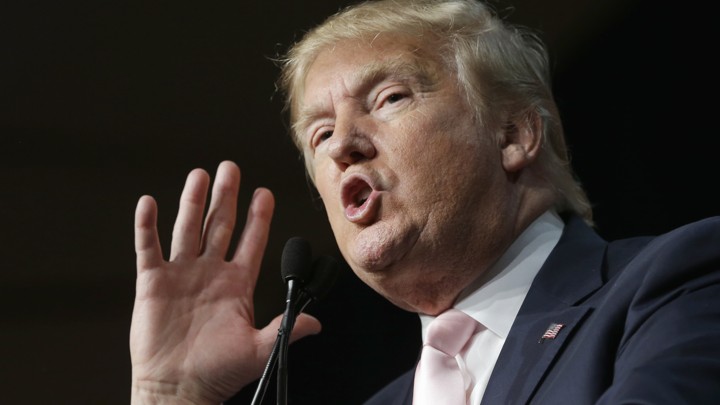 The second rule of presidential politics is never tell voters you've got something better to do.
Jeb Bush on Saturday: "I've got a lot of really cool things I could do other than sit around, being miserable, listening to people demonize me and me feeling compelled to demonize them."
The third rule of presidential politics is never tell voters to vote for somebody else.
Jeb Bush: "That is a joke. Elect Trump if you want that."
The fourth rule of presidential politics is politics today sucks. Deal with it.
Jeb Bush: "If this election is about how we're going to fight to get nothing done, I don't want any part of it. I don't want to be elected president to sit around and see gridlock just become so dominant that people literally are in decline in their lives. That is not my motivation."
The scion of a very political family broke all the rules Saturday, including the one about never surrendering to a bully. A bully smells blood.
"Bush has no money," Donald Trump, the billionaire celebrity TV star and GOP presidential front-runner, said Sunday. "He's meeting today with mommy and daddy, and they're working on his campaign."
"He's a guy wants to run our country and he can't even run his own campaign," Trump told a rally in Bush's home state of Florida. "Think of it!"
In June, when Bush and his constituency in the Republican establishment were dismissing Trump, I called the brash New Yorker "a combed-over re­flec­tion of angry Amer­ica."
For the first time in the his­tory of Gal­lup polling, ap­prov­al rat­ings for the Demo­crat­ic and Re­pub­lic­an parties dipped be­low 40 per­cent. Most Amer­ic­ans say party lead­ers care more about them­selves than the coun­try. A study of voter turnout in the 2014 elec­tions showed re­cord lows in 15 of 25 states amid signs that voter dis­con­tent is an Amer­ic­an epi­dem­ic.

In the 1990s, "swing voters" were all the rage. Since 2004, the polit­ic­al es­tab­lish­ment has been in­fatu­ated with party-line or "base" voters. Trump is chan­nel­ing a con­stitu­ency that is as old as the re­pub­lic and still flexes new muscle: "protest voters."

He won't be pres­id­ent. He won't win the GOP nom­in­a­tion. Trump is a rat­ings-seek­ing celebrity, not a ser­i­ous polit­ic­al lead­er. But he could be­come a ves­sel for an­ger, a man who like Ross Perot, George Wal­lace, Huey Long, and oth­er protest candidates" seems made for these acerbic times.
I was wrong to rule out Trump winning the nomination or the presidency. A person like Trump, if not Trump himself, could become president in our lifetime, because of what I wrote next:
The polit­ic­al es­tab­lish­ment can mock Trump, the per­son, but they shouldn't un­der­es­tim­ate what his can­did­acy rep­res­ents. It's an as­sault on the cent­ral and cyn­ic­al premise of the two ma­jor parties, which is this: Polit­ics is merely about win­ning, and the best way to win is to be seen as the least-aw­ful al­tern­at­ive to a dwind­ling pool of voters …

Amer­ica's rul­ing duo­poly, long cor­rup­ted by lob­by­ists and donors, cling­ing to gov­ern­ment in­sti­tu­tions that work for party in­terests rather than for an e-con­nec­ted popu­lace buf­feted by change, has all but worn out its wel­come. Even party-line voters, those who con­sist­ently side with Demo­crats or Re­pub­lic­ans, in­creas­ingly identi­fy as in­de­pend­ents and are get­ting rest­less with their party homes.
The first rule of presidential politics is people get the last word – and word on the lips of most Americans is, "Enough!" We are as mad as we've ever been. We're more empowered than we've ever been, thanks to the internet. And we're as close as we've ever been to putting a disruptive populist in the White House.
I personally think Donald Trump would be a miserable president. He seems to be allergic to policy, civility, and the truth, a bundle of insecurities who appeals to the darker angels of our nature: Fear, bigotry, and vanity. "In Rome about a dozen years ago, I had a long dinner with Donald Trump," New York Times columnist Frank Bruni wrote in June. "Only his name was Silvio Berlusconi."
Elect Trump if you want that, Bush tells us. He misses the point.
It's not that Americans want a megalomaniac. We're just tired of the establishment in both parties – weak, feckless leaders who've got something better to do.
We want to hear what you think about this article. Submit a letter to the editor or write to letters@theatlantic.com.