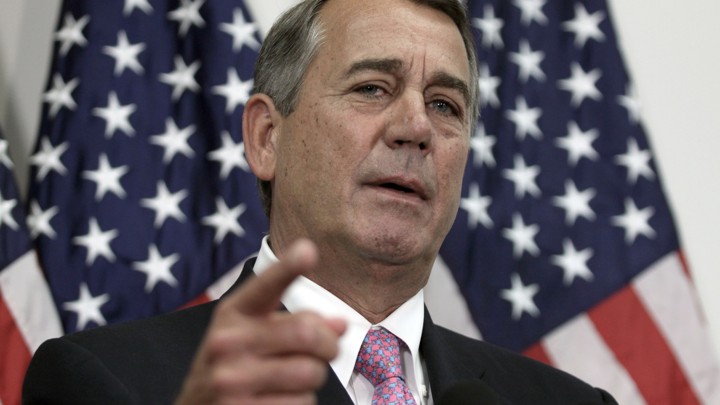 House Speaker John Boehner capped his 24-year congressional career Wednesday, presenting his successor, the GOP presidential candidates, the Obama administration, and the U.S. economy with a parting gift that's a bit bigger than the new golf cart, clubs, and bag he received from members this week: a two-year, $80 billion-plus budget bill.
The bill, which passed the House 266-167, would temporarily relieve Washington from the governing-by-crisis model that troubled Boehner's stewardship. It is expected to pass the Senate before Tuesday's debt-ceiling deadline by which Congress must act so the U.S. can pay its bills. The agreement negotiated by Boehner, the White House, House Democratic leader Nancy Pelosi, and Senate leaders extends the $18.1 trillion debt limit through March 2017.
Rep. Paul Ryan, who was nominated just hours beforehand by his GOP colleagues to lead the House over his initial protests, said he supported the substance of the agreement but promised that the process—closed-door meetings dominated for several weeks by the staff of a handful of top members and the White House—would change. Should the 45-year-old Ryan be promoted on the House floor Thursday, he would be the youngest speaker since 1869.
"There is no doubt that a better process would have produced a better result," said Ryan in a statement. "If I'm elected speaker, we will begin a conversation about how to approach these big issues—as a team—long before we reach these kinds of deadlines. We simply can't keep doing business this way."
The two-year budget agreement boosts domestic and military spending by $80 billion and increases a separate account by about $16 billion per year—close to what the administration wanted. It also drastically limits a massive hike in Medicare Part B premiums and prevents a big cut to Social Security Disability Insurance set to hit next year while finding savings in both programs.
The bill is paid for through savings compiled over the next decade, when you consider the entitlement-program reforms, tricky accounting techniques, and other measures, including the selling off of millions of oil barrels from the Strategic Petroleum Reserve. But the appropriation process will fill in the figures; House members on the Agriculture Committee said they reached an agreement with the leadership to fix a $3 billion crop-insurance cut. The deadline for Congress to pass a spending bill and avert a government shutdown is Dec. 11.
The last two-year budget agreement was hashed out by Ryan and Sen. Patty Murray in 2013 after a 16-day partial government shutdown and amid fears that a previous budget law cut too deeply from government agencies across the board.
Boehner's impending budget victory appeared to put him in a good mood Tuesday.
"I feel pretty good about where I am, and I like the fact that I see light at the end of the tunnel," he said in a press conference.
"I made it clear a month ago when I announced that I was leaving that I wanted to do my best to clean the barn," he added. "I didn't want [the next speaker] to walk into a dirty barn full of you-know-what. I've done my best to try to clean it up."
---
Daniel Newhauser contributed to this article
We want to hear what you think about this article. Submit a letter to the editor or write to letters@theatlantic.com.
Alex Rogers covers Congress as a staff correspondent for National Journal. He previously worked as a political reporter at TIME. He is a native of Bethesda, Maryland and a graduate of Vanderbilt University.