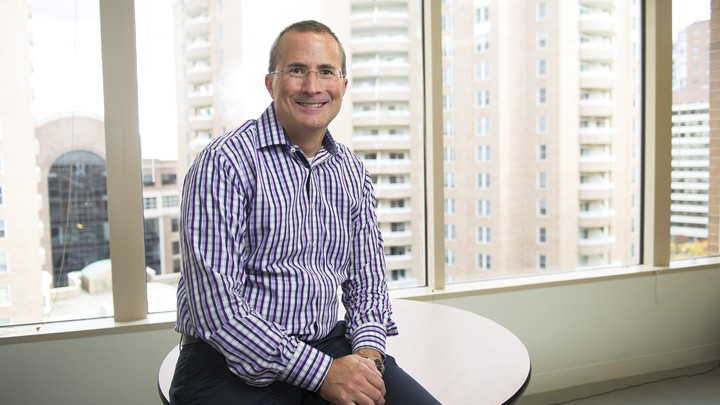 In April 2015, without a plan, David Chavern left his job as president of the U.S. Chamber of Commerce's Center for Advanced Technology and Innovation, went to London with his kids for a week, and then took a two-week vacation to France with his fiancée. He'd been pondering getting involved with a tech startup or working with a private-equity fund, he says, when one day, while sitting at a café in the Loire Valley, he got a call from an executive recruiter. The recruiter wanted to know whether he'd be interested in heading up the Newspaper Association of America. He didn't have to think long. "I like intellectual stimulation," he says. "I like to feel like there are hard problems that have to be solved. I find that interesting and invigorating."
The NAA liked that he had a different set of tools to bring to bear on the problems facing the newspaper industry. While his predecessor had some two decades of executive experience at media outlets before she joined the NAA, Chavern has never worked a day in the business. His résumé includes a stint at the Export-Import Bank as well as a series of jobs at the Chamber. In a statement announcing his hire as president and CEO of the organization, NAA board chair Donna Barrett said Chavern's "extensive public-policy experience" as well as his "focus on technology and innovation" were significant factors in the board's decision.
The essence of Chavern's job, he tells me when I visit him at the NAA's Arlington, Virginia, offices, is "to tell the story of the newspaper industry to every audience I can." So what's the story? "People say the newspaper industry is dead, and yet they all read some form of newspaper every day," Chavern says. "You always find out who's right in the future, but I think there's an undervaluation of news properties." Later in our conversation, he elaborates: "This isn't the VHS industry. This isn't trying to get people to buy something they don't want. What's broken down is the payment model, and I don't think anyone's figured it out just yet."
Born in Elizabeth, Pennsylvania, Chavern graduated from the University of Pittsburgh with a double degree in economics and art history. Then it was on to Villanova for law school, which he completed in 1987. He worked for five years as an associate at Buchanan Ingersoll (now Buchanan Ingersoll & Rooney), before going to work as deputy general counsel to the Export-Import Bank. But after eight-plus years there, he grew restless. "I felt the need to re-pot my mind," he explains. He went back to school part-time at Georgetown University's McDonough School of Business, completing his M.B.A. in 2003. "I like managing people, managing operations," he says. "It's creative. You're helping to build something. You try to figure out each person who works for you and what they need to be successful."
After two more years at the Ex-Im Bank, in 2005, he headed to the U.S. Chamber. He worked there for a decade, first as director of the corporate-governance initiative, heading up the advocacy program around capital markets ("I took a job with the worst title known to man," he says), then as chief of staff, then as COO, and finally as president of the Chamber's Center for Advanced Technology and Innovation. That job had him flying back and forth to San Francisco every other week to talk to tech-startup leaders about their public-policy concerns, including issues related to immigration and trade, and how the Chamber might help. "In general, one of the things I did both as COO and as president of the Center for Advanced Technology and Innovation was to try to focus the Chamber on wins we could get in the regulatory space, because so little has been happening with legislation," he says.
Chavern says he eventually found the bicoastal lifestyle difficult. ("It was not a sustainable business model for me.") And, after a decade at the Chamber, he felt it was time for a next act. So he wound up at the NAA—via French wine country. "You never know when luck's going to come your way," he tells me, "so you work really hard and be ready for it when it comes."
We want to hear what you think about this article. Submit a letter to the editor or write to letters@theatlantic.com.