Breaking Into The Boys' Club from a Kitchen in Savannah
The executive chef at one of the country's top new restaurants is upending the world of fine dining.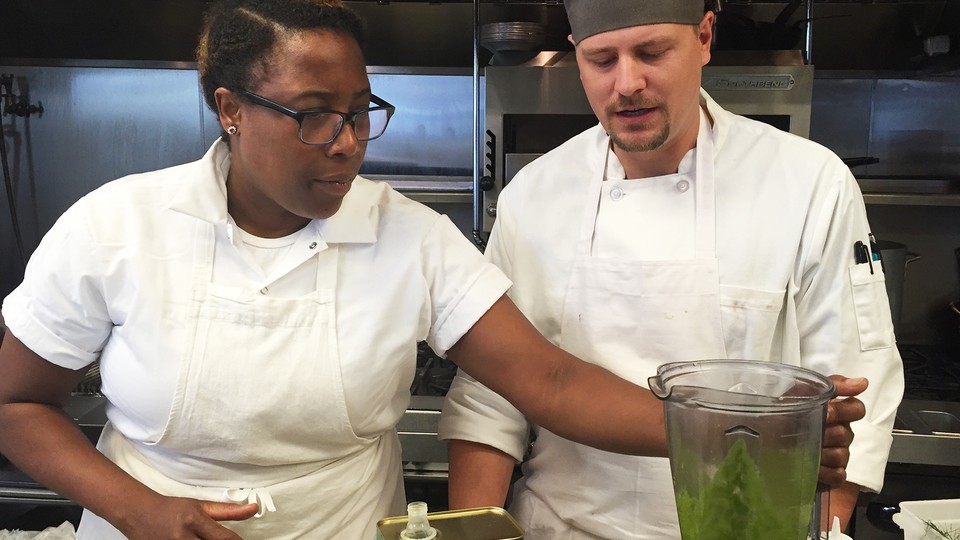 SAVANNAH, Ga.—Mashama Bailey peers into a blender in the kitchen of The Grey. The sauce one of her cooks is preparing isn't yet the right shade of green and she's offering pointers.
It's midday and there are a handful of hours before the evening rush at one of Savannah's hottest new restaurants. But the kitchen, which once served as the ticket office of this restored Greyhound bus terminal, is already whirring. Soon, waiters will cart out plates of catfish tagine with chickpeas, bell pepper and preserved lemon, and portions of sizzling smoky pig with fried egg, hot buns, and a kick of red pepper jelly.
Bailey, who left her position last year as sous chef at Gabrielle Hamilton's Prune in New York City to become executive chef at The Grey, oversees the operation.
As a 41-year-old black woman, Bailey is something of an anomaly in the white boys' club that is the upper echelon of the restaurant industry. Only about one in five chefs and head cooks are women. Just 15 percent are black.
Bailey is more concerned with the business of running the place than statistics. "I honestly don't see it as a thing," she said, sitting in the restaurant bar, which once housed the bus terminal's cafe. "I really don't think that I'm different."
But she recognizes that, as a black woman running the kitchen of a restaurant that occupies a once-segregated bus terminal in the Deep South, she is part of an industry that is evolving to welcome chefs without traditional pedigrees who are introducing new flavors and ways of thinking about food.
Watch: Four Questions for Chef Mashama Bailey
"Now that it's become this thing where it's a profession," she said, "you're going to see a lot more black women chefs, a lot more black male chefs. I think there are a lot of us out there; it's just that we're under the radar."
In some ways, the people of color who choose to pursue cooking as a profession are confronting a painful past, one that older generations are wary of repeating. Bailey's stint as a personal chef in her mid-20s unnerved her father, who remembered his grandmother toiling as a cook for a rich household.
"He was a little taken aback," she said. "Being a black woman chef—I think that there was a stigma. I think that breaking out of the kitchen was sort of an achievement, so I think that going back into the kitchen is a little bit like, OK, are we taking a step back?"
But Bailey sees food as a way into those sometimes uncomfortable conversations about race and history. "I think when you break bread with someone, you let your guard down," she said, "and I think when you let your guard down, you're open to understanding people a little bit better and understanding their point of view."
For Bailey, being a black head chef has also meant confronting stereotypes about the type of cooking people expect her to do. People see her, hear "Savannah," and jump to soul food. "I think that people assume that's what it is," she said.
Bailey split her childhood between Savannah and New York. In some ways, soul food is the palate of her youth and she is not trying to escape it. But it isn't the defining element of her cooking. She has trained with the likes of Anne Willan, widely recognized as an authority on French cooking, in Burgundy. All of it—her past, her travels, her formal training—makes its way into the dishes she creates.
In addition to the sauces and stocks she perfected in France, Bailey pulls inspiration from her grandmother's squash casserole, and the "thrills" she bought for 10 cents as a child during hot Savannah summers. Bailey serves a more refined version of "thrills"—traditionally a Southern Kool-Aid concoction sold by older black women out of their homes—as a palate cleanser at The Grey.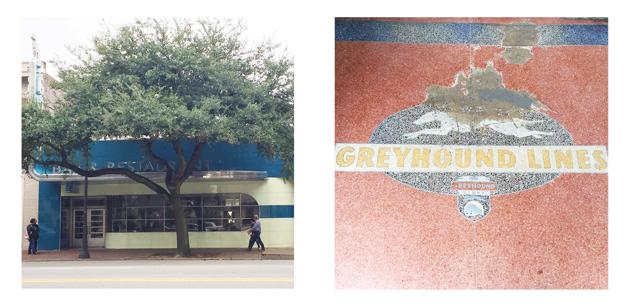 "I'm drawing on memories I had as a 7-year-old," she said. "That's what you do when you're running the show. You start to pull from all those years of experience."
That experience didn't come easy or traditionally for Bailey. She bounced from physical therapy to social work in college, and it wasn't until she was fired from a bad-fit social-work job in New York that she considered cooking a viable career path.
In her 20s, Bailey enrolled at the Institute of Culinary Education, eventually working her way into the kitchens of Willan, in Burgundy, and Jeremy Marshall, at Aquagrill, a high-end New York seafood restaurant. After France, she sought out the "meanest, sort of down-and-dirty kitchen" she could find in New York. "I wanted something that was fast, that was busy, that was going to acclimate me," she said.
She ended up at davidburke & donatella, a restaurant staffed by young guys who were more about last night's exploits than welcoming a nearly-30 woman into the fold, she said. But Bailey was determined. "I think you just have to be able to stomach it," she said. "Once you kind of get past the boys' club, you kind of get past all of it."
Eventually, John O. Morisano, an entrepreneur who had purchased a beat-up bus terminal in Savannah and was looking to get into the restaurant scene, would find her at Prune. The first time they met, Morisano said, "was like, boom."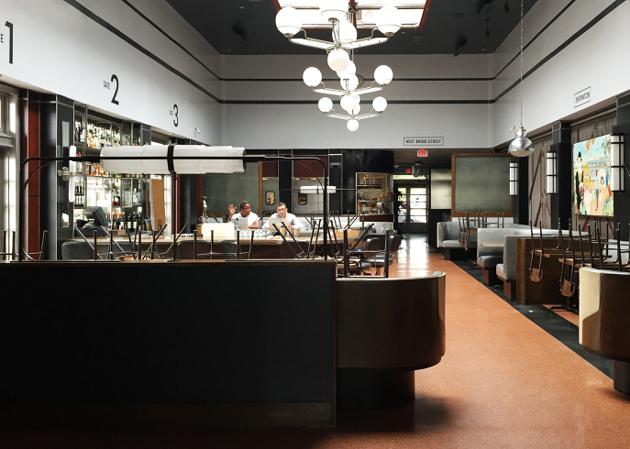 Bailey, who along with Hamilton felt she'd hit a glass ceiling at Prune, joined Morisano as a business partner and as executive chef at The Grey. When she hires people, Bailey hunts not for prestigious resumes, but for people who are eager to learn.
"I'm willing to invest in anybody," she said. And now that she's in charge of the menu, Bailey is looking to say hello to the tight-knit culinary scene with what she calls "port-city Southern cuisine.
"Because of this weird trail I've walked, I think no one knows me, really," she said. "I'm looking forward to being introduced to everybody."
Arguably, Bailey hit that milestone already.
In its first few months, The Grey earned a James Beard Award semifinalist distinction, a "really awesome" recognition, Bailey said. While she's in the trenches of getting a relatively new staff and kitchen running smoothly, Bailey is beginning, she said, to consider her legacy, to ponder "how food can kind of uplift a community, give people a way out, and give people a career."
When Bailey began cooking professionally, she entered a guys-only world where flashing a Culinary Institute of America certificate opened doors—and having no formal training shut them. Now, she sees things changing, and she's beginning to think about how she'd like to be a part of the shift.
"I want to start to have people understand this can be a viable career," she said. In the meantime, she'll just keep cooking and hoping that people show up to enjoy the food she prepares. If the crowds at The Grey are any indication, Bailey has nothing to worry about.