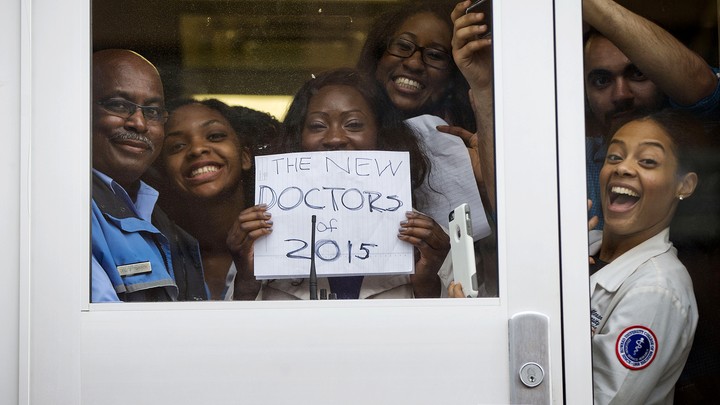 For all their woes, historically black colleges and universities produce black graduates who fare remarkably better than their black non-HBCU peers.
That is one of the key takeaways from a wide-ranging new Gallup report on college graduates of color. According to the report, which surveyed nearly 56,000 adults who earned bachelor's degrees between 1940 and 2015, 55 percent of black HBCU graduates say their college prepared them well for life after graduation, compared to 29 percent of non-HBCU college graduates. These grads are also far more likely than non-HBCU students to say they had professors and mentors who encouraged them. Just 29 percent of non-HBCU attendees say they are thriving financially, compared to 40 percent of HBCU grads. They also report higher engagement and enjoyment at work.
While the report, prepared for national student-loan guarantor USA Funds, doesn't provide a breakdown of responses by graduation year, Brandon Busteed, executive director of education and workforce development at Gallup, told Next America that there is no significant difference. That means today's graduates are just as likely to think HBCUs remain relevant as those who attended college during, say, the civil-rights movement, when options for black scholars were fewer.
That's welcome news for HBCUs, which have sought greater financial support in the wake of declining enrollment. The schools awarded 16 percent of black graduates' bachelor's degrees between 2010 to 2011, compared with 35 percent between 1976 and 1977. Retention problems and low graduation rates have also plagued the institutions in recent years.
The findings raise the question—what can non-HBCUs do to improve outcomes for black students?
Carol D'Amico, an executive vice president at USA Funds, thinks mentors and internships can play critical roles, but said she hopes the report's findings will spark a dialogue around such questions.
"We need to look at both what HBCUs are doing and what other universities are doing to really focus on African-American and Hispanic students," she told Next America. "Obviously, there are some places where it's working."
Interestingly, the report does not show that Latino students derive the same benefit from Hispanic-serving institutions that black graduates do from HBCUs. That likely has to do with the fact that they are classified based on the percentage of Latino students they serve, whereas, D'Amico suggested, HBCUs are categorized by their mission to educate black Americans, and share a unique, rich cultural history.
Given national efforts like My Brother's Keeper to engage young black men, one finding is noteworthy: Black men fare markedly better than black women on most measures of well-being, including financial, physical, and purpose (related to enjoying what you do).
Perhaps the most shocking finding is that few graduates of any race or gender are thriving in all of the five markers of well-being that Gallup measured, including purpose, financial, social, community, and physical. Only between 7 and 11 percent of graduates of any race or gender report being very satisfied across the board.
The lack of overall well-being likely has to do with growing student debt, the difficulty in finding meaningful gainful employment, and a lack of clarity around which degrees are worth the money.
D'Amico called the finding one of "the more startling," but Busteed isn't surprised.
A recent Gallup report found only about half of college graduates are likely to strongly agree that college was worth the cost, a figure that declines for more recent graduates, who have higher debt than earlier generations.
Even given such somber findings and the relative differences in outcomes for different subgroups--Asian male graduates are among the least likely to be engaged in their community, while Asian female graduates are the most satisfied socially, for instance--college remains generally beneficial across race and gender. Earnings and employment rates are higher for graduates than non-graduates.
"College is worth it if people take advantage of it, but not if they just blow the opportunity for four years," Busteed said, adding that worth depends on how much debt a person takes on and the degree they pursue. Colleges that can't figure out how to curb costs and offer real value could see declining interest. (The demise of Corinthian Colleges is a good example.)
The question of how to determine college worth has become a national debate, with the Obama administration wanting to tie federal aid to measurements like alumni earnings, and colleges pushing back fiercely with the argument that their value cannot be measured so narrowly.
Colleges may use Gallup's five markers of well-being—a broader set of metrics than is typically used to rank schools—to further their argument. D'Amico said her organization "is already supporting" higher-education institutions that "want to marry this kind of report with the earnings data so they can get a fuller picture of the value." While earnings don't need to be the only value measured, they are critical. As Busteed pointed out, "higher ed does very little to study its product in the marketplace, meaning alumni." Schools are good, he added, at asking alumni for money, but less adept at understanding how their alumni do in the long run.  
D'Amico thinks that, in the coming decades, the higher-education landscape will look more varied, with traditional institutions paying closer attention to the connection between what they offer and the careers they do (or don't) launch, as well as to other quality-of-life measures. In other words, higher education will remain critically important, but the colleges that succeed will be those that recognize the students they serve no longer look like or have the same needs as the students of previous generations.
This story is part of our Next America: Workforce project, which is supported by a grant from the Annie E. Casey Foundation.
We want to hear what you think about this article. Submit a letter to the editor or write to letters@theatlantic.com.
Emily DeRuy
is a former staff writer at
The Atlantic
, where she covered education.