Black Engineers Group Wants 10,000 Grads a Year by 2025
The push is part of a growing movement to increase the number of women and people of color in science, technology, engineering and math.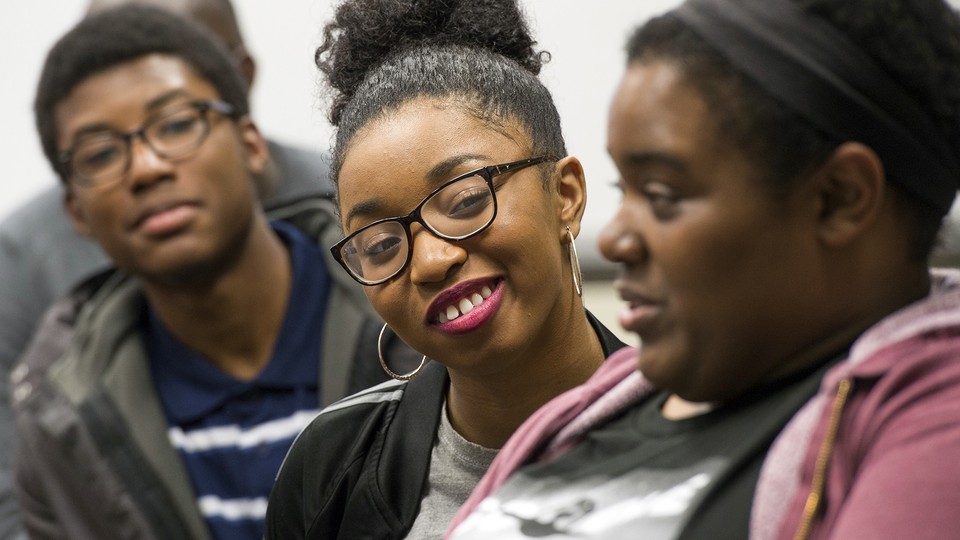 The National Society of Black Engineers this week will launch a campaign to increase the number of black engineering graduates to 10,000 annually by 2025. The nonprofit is one of the largest student-run organizations in the country, with more than 31,000 student and professional members.
The push is part of a growing movement to increase the number of women and people of color in the science, technology, engineering, and math (STEM) fields.
While blacks make up about 13 percent of the general population and earned about 10 percent of all the bachelor's degrees awarded in 2010, just 1 percent of the nation's black college first-year students selected engineering programs in 2010, according to the organization. Only about 3,620 black students earn bachelor's degrees in engineering each year. What's more, only about a third of the black students who begin an engineering degree finish within six years.
Neville Green, NSBE's national chair, is a 24-year-old senior in chemical engineering at the City College of New York who plans to pursue an engineering career after graduation. But until a few years ago, he hadn't considered engineering as a possibility. "It's hard for a young child to aspire to become something they don't even know exists," he said.
As Next America has reported previously, black students are less likely than their white peers to be proficient in math and to have access to advanced courses such as calculus. Green's high school only had math classes through precalculus, and no one in his immediate family had engineering experience. He had to take remedial courses in college that classmates had completed in high school. Green also had to work, and because internships that pay well can be hard to come by, he took a job in a bagel shop while classmates who didn't need the money gained valuable engineering experience. Finances and remedial courses have delayed Green's graduation several years, and, at times, made him question the decision to pursue engineering.
"That's the greatest challenge we face," he said, "a generation of students who aren't confident in their ability to do well in school because they've been told by instructors they can't, by others in their community that they won't amount to anything. They're not encouraged to dream or be imaginative."
Green hopes the campaign will expose more young black people to the idea of engineering and what their life as an engineer might look like. There's an "opportunity gap" in this country, Karl Reid, executive director of NSBE, told Next America, and it's hurting not only black students, but the overall economy. "Diversity stimulates better strategies, better ideas."
MINDING THE GAP
Science and engineering jobs are predicted to grow nearly 19 percent between 2010 and 2020, compared to just 14 percent for all occupations, according to federal statistics. Currently, tech companies often turn to foreign workers to fill those jobs. Reid wants them to look a little closer to home. "We need to tap all populations available here, rather than just relying on international populations to fill this growing demand," he said. The percentage of students graduating with a bachelor's in engineering who are black has been declining for the past decade and reached 3.5 percent last year.
To increase the number of black engineering graduates, NSBE plans to take a multipronged approach:
Reach out to black seventh-graders and their families with online resources and mentoring to pledge to take algebra, chemistry, and physics, the foundation courses for engineering.
Expand its Summer Engineering Experience for Kids (SEEK) program, which serves elementary and middle-school-aged children, and push more school districts to offer calculus.
At the college level, where the group has more than 200 chapters, NSBE will partner black engineering students with mentors and work with colleges to increase black student enrollment.
"We want engineering to become a mainstream word in homes and communities of color," Reid said, "and for every black child to see themselves as possibly becoming an engineer."
The NSBE campaign draws inspiration from President Obama's pledge at the start of his presidency that America would lead the world in college graduates by 2020. While that goal is far from being a reality, Reid saw how the announcement mobilized foundations and sparked investments in increasing college attainment. NSBE, he said, needed "a similar kind of Sputnik-like goal."
The group has formed a government affairs department to promote policy initiatives it thinks will help achieve the goal. Reid says Common Core, for instance, promotes "inquiry-driven learning." The group will also urge officials to hold schools accountable for providing students access to the tools and classes they need to go to flagship universities.
"There seems to be a new openness," he said, adding that the group is beginning discussions with other engineering organizations, including the Society of Hispanic Professional Engineers, about partnering to reach a broader goal of increasing the number of women and engineering graduates of color to 50,000.
Companies including Facebook and Twitter are also taking steps to increase the number of engineers of color. The former just launched TechPrep, a site aimed at introducing young people of color to coding. Girls Who Code created an alumni network this month to ease the transition from STEM classes to careers, and the Obama administration unveiled plans to allow some students to use federal aid to pay for coding bootcamps. This week, the Society for Advancement of Chicanos/Hispanics and Native Americans in Science will urge lawmakers on Capitol Hill to increase federal investments in programs to raise the number of STEM students of color.
The demographics of the nation are changing and the workforce needed to keep the economy strong is evolving. NSBE argues that too many people who could contribute positively to the shift are left behind before they even have a chance to get started.
Next America is a sponsor of NSBE's campaign.