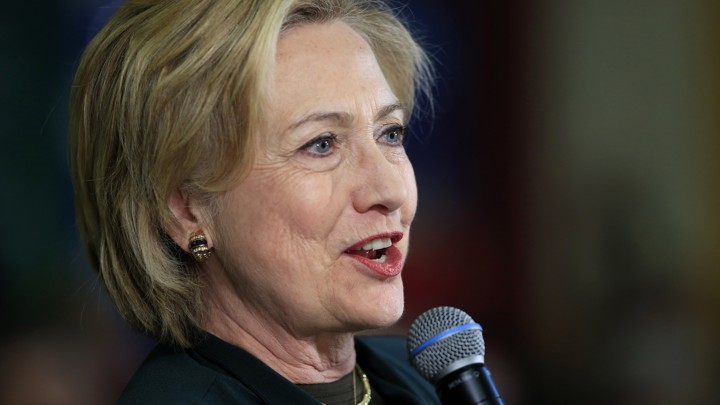 Big Oil has hit rough waters at a critical time.
Politically, the Democratic White House front-runner is getting more belligerent toward the oil industry.
On Thursday Hillary Clinton joined calls for a Justice Department probe into whether Exxon has pulled the wool over the public's eyes on global warming (something the company vigorously denies). She said in New Hampshire that there's "a lot of evidence that they misled." 
It's part of her broader move to the left on the environment. A few weeks ago, Clinton came out against the Keystone pipeline and drilling in Arctic waters.
But Clinton's bolder stances are just one problem facing Big Oil. The collapse in crude prices, which have fallen by 50 percent over the last year, is taking a heavy toll as companies slash spending.
That was brought into stark relief this week when Shell announced a huge quarterly loss of $7.4 billion, thanks in part to billions of dollars in write-offs for scuttled projects in the Arctic and Canada's oil sands. But other companies are also feeling the crunch, including Chevron, which announced Friday that it's cutting 6,000-7,000 jobs amid lower profits and spending cutbacks.
All this comes at a sensitive time for an industry that's hugely powerful but holds assets—like carbon-heavy oil sands and deepwater prospects that are expensive to develop—that could be vulnerable if nations get tougher on climate change.
Which they just might. In one month, world leaders will gather in Paris to finalize a far-reaching international climate-change accord that carries high stakes for the fossil-fuel industry, which could see more projects jeopardized if nations get more aggressive on global warming.
"It is a tough time for all of them ... to think about modifications to their business plan given the lower oil prices," said Elizabeth Rosenberg, who heads the Energy, Economics, and Security Program at the Center for a New American Security.
Countries have been offering the United Nations their domestic emissions-cutting pledges ahead of the talks that address actions through 2025 or 2030 (the U.S. has vowed to slash heat-trapping pollution by 26-28 percent below 2005 levels by 2025).
But a priority for the White House in the talks is crafting a deal that prods nations to eventually get more aggressive than these targets, especially because nations' combined pledges to date are too weak to hold the global temperature rise to 2 degrees Celsius above pre-industrial levels, the long-term goal of U.N. climate negotiations.
"We are working hard to secure an agreement in Paris that will encourage all nations to ratchet up their ambition and ratchet down their emissions over the course of the coming decades, setting targets in regular five-year increments with the help of strong transparency and accountability mechanisms," said Paul Bodnar, a top energy and climate official at the White House National Security Council, in a blog post Friday.
As the United Nations climate talks loom, not every company is on the same page.
Shell, BP, Norwegian oil giant Statoil, and other oil-and-gas companies headquartered in Europe (but operating worldwide) have jointly thrown their weight behind policies that put a price on carbon emissions—something accomplished through taxes or cap-and-trade systems.
In a joint letter to the U.N. several months ago, they encouraged governments to adopt carbon pricing of some sort, and offered to hold a "direct dialogue" with the U.N. and national governments.
As National Journal wrote about here, the move reflects the rising importance of the "gas" side of the oil-and-gas industry. Companies see carbon prices, as long as they're not too strict, as a way to help gas beat out more carbon-heavy coal in electricity generation.
But big U.S.-based oil-and-gas companies like Exxon were notably absent from the list of companies signing the letter. Exxon has said for years that if there is a price imposed on carbon, a tax is the way to go.
In an interview with the trade publication Petroleum Intelligence Weekly last month, Exxon CEO Rex Tillerson explained why the company steered clear of the recent letter.
"We didn't join the European letter because, first, we didn't see anything new in there. We've articulated our position pretty clearly now," he said. "When I looked at the European letter, it lacked a lot of specificity; it's kind of aspirational. We've been very specific ourselves."
One expert, however, sees U.S. domestic politics behind the lack of signatures of U.S. companies on the carbon-pricing letter, noting the closeness of the U.S. industry—represented by the powerful American Petroleum Institute—to Republicans who oppose pricing carbon emissions and mandatory regulations.
"The difference is that API is catering to Republican Party politics, whereas European oil majors are less concerned about GOP machinations," said Paul Bledsoe, a former Clinton administration aide who now heads Bledsoe and Associates, a consulting company on climate and energy.
We want to hear what you think about this article. Submit a letter to the editor or write to letters@theatlantic.com.
Ben Geman
is an energy and environment correspondent at
National Journal