Biden's Bid for a Legacy: A Moon Shot for Cancer
In a statement announcing he won't run for president, the Democrat offered a glimpse of how he'll spend his last turn on the national stage—and what his legacy might be.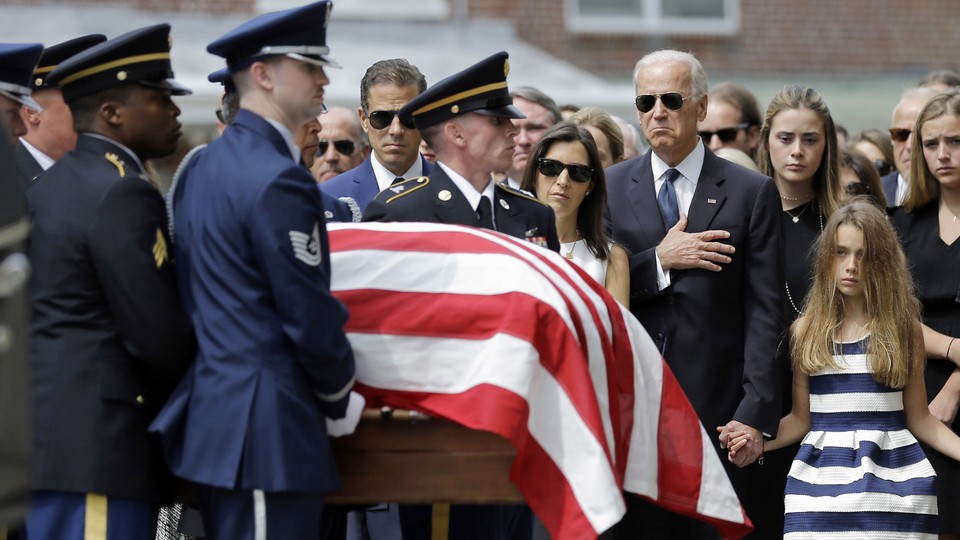 For Joe Biden and his inner circle, it always seemed that the crowning achievement of his long, successful political career would be the presidency. As a senator from Delaware, Biden got close—he ran for the Democratic nomination in 1988 and 2008, and flirted with runs other times. He helped Barack Obama win the White House and keep it for a second term. But with today's announcement that he won't campaign for the presidential nomination in 2016, Biden is left to find another capstone to his career.
In his statement in the Rose Garden, the vice president offered a good indication what that will be: the fight against cancer. He ticked off many areas he remains interested in—the skeleton of the campaign he won't run—like helping the middle class, campaign-finance reform, LGBT rights, income inequality. But the most impassioned and personal passage were his comments about the disease that killed his son Beau this spring:
I believe we need a moon shot in this country to cure cancer. It's personal. But I know we can do this. The president and I have already been working hard on increasing funding for research and development because there are so many breakthroughs just on the horizon in science and medicine, the things that are just about to happen, and we can make them real, with an absolute national commitment to end cancer as we know it today. And I'm going to spend the next 15 months in this office pushing as hard as I can to accomplish this, because I know there are Democrats and Republicans on the Hill who share our passion—our passion to silence this deadly disease.
Biden continued, "If I could be anything, I would have wanted to be the president that ended cancer, because it's possible"—a fitting bridge between the old dream of The White House and his new goal.
It is also fitting that Beau Biden's untimely death, which played a major factor in Biden's tortured decision-making process, should shape the blueprint for his father's final act on the national stage. Beau Biden was 46 when he died in May, struck down by cancer. A veteran of the Iraq war and the attorney general of Delaware, Biden was widely respected—by no one so much as his father. In the months after Beau Biden's death, it became clear that his illness had pushed aside his father's consideration of a presidential bid. But it also emerged that Beau Biden had urged his father to run for president. The emphasis on the dying son's wish as a central element of a Biden bid for president rankled some observers.
"Beau was our inspiration," Joe Biden said Wednesday. While his family was finally ready for him to make a run, he said, he felt he'd missed his window to enter—likely true, given the disadvantage he would have faced in organizing a campaign, building a field organization, getting on ballots, and raising money.
The inspiration could still lead the vice president to have a great impact on cancer research. It might also help fulfill a promise that Obama and Biden made during the 2008 presidential campaign to double federal funding for fighting cancer. The administration failed to do that within the five-year timeline it had promised.
The scientific challenges of winning a war on cancer aside, Biden would be uniquely well-suited to leading the political fight. The public is, unsurprisingly, heavily in favor of funding for cancer research. There are plenty of things the public favors that end up getting stuck in Congress, but the widespread sympathy for the Biden family and the bipartisan respect for Beau Biden would make it very tough for anyone to say no to the vice president. Joe Biden has plenty of experience with the levers of Congress, too, having spent almost four decades in the Senate.
As Hillary Clinton, the Democratic frontrunner in the presidential race and Biden's colleague in the Obama Cabinet and, before that in the Senate, put it: "I am confident that history isn't finished with Joe Biden. As he said today, there is more work to do. And if I know Joe, he will always be on the front-lines, always fighting for all of us."
Successfully overseeing a major push for federal cancer funding would crown Biden's career. Depending on the impact, it could become his most lasting legacy—looming larger than eight years as vice president, or his tenure on the Senate Judiciary committee, where he oversaw the Violence Against Women Act, the 1994 crime bill, and Supreme Court confirmation hearings for Clarence Thomas and Robert Bork. As much as Biden may have wanted to be the president who ended cancer, being the vice president who ended cancer would be none too shabby a consolation prize.