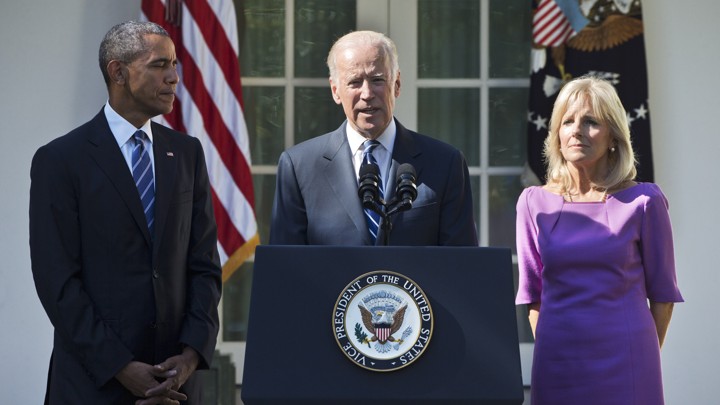 Vice President Joe Biden's decision not to enter the Democratic presidential race clears the pathway for Hillary Clinton to assemble an imposing demographic coalition in the nomination contest. It also vastly intensifies the pressure on Sen. Bernie Sanders, her chief remaining rival, to make inroads with voters of color.
Though polls consistently showed that Biden would have faced an uphill climb to overcome Clinton if he had entered the race, the vice president had the potential to divide two of the constituencies she is relying upon: ethnic minorities, particularly African-Americans, and blue-collar white voters. Biden's choice not to run improves Clinton's chance of consolidating most of those voters—and could make the math for Sanders much more difficult than if those two constituencies were fragmenting in a race with three major candidates.
In the epic 2008 primary race between Clinton and then-Sen. Barack Obama, the Democratic primary electorate divided almost exactly into thirds. Whites with a college education cast 32 percent of the total ballots, whites without a college education cast another 32 percent, and voters of color cast the rest, according to a cumulative analysis of the exit polls that year conducted by ABC pollster Gary Langer.
In that contest, Clinton dominated among whites without a college education and Latinos, carrying just over three-fifths of each, and amassed a solid 54 percent to 41 percent lead among college-educated white women, according to the cumulative exit poll analysis. Obama won a 55 percent majority among college-educated white men, nearly three-fifths of voters under 30, and a commanding four-fifths of African-Americans.
Looking forward to the 2016 race, most Democratic analysts expect Clinton to again run best with blue-collar and voters of color, with Sanders attracting the most support among better-educated whites and young people.
Clinton is largely looking to recreate what has been called the "beer track" coalition in Democratic primaries that boosted previous nominees such as Walter Mondale, Al Gore, and Bill Clinton. Sanders, meanwhile, has generally run best among the "wine track" voters who have rallied in the past around brainy liberals such as Gene McCarthy, Gary Hart, Paul Tsongas, and Bill Bradley. The exception is that Hillary Clinton is likely again to be a strong competitor for college-educated white women, the fastest growing component of the white electorate.
Biden complicated Clinton's math because he appeared positioned to run best among the same groups that now prefer her.
Throughout his career, Biden has maintained an everyman persona that plays well with working-class voters, and he has strong ties to organized labor. (The International Association of Fire Fighters had already signaled their intention to back him if he ran). And as Obama's vice president, Biden had the potential to cut into Clinton's support among African-Americans, and possibly Latinos as well. Shortly before the vice president's announcement, one top Democratic strategist who supports Clinton said that he worried "Biden will campaign as the defender of Obama's legacy, which could be compelling for African-American voters."
In fact, polling shortly before today's announcement showed Biden establishing a beachhead among minority voters—but with those voters reverting overwhelmingly to Clinton without the vice president in the race.
For instance, one recent NBC/Wall Street Journal poll showed nonwhite voters dividing 59 percent for Clinton, 26 percent for Biden, and 12 percent for Sanders in a three-way choice. But without Biden in the race, Clinton's lead over Sanders among nonwhite voters swelled to 76 percent to 16 percent. Likewise, the most recent CNN/ORC survey in South Carolina, the critical third state on the primary calendar, showed that in a potential three-way race, African-American voters divided 59 percent for Clinton, 27 percent for Biden, and only 4 percent for Sanders. Without Biden, Clinton's lead among African-Americans grew to a crushing 84 percent to 7 percent.
By potentially siphoning away support among working-class whites and voters of color, Biden could have made it easier for Sanders to amass a winning plurality in some states behind a coalition of better-educated whites and young people. Now Sanders faces an unforgiving equation.
Even if the senator from Vermont maintains a lead among whites—as some recent polls have shown—he is unlikely to carry many key states unless he can dent Clinton's commanding advantage among voters of color. "It seems to me the expectation would be that however much Sanders cut into the [upscale] white liberal vote, Hillary would still get a fair number of those votes, and it would be much more disproportionate for her on the minority side," said longtime Democratic analyst Ruy Teixeira, a senior fellow at the Center for American Progress.
Mark Mellman, a long-time Democratic pollster unaffiliated in the race, said Biden's departure could benefit Sanders by allowing him to unify Democrats who, for whatever reason, oppose Clinton. But the larger factor, Mellman believes, is the opportunity Biden's departure could provide Clinton to consolidate the Democrats' growing share of non-white voters.  "To win the nomination it is a prerequisite that Sanders is able to appeal to voters of color," said Mellman. "So far he has not done so. He can't win the nomination without expanding his appeal to that segment significantly."
In the 2008 primaries, exit polls found, non-white voters cast at least one-third of the ballots in a long list of Democratic contests, including Tennessee, Florida, Nevada, Arizona, Virginia, North Carolina, New Mexico, New Jersey, Illinois, California, and Maryland. Voters of color cast a majority of the primary ballots that year in South Carolina, Georgia, Alabama, Texas, Louisiana, and Mississippi.
Eight ensuing years of demographic change could have tilted the balance in many of these states even further toward voters of color, heightening the pressure on Sanders. Since 2008, nonwhites have increased their share of the overall eligible voter population by about five percentage points in Arizona, Colorado, Texas and Florida; by about four points in Virginia, Georgia, and North Carolina, and fully 7 points in Nevada.
Teixeira cautions that increase in voting potential may not translate into actual turnout unless Clinton can motivate nonwhite voters as effectively as she and Obama did eight years ago. Just as Biden's departure increases the pressure on Sanders to court nonwhite voters, it also heightens the need for Clinton to mobilize the diverse constituencies that loom as her firewall in what now has more clearly become a two-person race.
We want to hear what you think about this article. Submit a letter to the editor or write to letters@theatlantic.com.